Egypt by Jeep and Camel
Oases, Caves, White Desert
Fayum - Wadi Rayan - Wadi Hitan - Bahariya - Jarra Cave - Agabat - White Desert - Farafra
ITINERARY:
(subject to change without prior notice)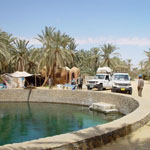 Siwa
1. Arrival
Arrival Cairo airport, meeting, assistance and transfer to hotel. Overnight in Cairo.
2. Cairo
Full day tour to the Egyptian museum, the citadel with the alabaster mosque of Mohammed Ali, the mosque of Sultan Hassan and the famous Khan el Khalili bazaar. Overnight in Cairo.
3. Cairo - Fayum - Wadi Rayan - Wadi Heitan
Jeep tour to Fayum, an oasis that was cultivated during pharaonic times, and on to Wadi Rayan, where a branch of the Nile ends in Qarun lake, and to the national park of Wadi Heitan, where fossilized bones of ancient sea animals can be seen. Tent overnight.
4. Wadi Heitan - Baharija - Abu Muharrik
After arrival in Baharija visit the tomb of Panentju and the museum of the Golden Mummies. Afterwards drive along an old caravan trail to the dunes of Ghurd Abu Muharrik. Tent overnight.
5. Abu Muharrik - Jarra-Cave
Drive along the dunes of Abu Muharrik to Jarra cave. The cave was discovered by Rohlfs and re-discovered by the German explorer Carlo Bergmann during the 1990ies. Time for careful exploration of the cave. Tent overnight.
6. Jarra-Cave - Agabat
Departure from Jarra-Cave and drive through the desert to Agabat. Tent overnight.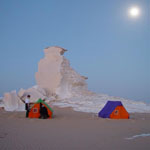 Desert camping
7.-11. Camel trekking: El Agabat - Ain Khadra - Ain Sirw - Wadi Henein - Wadi Battikh - Santet Megawer - Sahara el Gedida - White Desert - Bir Rigw
At el Agabat we meet the camel team. At first we get used to the animals and take instructions from the Bedouin. Then we start for a short ride through the landscape of Agabat and to the small palm grove of Ain Sirw. Afterwards the route goes to Wadi Heinein and Wadi Battikh. From here we reach the acacias of Santat Megawer at the edge of the White Desert.
The Sahara el Gedida is a less well known part of the White Desert and just as beautiful as the much visited areas. From Sahara el Gedida we go into the heart of the White Desert, for example to Wadi Mushroom with its famous mushroom shaped rocks. There is ample opportunity for exploration and taking photos. The last leg of the tour brings us to Bir Rigw; here we take leave from the camels and their handlers. Tent overnight.
12. Bir Rigw - Farafra - Bahariya - Cairo
After breakfast jeep tour to Farafra oasis and visit to the small local museum. Proceed to Baharija, with a stop at the Crystal Mountain. Drive via Bawiti to Cairo, dinner and overnight at hotel.
13. Departure
Transfer to Cairo airport and final departure.
Services included
All Transfers and visits according to program with modern a/c jeeps or minibusses.
3 nights Cairo in Happy City Hotel 3* on H/B
Remaining nights in tents or under the sky
5 Days Camel trekking, one camel per person
Entrance fees
Safari guide
Full board from day 3 -12 with tea and coffee with meals during the trekking
Use of tents, mattresses, cooking and eating dishes
Special permits for some of the routes
Services not included
International flights
Entry visa to Egypt (20 EUR per person)
Tips for guide and driver and camel team
Personal expenses
Optional Services
In case of 2 persons: 940 EUR
In case of 3 persons: 875 EUR
In case of 4 persons: 830 EUR
Single room supplement: 50 EUR
Xmas- or Easter supplement: 50 EUR
Hints
Starting any day
A prepayment of some sort with Nile cruises and hotel bookings has to be paid directly after reconfirmation. Final payment becomes due distinctly before starting date of the tour.
RATING

minimum: 2
maximum:
DATES
Duration: 13 Days
ROUTEMAP
TERMS & CONDITIONS
DOWNLOADS
RECOMMENDATION