Mt. Kenya and Masai Mara by Airplane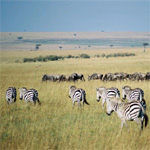 Copyright: Wikipedia
Kenya's highlights without too much driving around
Discover Kenya's highlights - the Aberdares in the vicinity of Mt. Kenya as well as the famous Masai Mara Game Reserve at the foot of Mt. Kilimanjaro. Instead of driving all the way, get on board a light aircraft that whisks you across the Great Rift Valley. Spend your nights at a tree hotel, the luxurious Mt. Kenya Safari Club, and a lodge or camp right within Masai Mara.
The Mount Kenya Safari Club is located high on the slopes of Mount Kenya, Africa's second highest mountain.
The Masai Mara (also spelled Maasai Mara) is a large park reserve in south-western Kenya, which is effectively the northern continuation of the Serengeti National Park game reserve in Tanzania. Named for the Maasai people (the traditional inhabitants of the area) and the Mara River which divides it, it is famous for its exceptional population of game and the annual migration of the wildebeest every July and August, a migration so immense it is called the Great Migration.
The game reserve is perhaps most famous for its lions. All other members of the "Big Five" are to be found in the Masai Mara. Hippopotami are found in large groups in the Mara and Talek Rivers. Cheetah are also to be found, although their numbers are threatened, chiefly due to tourist disruption of their day-time hunting. Like in the Serengeti, the wildebeest are the dominant inhabitant of the Masai Mara, and their numbers are estimated in the millions.
ITINERARY:
(subject to change without prior notice)
Day 01: Nairobi - Tree Hotel
Leave Nairobi in the morning to Nyeri, a small but fast growing town in the heart of the coffee growing and dairy farming area in the so-called former White Highlands of Kenya. After a sumptuous lunch at the base hotel, the tour leaves for a tree hotel where the evening is spent watching succession of animals that emerge from the forest and descend on floodlit water hole and salt lick, scuffling and jostling for a good position. At night you may want to remain awake and watch the Elephants engage in a show of strength with each other but even they would be reluctant to challenge the rhino. The herbivores keep their distance from these two competitors.
Meals and overnight at a Tree hotel. Full board.
You are required to pack an overnight bag when you transfer to the Ark or Treetops for the night. In the case of Mountain Lodge you arrive directly at the lodge for lunch.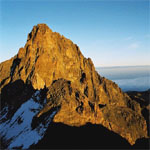 Copyright: Wikipedia
Day 02: Tree Hotel - Mt. Kenya
After breakfast a short drive brings you to Mount Kenya Safari Club with its meticulously manicured lawns and well tended gardens situated at the foot of Mt. Kenya. Lunch will be soon after arrival. The afternoon is free to enjoy the peaceful ambience or use the numerous activities of the Club, Horse-riding, tennis, golf, bowling and swimming in the heated pool. As the cool evening approaches, log fires will be lit in the fireplaces.
Meals and overnight at Mount Kenya Safari Club. Full board.
Day 03: Mt. Kenya
Breakfast and depart with packed lunch for a day trip to Ol Pejeta Rhino Reserve - a haven for nature lovers. Sweetwaters Tented Camp, overlooking on one of the finest waterholes in the reserve, offers visitors an unforgettable opportunity to watch and photograph big game. You will have a chance to visit a chimpanzee sanctuary.
Meals and overnight at Mount Kenya Safari Club. Full board.
Day 04: Mt. Kenya - Masai Mara
After breakfast at the Club, transfer to the airstrip. A light aircraft whisks you across the Great Rift Valley to the Masai Mara Game Reserve. Lunch followed by an afternoon game drive during which it would be possible to locate the huge black-manned lions, for which the reserve is famous.
Meals and overnight at a lodge / camp in Mara. Full board.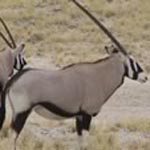 Gemsbok
Days 05-06: Masai Mara
A full day of game viewing and exploring Kenya's finest reserve or alternatively a morning game drive followed by an afternoon swim in the cool water of the hotel swimming pool. You may witness the lion making a kill or a leopard enjoying the meal he had dragged up the tree with him. The vegetation is mostly savanna type with forested areas near the rivers and of course the dwarf acacias to cater for the giraffes. More than 60 species of animals are found here and countless bird species, this includes the Masai ostrich and the secretary bird. This is where the Great Migration of the wildebeest takes place at the end of June running into early September.
Meals and overnight at a lodge / camp in Mara. Full board.
Day 07: Masai Mara - Nairobi
After breakfast it's time to check out and be transferred to the airstrip for your flight to Nairobi. Transfer to your Nairobi Hotel.
Services included
Rates include all expenses for best available accommodation and table d'hote meals, vehicle and driver for the intended itinerary, ranger/guides where necessary, entrance fees for National Parks and game reserves.
Services not included
All expenses of a personal nature such as visas, beverages, laundry tips, porterage, airport departure tax are not included.
Optional Services
Single room supplement Peak Season 1: USD 745.00
Single room supplement Peak Season 2: USD 780.00
Single room supplement High Season 1+2+3: USD 710.00
Single room supplement Low Season 1+2: USD 500.00
Easter Weekend Supplement from Friday to Monday inclusive USD 35.00 per person per night
Christmas / New Year Supplement from 24.12.08 to 01.01.09 inclusive from USD 40.00 to USD 60.00 per person per night
If Fairmont property is used in the above days, festive supplement is USD 85.00 per person per day
Hints
Single rooms or rooms with private bathrooms can not be guaranteed, especially within the Parks.
All prices are based on tariffs and exchange rates applicable at the time of printing and are subject to alternation without notice.
Peak Season 1:
01.02.-28.02.08
Peak Season 2:
01.07.-31.10.08
High Season 1:
01.03.-31.03.08
High Season 2:
01.06.-30.06.08; 01.11.-15.12.08
Low Season 1:
01.04.-30.04.08
Low Season 2:
01.05.-31.05.08
A prepayment of 25% has to be paid directly after reconfirmation. Final payment becomes due 15 days before starting date of the tour.
RATING

minimum: 1
maximum:
DATES
Duration: 7 Days
ROUTEMAP
TERMS & CONDITIONS
DOWNLOADS
RECOMMENDATION