Kenya Wildlife Safari
Exploring East Africa's nature
Starts daily at 07:00 am.
ITINERARY:
(subject to change without prior notice)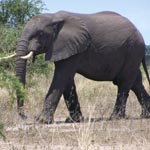 African elephant
Day 01: Nairobi - Samburu / Shaba National Reserve
Depart Nairobi at 7:00 am and drive north to Samburu on the south bank of the Uaso Nyiro River, downriver from Archer's Post. North of the Equator some of the animals and vegetation are a little different from those commonly found south. Elephant, black rhino, lion, buffalo and cheetah and the usual buck and antelopes are common to both north and south of the equator. However, unfamiliar animals are the Grevy's zebra, the reticulated giraffe and the Somali ostrich. There is also the long neck gerenuk, beisa, and hunting dog. Crocodiles in the river can be seen from the lodge. The vegetation is usually dry grass with a few swampy patches. There is some forest cover along the Uaso Nyiro River and an abundance of doum palms.
Meals and overnight at a lodge / camp in Samburu / Shaba. Full board.
Day 02: Samburu / Shaba National Reserve
After breakfast a full day of game viewing and exploration in this harshly beautiful terrain where wildlife abound especially near the river which is their only source of drinking water. The Uaso Nyiro River flows gently through the dry landscape sustaining life in this harsh land. Shaba National Reserve is where the famous conservationist George Adamson did his research on lions.
Meals and overnight at a lodge / camp in Samburu or Shaba. Full board.
Day 03: Shaba / Samburu - Tree Hotel
Depart Samburu / Shaba to arrive at the fast growing market town of Nyeri in time for lunch. This is where Lord Baden-Powell, the founder of the Boys' Scout movement spent the last years of his life. He is buried in a cemetery just outside the town. After lunch at the base hotel, drive through to the tree hotel where you spend the afternoon comfortably watching the forest animals that come to the waterhole and salt lick. In the late afternoon the waterhole is floodlit so that the tourist is able to watch in silence and undercover. As night falls the place gets crowded with large and small forest animals.
Meals and overnight at a Tree hotel. Full board.
In case of Mountain Lodge you arrive directly at the lodge for lunch. You are required to pack an overnight bag when you transfer to the Ark or Treetops for the night.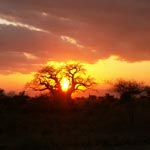 Picturesque sunset
Day 04: Tree Hotel - Mount Kenya
After breakfast a short drive brings you to Mount Kenya Safari Club with Mt. Kenya overlooking the meticulously manicured lawns and well tended gardens. Lunch will be served soon after arrival. The afternoon is free to enjoy the peaceful ambience or use the numerous activities of the Club-Horse-riding, tennis, golf, bowling and swimming in the heated pool. As the cool evening approaches, log fires will be lit in the fireplaces.
Meals and overnight at Mount Kenya Safari Club. Full board.
Day 05: Mt. Kenya - Nakuru/ Naivasha
After breakfast the tour leaves for Nyahururu (Thompson's Falls) at an altitude of 7,738 feet. The falls are named after the Scots explorer Joseph Thompson who was the first European to discover the falls in 1884. Then comes the descent into the Rift Valley to Lake Nakuru National park for lunch at one of the hotels. An afternoon drive in the park to enjoy the sight of pelicans bathing in the fresh water streams which terminate in Lake Nakuru. Since there is no exiting drainage, Lake Nakuru is alkaline and is the perfect place for flamingos to feed on the blue-green algae. The greater flamingo attains a height of about 4.26 feet and its plumage is almost white with a pale pink, black tipped beak. It is the lesser flamingo that has the more exotic color. About 2.72 ft. in height, with a rosy plumage and dark red, black tipped beak. Lake Nakuru National Park has a great variety of bird life which includes the Egyptian goose and a variety of ducks that come from Europe to winter. This park is truly a bird watchers paradise. The game animals include hippo, waterbuck, gazelles, colobus monkeys, buffalo, leopard and the Rothschild giraffe. The park is also a sanctuary for the white rhino. This park has an abundance of acacia trees, both yellow barked (fever tree) the umbrella-topped acacia and the candelabra cactus.
Meals and overnight at a lodge / camp in Nakuru or Naivasha. Full board.
Day 06: Nakuru - Masai Mara
Breakfast at the hotel and time enough for some bird watching enroute to the Masai Mara Game Reserve arriving in time for lunch. An afternoon game drive during which it would be possible to locate the huge black-manned lions for which the reserve is famous.
Meals and overnight at a lodge/ camp in Mara. Full board.
Day 07: Masai Mara
A full day of game viewing and exploring one of Kenya's finest reserve or alternatively a morning game drive followed by an afternoon swim in the cool waters of the hotel swimming pool. You may witness the lion making a kill or a leopard enjoying the meal he had dragged up the tree with him. The vegetation is mostly savanna type with forested areas near the rivers and of course the dwarf acacias to cater for the giraffes. More than 60 species of animals are found here and countless bird species, this includes the masai ostrich and the secretary bird. This is where the great migration of the wildebeest takes place at the beginning of August.
Meals and overnight at a lodge / camp in Mara. Full board.
Day 08: Masai Mara - Nairobi
After breakfast, return to Nairobi via the Mau Escarpment. Having just crossed the Rift Valley and passed Mt. Longonot it would be interesting to view the crater form a different angle, viz the tip. A brief stop at the Italian Chapel and continue the drive to arrive in Nairobi at lunch time.
Services included
Rates include all expenses for best available accommodation and table d'hote meals, vehicle and driver for the intended itinerary, ranger/guides where necessary, entrance fees for National Parks and game reserves.
Services not included
All expenses of a personal nature such as visas, beverages, laundry tips, porterage, airport departure tax are not included.
Optional Services
Single room supplement Peak Season 1+2: USD 620.00
Single room supplement High Season 1+2: USD 540.00
Single room supplement High Season 3: USD 480.00
Single room supplement Low Season 1+2: USD 170.00
Easter Weekend Supplement from Friday to Monday inclusive USD 35.00 per person per night
Christmas / New Year Supplement from 24.12.08 to 01.01.09 inclusive from USD 40.00 to USD 60.00 per person per night
If Fairmont property is used in the above days, festive supplement is USD 85.00 per person per day
Hints
Single rooms or rooms with private bathrooms can not be guaranteed, especially within the Parks.
All prices are based on tariffs and exchange rates applicable at the time of printing and are subject to alternation without notice.
Peak Season 1:
01.02.-28.02.08
Peak Season 2:
01.07.-31.10.08
High Season 1:
01.03.-31.03.08
High Season 2:
01.06.-30.06.08
High Season 3:
01.11.-15.12.08
Low Season 1:
01.04.-30.04.08
Low Season 2:
01.05.-31.05.08
A prepayment of 25% has to be paid directly after reconfirmation. Final payment becomes due 15 days before starting date of the tour.
RATING

minimum: 2
maximum: 9
DATES
Duration: 8 Days
TERMS & CONDITIONS
DOWNLOADS
RECOMMENDATION