Camel Riding in the Akakus Area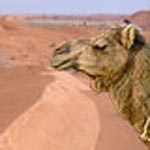 A "desert ship"
Discover Libya by a "desert boat"
Welcome to a challenging adventure tour on both the natural scenes of Akakus Tadrart areas and the beautiful sandy beaches. Enjoy the wonderful landscape of mountains, caves and sand dunes that is enriched with pre-historical engravings, rock paintings and drawings, and discover the ancient ruins of Romans, Greeks and Phoenicians in sites like Leptus Magna, Sabratha , Apollonia, etc.
Tour starts any day.
ITINERARY:
(subject to change without prior notice)
Day 1: Sebha
After your arrival at Tripoli airport, you will be met and assisted to reach your connection to Sebha (1,000 km) by flight. Dinner and overnight at the hotel.
Day 2: Awiss
After breakfast in the early morning, drive to the south west (450 km) by 4x4 vehicle (about 6 hours). Lunch in Alawynat village. Continue driving to the prehistorically enriched area of Awiss (Akakus area) where you will meet the Touareg team and join the camel caravan. Dinner and overnight at the camp.
Day 3: Ten Tihidet
Discover the wonderful landscapes of Akakus Tadrart areas by camel. You will see the natural scenery of mountains, caves and sand dunes, enriched with pre-historical paintings, drawings and rock arts. The first step will be the exercise of how to prepare and ride a camel. The tour will start after lunch with a visit to the Wadi Adad and continue to Ten Tihidet, where you will have a dinner and a bivouac overnight. Camel riding : approx. 12 km
A 4x4 vehicle will be accompanying the camel caravan!
Day 4: Gargour - Ten Ebrogaen
After breakfast, continue your tour with a visit to Gargour and Ten Ebrogaen, enjoying the natural Beauty of the mountains and wadies. After lunch, continue to Tieshwinat where we will stop for dinner and bivouac overnight. Camel riding: approx. 20 km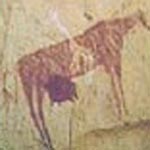 Rock paintings
Day 5-10: Akakus area
En route, visit Imreka, then continue to Anshel, Tanshalt, Afezzjar. The places of lunch and dinner with bivouac overnight will be selected by the tour guide. Camel riding: about 3 hours in the morning and 1 or 1 1/2 hours in the afternoon; approx. 65 km
Day 11: Wan Kasa Erg - Edhan Murzuk
After breakfast, leave the Akakus area by a 4x4 vehicle to Messak Settafat where you will visit the sites of engravings older than 12,000 years. On your way, you pass through Wan Kasa Erg, an ocean of sand. After lunch, continue driving to Edhan Murzuk where dinner and overnight take place. Driving: approx. 260 km
Day 12: Um Alma
In the early morning, drive to the doorway of salty lakes of Um Alma, where you will enjoy the sunset in this wonderful area, surrounded by huge sand dunes. Dinner and bivouac overnight. Driving: approx. 195 km
Day 13: Sebha - Tripoli
Enjoy your breakfast, then drive back to Sebha airport for your flight back to Tripoli. En route, you visit the Germa museum, the old city and the tomb in Alhatyia. Overnight at the hotel in Tripoli. Driving: approx. 180 km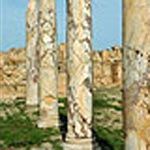 Sabratha
Day 14: Sabratha
Visit the ancient sites of Sabratha. Amongst all the coastal sites, Sabratha stands out as the most beautiful. A World Heritage Site, Sabratha was founded by the Canaanites (6th c.entury B.C.), ruled by Carthage, Phoenicia, Numedia and then Rome in 46 B.C. The site offers a majestic collection of public buildings, arenas, temples of Liber Peter, Srapis, Isis, and Hercules. Back to the hotel. Driving: approx. 70 km
Day 15: Tripoli
The morning free for shopping in the old city souk (market), and to visit the National Museum. Afterwards, you are transferred to the airport for your departure flight to your home destination.
Services included
Transportation (Domestic flight, Minibus, 4x4 vehicle).
Full board throughout the tour; healthy meals (breakfast, lunch and dinner)
Entrance fees
Accommodation as per itinerary
A professional guide
English or other speaking languages
Services not included
International airfare
Visa and/or passport expenses
Tips
Airport taxes
Other optional excursions
Personal expenses (such as: drinks, snacks, telephone calls, laundry, mini bar)
Lodging and meals other than those stated in the program
Hints
Tours starting any day.
A prepayment of 250.00 EUR has to be paid directly after reconfirmation. Final payment becomes due 30 days before starting date of the tour.
RATING
DATES
Duration: 15 Days
TERMS & CONDITIONS
DOWNLOADS
RECOMMENDATION