Nairobi Overland Safari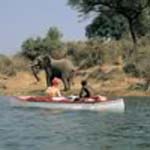 Game viewing by boat
From Johannesburg to Nairobi
The ultimate experience for the adventurous is an overland camping safari through Africa. A cultural experience second to none, and with adventure around every corner, sometimes finding oneself so isolated that the nearest town could be some 300 kilometres away, this trip is certainly not for the faint-hearted. We expect a great deal of participation and flexibility from all passengers on this trip, without which the tour cannot be a success.
This tour leaves from Johannesburg fortnightly on Wednesdays.
ITINERARY:
(subject to change without prior notice)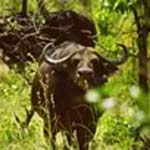 Who's watching whom?
DAY 1: JOHANNESBURG - LIMPOPO
Leaving Johannesburg early, we begin our trek north. Stopping en-route to do some last minute shopping, we head for our rustic bush camp set on a private game reserve in the Limpopo Valley. We arrive early and familiarise ourselves with the vehicle and equipment, before camping the night. Enjoy a traditional "braai". D
DAY 2: ZIMBABWE RUINS
After a morning walk, we travel the short distance to the border where we complete formalities and then travel directly to the Great Zimbabwe Ruins. The afternoon is spent exploring this massive complex, and delving into the mysteries surrounding their origin. Tonight we enjoy a night of relative comfort, and a catered meal (own expense). B/L
DAY 3: BULAWAYO / MATOBO
A short drive today, we pass through the wide streets of Bulawayo, and on to our camp nestled amongst the precariously balanced boulders of Matobo. This afternoon we enjoy an open vehicle drive into the Matobo National Park where we will track Rhino and other animals on foot. B/L/D
DAY 4: HWANGE
Arising early, we stretch our legs with a climb on one of the "koppies" surrounding our camp before packing up and moving on to Hwange. This afternoon we enjoy an extensive drive in search of the animals for which Hwange is so well known. Tonight we drift off to sleep to the sounds of the wild at our bush camp in the Hwange area. B/L/D
DAY 5 - 6: VICTORIA FALLS
Leaving our bush-camp, we head for the amazing spectacle of Victoria Falls, and the surrounding tourist village. We spend two nights here in comfort, at the Victoria Falls Inn. There are numerous activities to pursue, such as bungi jumping, white-water rafting and aircraft flips (own expense). Clients will have leisure time to explore the town. One evening meal will be at a local restaurant (own expense),the other will be a "braai" with traditional dancers at the pool. Both Lunches are own expense. B/D
DAY 7: KAFUE CAMP
An early start, we have a last view of the falls whilst crossing the historic Livingstone Bridge over the Zambezi Gorge into Zambia. Our journey takes us across southern Zambia to the Kafue River where we set up camp. Relax by the pool and enjoy a hot shower. B/L/D
DAY 8 - 10: ZAMBEZI CANOE
After a river safety and procedure briefing we begin our canoeing adventure. These days are a highlight of the tour, with excellent bird and game viewing opportunities. Hippo and other big game may be encountered at close range. This section does involve a certain amount of effort, and at night we camp wild on islands. We end the paddle at the Chongwe River, and camp the last night on the mainland. The next day we conduct a short game walk before transferring back to Kafue camp by power boat, for a hot shower and a catered meal (own expense). Camp the night. B/L/D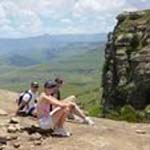 A splendid view
DAY 11: LUANGWA
We continue north via the capital city, Lusaka, where we stock up on provisions and enjoy an own expense lunch, before moving along the Great East Road to our overnight camp. We will cover as much distance today as possible. B/D
DAY 12 - 13: LUANGWA NP
Travel on to camp on the banks of the Luangwa River where we overnight for two nights just outside the Luangwa National Park. We enter the southern park for some spectacular game viewing with excellent opportunities for leopard sightings. Camp both nights. (Optional night drive, own expense) B/L/D
DAY 14 - 15: LAKE MALAWI
Today we enter Malawi, and after replenishing stocks and spending some time at the curio stalls in Lilongwe, we continue down to the lake where we spend two nights literally camping on the beach. The days are spent simply relaxing and soaking up the sun, or for the more energetic, the crystal clear waters offer excellent snorkelling and lovely beach walks. B/L/D
DAY 16 : NORTHERN MALAWI
Following the winding road along the lakeshore, we continue north and again camp the night on the beach, enjoying Lake Malawi, one of Africa's jewels. B/L/D
DAY 17: MIKUMI
Entering Tanzania, we begin our journey across this vast country. Tonight we will camp in the remote village of Mikumi. B/L/D
DAY 18: DAR ES SALAAM
We arrive in Dar Es Salaam, the historic port of Tanzania, around noon. We will spend some time in this bustling city before moving to the North Coast where we will camp the night on the beach. B/L/D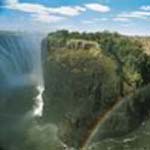 Victoria Falls
DAY 19 - 22: ZANZIBAR
This morning we head directly to the harbour where we embark on a ferry ride across to the spice island, Zanzibar. Exploring the island thoroughly, we spend time at the remote villages and sandy beaches of the north, and enjoying the mystique and history of the Stone Town. Visit the slave pits and participate in a spice tour, the food and fruit market is not to be missed. Sample the local cuisine one night (own expense). B/L/D
DAY 23: ZANZIBAR / DAR ES SALAAM
Leaving the island behind, we board the ferry for our journey back to the mainland. We camp the night north of Dar Es Salaam at a small resort. B/L/D
DAY 24 - 25: ARUSHA
Moving inland we head for Arusha where we spend two nights camping in this bustling town. We enjoy a full day of curio shopping and exploring the numerous markets, etc. At this stage it is possible to view Mount Kilimanjaro, the highest point in Africa, if the clouds oblige. B/L/D
DAY 26 - 28: SERENGETI / NGORONGORO CRATER
Travelling from Arusha to Serengeti we are bound to witness the impressive Masai herdsmen, herding their cattle amongst the game. Most of the day is a game drive with exceptional game viewing potential, and we arrive at the Seronera camp in the late afternoon to camp the night. Rising early we continue game viewing for the entire day, before exiting the park and making for Simba Camp to camp the night on the lip of the Ngorongoro crater. We descend into the crater on the steep dirt track cut into the crater wall. The diverse habitats of lake, swamp, grassland, and acacia forests bring with them an equal diversity of game, with everything one can imagine, from flamingo to elephant and the ever-present Maasai herdsmen. We finally exit the crater after lunch to return to Arusha for the night. B/L/D
DAY 29: ARUSHA-NAIROBI
After a final hopeful glimpse of Kilimanjaro we head due north to enter Kenya and to travel directly to Nairobi. We overnight in a simple hotel with an evening farewell meal (own expense). B/L
DAY 30: NAIROBI
After breakfast we bid farewell to our fellow travellers and depart on our separate ways. B
Services included
Our price includes all transport, accommodations, scheduled entry and park fees, Victoria Falls entry, canoeing safari, ferry ride, group equipment, a professional guide, breakfasts, most lunches and all evening meals when not scheduled in a restaurant, coffee and tea.
Services not included
Our price does not include alcohol and soft drinks, curios, tips, visas, airport taxes, transfers, other optional excursions, restaurant meals and harbour taxes.
Optional Services
OPTIONAL ACTIVITIES
White Water Rafting
Bungee Jumping
Elephant Back Safari
Luangwa Night Drive
Scuba Diving
Hints
Clients may join or leave this tour at certain stages of the itinerary.
During the dry season we may exit Serengeti from the west and travel to Nairobi via Lake Victoria.
A trip of this nature can only be undertaken by people of a certain mentality and we only recommend it to people under 55 years of age, although this obviously depends on the individual.
Clients must expect delays for whatever reason.
All visa requirements and border formalities are the responsibility of the client, and we will not hold the tour up for irresponsible reasons.
Seasonal Malaria precautions are advisable and are locally obtainable.
A prepayment of 10% has to be paid directly after reconfirmation. Final payment becomes due four weeks before starting date of the tour.
RATING

minimum: 1
maximum: 17
DATES
Duration: 30 Days
ROUTEMAP
TERMS & CONDITIONS
DOWNLOADS
RECOMMENDATION