South Africa - Wild Coast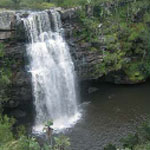 Fascinating waterfalls
Hiking and biking trails
Hiking and mountain biking adventures along a pristine section of the Wild Coast (formerly Transkei). It is probably one of the world's best hiking and cycling areas. Discover 150 km of undeveloped coastline with endless Indian Ocean beaches, unpolluted estuaries, rolling hills dotted with traditional Xhosa villages, a warm climate, and much more. In season, watch majestic whales pass by.
This trail can be booked to depart any day of the year.
ITINERARY:
(subject to change without prior notice)
Six camps between the remote reserve of Mkambati and the historic town of Port St. Johns are operated. This is undoubtedly the most spectacular section of this part of South Africa's coastline. The involvement and co-operation of the local community ensures the safety and long term viability of this venture.
On offer is a package that allows hikers and cyclists to park their vehicles safely in Port St. Johns. For those without vehicles, public transport is available from Umtata or a shuttle can be booked from and to East London or Durban. A transfer from Port St. Johns is provided at 14:00 hrs. every day to the starting point of the hike at Msikaba where hikers and cyclists can overnight in comfortable, twin-bedded log cabins with rustic en-suite bathrooms.
Accomodation in the wild
Spend the next five days exploring the Wild Coast, moving from camp to camp, covering distances of between 9 and 16 kilometres each day. Overnight in relative comfort in a different camp every day. All camps are offering a similar standard of twin bedded rooms with en-suite bathroom. The travellers supply their own sleeping bags and towels, and either carry their own belongings and necessary food supplies, or can arrange on site to have luggage portered from camp to camp.
All Wild Coast travellers on this tour will be required to self-cater; all cooking equipment, crockery, cutlery, etc. is available at the camps. There are supermarkets etc. in both Port St. Johns and Lusikisiki where the necessary food and drinks supplies can be purchased prior to starting the hike.
Safe drinking, tap water will be supplied at each of the camps.
Each day, a maximum of 24 participants will be allowed to start. Individuals as well as groups may book on any day as required.
Services included
Transfer from Port St. Johns
5 Overnights in camps with twin bedded rooms with bathroom en-suite
All cooking equipment, crockery, cutlery, etc.
Safe, drinking, tap water
Optional Services
A porter service will be available to transport participants luggage from camp to camp at a cost of R 40 per day - payable directly at the camps. Although detailed maps and route descriptions will be provided.
Local Guides will be available for those who require this service. Cost will be R 75 per day.
We are also able to book pre / post hike accommodation in Port St. Johns.
Optional Activities: Horse Riding, Fishing, Village Tours
Hints
A prepayment of 10% has to be paid directly after reconfirmation. Final payment becomes due four weeks before starting date of the tour.
RATING
DATES
Duration: 6 Days
ROUTEMAP
TERMS & CONDITIONS
DOWNLOADS
RECOMMENDATION