Kilimanjaro - Machame Mweka
Tented tour to Africa's highest peak
This so-called "Whiskey Route" is probably the most beautiful route to ascend Mt. Kilimanjaro. The accommodation on the way up and down is strictly camping with mobile tents. In comparison to the Marangu Route, this one is more strenuous and is designed for more adventurous hikers. The Machame / Mweka route normally takes a minimum of 6 days, but you can add in an extra day for acclimatization.
ITINERARY:
(subject to change without prior notice)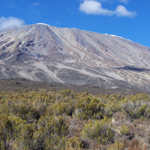 Kibo peak
Day 1: Arrival
You will be picked up in Arusha or at Kilimanjaro International Airport and transferred to Moshi, the "gateway to the Kilimanjaro". Overnight at a base hotel in Moshi (Half Board).
Day 2: Machame Gate - Machame Camp
Today, you will be transferred to the Machame Gate of the Mt. Kilimanjaro National Park to begin your climb. The path winds through a beautifully lush rainforest, so depending on the weather this can be a moderate or a very demanding day. Overnight in mobile tents at Machame Camp (3,100 m).
Day 3: Machame Camp - Shira Camp
Start early, leave the rainforest behind and climb up a steep ridge for 3 to 4 hours. The trek descends into a river gorge before ascending again up to the moorlands of the Shira Plateau. On a clear day the view is absolutely gorgeous. Overnight camping at Shira Camp (3,840 m).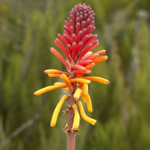 Beautiful flora in high altitude
Day 4: Shira Camp - Barranco Camp
As you ascend from the Shira Hut, there are good views of the Shira Plateau to the west, Oehler Ridge to the east and the Western Breach to the east. The route now turns east into a semi-desert and rocky environment. Today, you reach an altitude of 4,600 m after a 5-hours walk to Lava Tower. Ascents and descents alternate the whole day, presenting rewarding views of the spectacular Barranco Valley. Overnight camping at Barranco Camp (3,950 m).
Day 5: Barranco Camp - Barafu Camp
The morning starts with a scramble up the almost vertical Barranco Wall to a ridge leading to the Karanga Valley (4,100 m) after 3 hours. After lunch, continue north to reach Barafu Camp (4,600 m) after about 4 hours. Overnight camping at Barafu Camp.
Day 6: Summit Day
Rise around 23:30 hrs., and after some tea and biscuits you will head in a northwesterly direction up the south east valley towards Stella Point (5,685 m)on the crater rim. The 8-hour long walk to Stella Point is a mental and physical challenge, perhaps the most challenging on the route. At Stella Point, you will have a short rest. If the weather is fine, you will be rewarded with the most magnificent sunrise you are ever likely to see. From here, you will set off on your 2-hour ascent to Uhuru Peak (5,896 m), the highest point in Africa. Do take it slow - there is less than half the oxygen than at sea level. Uhuru Peak provides a unique reward and usually a plethora of emotions. Most people then start returning quite soon after sunrise as the return journey today is quite long. Take a brief respite at Barafu Camp before descending all the way down to Mweka Camp at 3,100 m. Overnight at Mweka Camp.
Day 7: Return to Moshi
After breakfast, descend through the lower heath section that quickly turns into rainforest. Your time on Mt. Kilimanjaro ends at Kibololoni Gate where you will be met and transferred back to the base hotel in Moshi for dinner and overnight.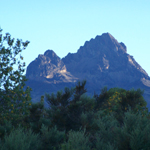 View of the Mawenzi
Services included
Ground transfers with pick up and drop off at Arusha or JRO
Park entrance fees
Rescue fees
Mountain Guide
Porters
Accommodation and meals with 2 nights at the hotel as indicated on the above itinerary.
Services not included
Lunch on the last day
Climbing equipment
Sleeping bags
Drinks, tipping and all other expenses of personal nature
Optional Services
Price indicated is p.p. with 7 travellers
Price p.p. with 6 travellers: 1,475.00 USD
Price p.p. with 5 travellers: 1,482.00 USD
Price p.p. with 4 travellers: 1,493.00 USD
Price p.p. with 3 travellers: 1,511.00 USD
Price p.p. with 2 travellers: 1,546.00 USD
Price p.p. with 1 traveller: 1,654.00 USD
Single room supplement at the base hotel: 40.00 USD
Optional extra acclimatization night at Karanga Hut: 213.00 USD
Hints
Prices indicated are valid until 31.12.08
Please ask for our 2009 rates
A prepayment of 35% has to be paid directly after reconfirmation. Final payment becomes due 45 days before starting date of the tour.
Demands
This trek is strenuous and may be better suited to more adventurous hikers.
It is advisable for climbers to bring their own sleeping bags and warm clothing including walking shoes and boots.
RATING

minimum: 1
maximum: 7
DATES
Duration: 7 Days
TERMS & CONDITIONS
DOWNLOADS
RECOMMENDATION