Kilimanjaro - Marangu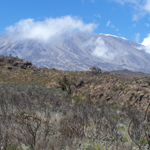 Kibo peak with clouds
Mountain trekking near the Equator
The Marangu or main route is by far the most popular way to the summit. The accommodation on the way up and down is provided in mountain huts with all the basic necessities. It usually takes 5 days / 4nights for the round trip. The trek can also be taken in 6 days / 5 nights to add acclimatization with an extra day at Horombo Hut. The supplementary cost for an extra day is indicated separately as an option.
Accomodation:
Mandara hut (2,700 m): a group of comfortable, wooden A-frame huts. The largest cabin has a downstairs dining area and an upstairs dormitory with bunk beds and mattresses; up to eight trekkers sleep in each smaller hut. The total capacity is 60. Water is piped into the site from springs above; flush toilets are behind the main cabin.
Horombo Hut (3,720 m): The buildings are similar to Mandara, but total capacity is 120. Water is piped from the stream behind the huts. There are platform toilets south-east of the main hut, about 80 m down the slope and new flush toilets have been built within the complex of small huts.
Kibo Hut (4,703 m): This stone built block house with a small dining-room and a number of dormitory rooms leading off a main corridor has bunk beds and mattresses for 60 people.
ITINERARY:
(subject to change without prior notice)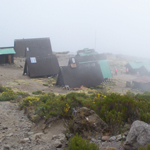 Horombo huts in the fog
Day 1: Arrival
From Arusha town or Kilimanjaro International Airport you are transferred to Moshi town, commonly known as the gateway to Mount Kilimanjaro. Half Board accommodation at a Base Hotel in Moshi.
Day 2
After breakfast and a short tour briefing from the guide, we will depart to Marangu gate of Kilimanjaro National Park (it is a 45-minute drive from Moshi to the Marangu Gate). Upon registering with park authorities, our climb will officially commence with a four-hour walk to the Mandara encampment. We will pass through a thick rainforest zone, where there is a high chance of rain in the afternoon. We will spend the night at Mandara Hut (2,750m), an attractive collection of buildings. Bathrooms are available with running water.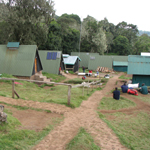 Mandara huts
Day 3
In the morning, we will continue our ascent through the rainforest before, after a walk of approximately six hours, we reach the heather and moorland zone at about 3,000 m. Enjoy stunning views of the mountain peaks at this altitude. Spend the night at Horombo Hut (3,720 m), which lies in a valley surrounded by giant lobelia and groundsel, characteristic of this semi-alpine zone. Bathrooms with running water are available.
Day 4
Our trek ascends past the final watering point, and continues onto the saddle of the Kilimanjaro, between the peaks of Kibo and Mawenzi. The saddle is an alpine desert that resembles a lunar landscape that receives an annual rainfall of under 250 mm; the ground often freezes at night, but by day, temperatures increase to more than 30 degrees Celsius. Few plants other than lichens and grasses survive in these conditions. Be careful to notice signs of altitude sickness. Walk this seven-hour walk at a slow pace. We will spend the night at Kibo Hut (4,703 m), a comfortable stone construction (no running water).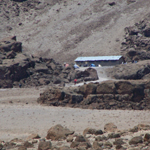 Kibo hut
Day 5
Shortly after midnight, you will start your final climb to the to Gillman's Point (5,861 m) and the summit, since it is easier to climb the scree slope on the crater rim when it is frozen. An early start improves our chances of reaching the summit before sunrise, which takes us about six hours. From Gilman's Point it is a further two-hour hike along the crater's edge to Uhuru Peak (5,895 m), Africa's highest point. From there, we go downhill all the way to Horombo Hut where we will spend our last night on the mountain.
Day 6
Today, the descent continues past the Mandara encampment to the mountain's bottom, where you will receive your well-earned certificate. From here, you will be transferred to a Base Hotel in Moshi for dinner and overnight.
Day 7
After breakfast, transfer back to Arusha town. End of our services.
Services included
Accommodation and meals as stipulated in the itinerary
Ground transportation with an English speaking driver/guide or naturalist guide
Game drives or sightseeing depending on the itinerary
Park or reserve entry fees
Services not included
Airport or border transfers ? unless stated otherwise on the itinerary
Visas (currently 50.00 USD per person)
Tips
Inoculations and personal insurance
International flights and departure taxes
Optional activities and excursions
Items of personal nature such as beverages, telephone, postage etc.
Optional Services
Price indicated is p.p. with 6 travellers
P.p. with 5 travellers: 1,190.00 USD
P.p. with 4 travellers: 1,200.00 USD
P.p. with 3 travellers: 1,218.00 USD
P.p. with 2 travellers: 1,254.00 USD
P.p. with 1 traveller: 1,360.00 USD
Single room supplement at base hotel: 40.00 USD
Optional: Extra night at Horombo Hut (for better acclimatization): 206.00 USD
Hints
Prices indicated are valid until 31.12.08
Please ask for our 2009 rates
A prepayment of 35% has to be paid directly after reconfirmation. Final payment becomes due 45 days before starting date of the tour.
Demands
Experienced hikers should be able to ascend without problems, but at an altitude of more than 4,700 m the air gets thinner and thinner, and the last part up to the summit requires a stable condition and the inner will to reach the peak.
RATING

minimum: 1
maximum: 7
DATES
Duration: 7 Days
TERMS & CONDITIONS
DOWNLOADS
RECOMMENDATION