Andes Scenic Trekking
Bariloche - Nahuel Huapi NP
Trekking in the area of San Carlos de Bariloche - the northern Patagonian lake district.
Cerro Tronador, Paso de las Nubes and the area of Puerto Blest on Nahuel Huapi Lake are the highlights of Nahuel Huapi National Park you will explore during 4 hiking days.
ITINERARY:
(subject to change without prior notice)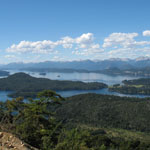 View across the lakes
Day 1 - Surroundings of Bariloche
Private transfer from Bariloche Airport to the hotel. Excursion in private service (with English-speaking guide) with soft walks, short hike to Cerro Campanario to get the best views of Bariloche and the area, short paths along the park and many different landscapes. (Half day excursion - 3 to 4 hours). Overnight at Bariloche (Hotel Huemul, STD Room or similar).
Day 2 - Full Day Trekking to Cerro Bellavista (or Cerro López, according to physical conditions)
Private transfer to the trail with the mountain guide to start trekking. The views of Tronador, Lanín, Osorno and other peaks are amazing from the summit.
The walk is relatively steep, goes across different kinds of vegetation; as we walk up, the vegetation changes due to the height. Once we are over the forest line, the trail starts to get a little steep, but will eventually take us to the summit. This adventure takes between 3 and 4 hours to get to the top, and between 2 or 3 to go down.
Hiking time: about 7 hours. Difficulty: medium with 700 m vertical drop
Overnight at Bariloche (Hotel Huemul, STD Room or similar).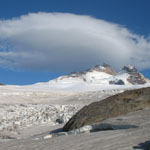 Mt. Tronador
Day 3 - Nahuel Huapi NP
Private transfer from the local Airport to Pampa Linda, a picturesque spot at the base of Mount Tronador (3,554 m). This is the highest mountain in the lake district and is one of the highlights of Nahuel Huapi National Park. We start early in the morning with the mountain guide to the hillsides of Mount Tronador to reach Refugio Otto Meiling, near Castaño Overo Glacier (almost 2,000 m). When we reach the timber line, we continue on along a ridge, with every minute gaining altitude and panorama, until almost at the snow line, you reach the Refugio. The view from the hut which is surrounded by glaciers is just marvelous: you can see the summit of the mountain as well as uncountable other mountains and lakes in a unique landscape.
Back down to Pampa Linda on the same way.
Overnight at Hostería Pampa Linda on half board.
Day 4 - More Scenic Andes
Walks with the same mountain guide around the area: Saltillo de las Nalcas, Cascada Los Alerces or alternatives. Box-Lunch included. Overnight at Bariloche (Hotel Huemul, STD Room or similar).
Day 5
Private transfer out to Airport.
Services included
Local transfers with shuttle bus
3 nights with breakfast at Bariloche
1 night on halfboard at the "Refugio Otto Meiling"
4 hiking days with English-speaking mountain guide
Services not included
Meals other than indicated
Entrance fees to the National Park
Insurances
Optional Services
Single room supplement: 170 USD
Hints
A prepayment of 30 % has to be paid directly after reconfirmation. Final payment becomes due 40 days before starting date of the tour.
Demands
This program is appropriate for experienced as well as for less-skilled hikers; nevertheless you should be able to walk about 5 to 7 hours daily. In order to match your personal interest or adapt to weather conditions our guide will be happy to extend or shorten the hikes accordingly.
Personal equipment: Hiking boots, warm clothes (for wind and rain): jacket and over-pants, a small hiking backpack for personal belongings during day walks, warm gloves and a hat, good sun-screen, sun-glasses, hat and light hiking clothes.
RATING

minimum: 2
maximum:
DATES
Duration: 5 Days
TERMS & CONDITIONS
DOWNLOADS
RECOMMENDATION