Trekking El Chalten - Los Glaciares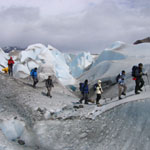 Viedma Glacier trekking
Fitz Roy, Cerro Torre and Moreno Glacier
On this 6 day program you will follow the most important trails in the region for close-up views of Cerro Torre and Cerro Fitz Roy and the impressive Perito Moreno glacier.
Three days hiking in El Chaltén beyond the base camps used for Fitz Roy and Cerro Torre ascents, and up to the summit of the Pliegue Tumbado to enjoy the most incredible view of the area. From El Calafate you will enjoy a full day excursion to the famous Moreno Glacier. Overnights at El Chaltén and Calafate in comfortable lodges or hostels.
No previous hiking experience necessary.
Five to seven hours daily of easy walks.
ITINERARY:
(subject to change without prior notice)
Day 1 - Arrival at El Calafate
Transfer on regular bus service from local airport to bus terminal. In the afternoon (06:30 pm) regular bus service to El Chaltén. Upon arrival and check in hotel or hostel our mountain guide will brief you on the program for the following days. Overnight at El Chaltén.
Day 2 - Hiking to Laguna Torre
The trail crosses a Lenga forest towards the valley of Cerro Torre. After an hour walk the mountain shows with all its majesty. Two and a half hour more walk and lunch will be taken by the side of Laguna Torre facing an outstanding display of mountains and glaciers like Mount Egger, Standhart, Bifida and the most challenging one for climbers "Cerro Torre". In the afternoon, return along the same trail to El Chaltén. Overnight at El Chaltén.
Hiking time: about 6 hours. Difficulty: easy with 300 m vertical drop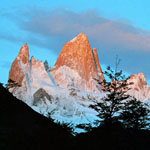 Fitz Roy in the morning
Day 3 - Hiking to Laguna de los Tres
While walking you enjoy the most famous panoramic view to Mount Fitz Roy. Within three hours you reach Rio Blanco campsite. From here on the trail continues a little steeper, the effort is well compensated when all of a sudden you have a breathtaking close up view to Mount Fitz Roy. Lunch, then, overlooking Laguna de los Tres and Mount Fitz Roy at hand reach. Walking a little further have a look to Laguna Sucia with its turquoise waters reflecting the surrounding hanging glaciers. Return to hotel at El Chaltén. Overnight at El Chaltén.
Hiking time: 7 to 8 hours. Difficulty: easy - only the last ascent to Laguna de los Tres is medium rated. Vertical drop: 800 m
Day 4 - Hiking to Loma del Pliegue Tumbado
Walking from El Chaltén to the south, through the Patagonian steppe, Lenga forests and crossing marshes you reach the top of Pliegue Tumbado at 1,550 m above s/l. The round view expecting us there is just overwhelming, starting from Lago Viedma in the steppe, continuing with Cerro Huemul and the peaks on the Patagonian icecap, of course Fitz Roy and Cerro Torre among many others, and lots of glaciers running down to their glacial lagoons and rivers.
In case you prefer a shorter trip, the guide will lead you to a balcony deep in Loma del Pliegue Tumbado, from where there is a marvelous lookout to Mount Torre and Mount Fitz Roy.
Return to El Chaltén on time to catch the regular transport to El Calafate at 6:00 pm, arriving at approx.10:00 pm, where a regular transfer will take you to the hotel. Overnight at Calafate.
Hiking time: 6 to 7 hours, mostly on a trackless course. Difficulty: easy, only the last part to the top of Pliegue Tumbado is steeper (medium rated). Vertical drop of 1,150 m.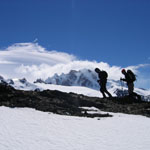 Against the wind
Day 5 - Full Day Excursion "Todo Glaciares"
Upsala glacier is very impressive for its magnitude. It is the biggest one of all in this area and the largest in South. It covers an area of about 595 km². The approach to this glacier is sailing through the Norte branch of Lago Argentino. It is surrounded by lenga woods and green valleys. During this sail, icebergs fallen off the front wall, float on the lake giving a great view. Spegazzini glacier covers an area of 66 km², and is 1.5 km wide. Itis outstanding mainly for its high and imposing walls. The differences that vegetation show around the glacier caused for its advance, the action of the wind and the sun are very attractive too. The tour starts in Puerto Bandera. From the pier, the boat sails towards the Norte branch of Lago Argentino until it arrives infront of the walls of Upsala glacier. The sailing continues up to Bahía Onelli, getting down to stay on land for three hours and take a walk through the woods until you reach Lago Onelli. This wonderful place shows us Agassiz, Onelli and Bolados glaciers. Then the sailing continues to Spegazzini glacier. Overnight at Calafate.
Day 6 - Excursion to the Perito Moreno Glacier
When visiting Argentine Patagonia, a trip to Perito Moreno Glacier is a must. Starting around 8:30 am at the hotel, return at about 5:00 pm.
One of the biggest tourist attractiveness in the planet. Located 80 kilometers to the west of the city, inside the National Park "Los Glaciares", on the lake Argentino. The road travels several estancias (country properties) and during the itinerary the hills "Comisión" and "Frías" are observed where there are natural posts of gumps. But one of the most exciting places in the journey is the curve of the sighs, from where it is obtained a front view of the glacier and its beautiful environment. The walk finishes in the Mirador (lookout) of the Perito Moreno glacier where the tourists usually spend hours observing that imposing mass of ice 65 meters high with floes floating around. The show that offers the nature in that place is so majestic that it moves people that witness it.Optional: Minitrekking on Moreno Glacier. Please ask for extra costs.Transfer to the Airport in the late evening - end of our services.
Services included
Local transfers airport - El Calafate - airport with shuttle bus
Transfers El Calafate - El Chaltén - El Calafate in regular bus service, without guide
2 nights with breakfast at El Calafate
3 nights with breakfast at El Chaltén
Hiking with English-speaking mountain guide
Services not included
Entrance fee to the National Park
Meals
Insurances
Optional Services
Single room surcharge: 210 USD
Hotel upgrade at Calafate from: 85 USD
Single room surcharge for upgraded hotels: 275 USD
Hints
Accommodation at Chaltén: Kalenshen, Fitz Roy Inn or similar
Accommodation at Calafate: Michelangelo, Los Canelos or Posta Sur
A prepayment of 30 % has to be paid directly after reconfirmation. Final payment becomes due 40 days before starting date of the tour.
Demands
This program is appropriate for experienced as well as for less-skilled hikers; nevertheless you should be able to walk about 5 to 7 hours daily. In order to match your personal interest or adapt to weather conditions our guide will be happy to extend or shorten the hikes accordingly.
Personal equipment: Hiking boots, warm clothes (for wind and rain): jacket and over-pants, a small hiking backpack for personal belongings during day walks, warm gloves and a hat, good sun-screen, sun-glasses, hat and light hiking clothes.
RATING

minimum: 2
maximum:
DATES
Duration: 6 Days
TERMS & CONDITIONS
DOWNLOADS
RECOMMENDATION