Trekking Torres del Paine
Mountains - Glaciers - Lakes - Lagoons
A 5 day program, starting and ending in El Calafate, with hikes to the highlights of the beautiful Torres del Paine National Park in Chile, visiting Torres del Paine, Valle Francés and the Grey Glacier. Overnights in hotels and hostels.
ITINERARY:
(subject to change without prior notice)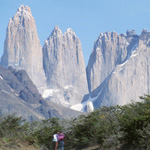 The Famous Three Peaks
Day 1 - Calafate - Torres del Paine NP
Very early in the morning, Bus ride through the Patagonian steppe into Chile, to Torres del Paine NP. This national park is one of the highlights Patagonia offers to hiking enthusiasts. Impressive mountain ranges, glaciers, a countless number of lakes and small lagoons with the most different colors imaginable and a rich variety of wild fauna are the characteristics of this park. Overnight at the National Park at hotel ("Hostería Las Torres) or hostel ("Refugio Las Torres").
Day 2 - Hiking to Torres del Paine
The trail leads up through a beech (Lenga) forest along the deep valley of the Río Asencio. For the final 45 minutes the trail becomes steeper and leads over a moraine with large boulders until you reach the glacial lake with a spectacular view of the granite towers known as the Torres del Paine. These towers are undoubtedly a very attractive challenge for the best mountain climbers of the world. After lunch you descend to your hotel / hostel (same as the night before).
Hiking time: about 7 hours. Difficulty: easy, only the last part to the Torres del Paine is medium rated.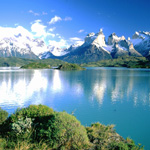 Mountain ranges and lakes
Day 3 - Lago Pehoé - Valle Frances
Transfer to Lago Pehoé: After about half an hour sailing through the turquoise waters of Lago Pehoé, you reach your next lodging: the "Paine Grande Mountain Lodge". The summits of the Cuernos del Paine now appear as part of a marvelous landscape. Hiking into the amazing Valle Frances. This hike offers superb views of the extraordinary mountain landscape as it leads along Scottberg lake into the heart of the Paine massif. Hiking up the valley, you will admire to your left the beautiful ice covered summit of Paine Grande and to your right the bizarre peaks of the Cuernos del Paine. After having lunch in this wild scenery you will return along the same path to the lodge. Overnight at the lodge (shared rooms / shared bathrooms).
Hiking time: about 7 hours. Difficulty: easy.
Day 4 - Grey Glacier
Hiking to Grey Glacier, the largest glacier in the national park flowing down from the southern continental ice cap. The trail leads from the lodge in a smooth and easy ascent through the woods to Lago Grey from where you get an impressive view of the glacier breaking off into the lake. You can walk all the way to a fantastic overlook near Refugio Grey with a great view of the glacier. Return to the lodge.
Hiking hours: about 6 to 7 hours. Difficulty: easy.
Overnight at Paine Grande Lodge (shared rooms / shared bathrooms).
Day 5 - Return trip
Ride across Lago Pehoé with the catamaran in order to get the bus back to El Calafate, Puerto Natales or Punta Arenas.
Services included
Regular transfers between El Calafate airport and the town of El Calafate with airport bus
Transfers El Calafate - Torres del Paine NP and back in regular bus service, without guide
Transfer to catamaran and trip across Lago Pehoé, both ways
4 nights with breakfast in lodge, hotel or hostel
Services not included
Entrance fee to the National Park (has to be paid with Chilean pesos at the entrance)
Meals
Insurances
Mountain guide (see Optional Services)
Optional Services
Single room supplement: 40 USD
Accommodation as above, with mountain guide included, per person:
For 2-3 persons: 1,195.00 USD
For 4-5 persons: 870.00 USD
For more than 6 persons: 760.00 USD
UPGRADE: Accommodation at Hosteria Las Torres (NP Torres del Paine) and Weskar, Ladrilleros or Martin Gusinde (Pto. Natales), with mountain guide incl., p.p.:
For 2-3 persons: 1,525.00 USD
For 4-5 persons: 1,200.00 USD
For more than 6 persons: 1,095.00 USD
Single room supplement for upgrade: 420.00 USD
Hints
Standard accommodation at Refuge (Mountain Hut) at Torres del Paine NP and Hotel Blanquita or similar at Pto. Natales.
If there is no availability at Las Torres, we will have to use other hosteria/hostels in Paine, and this could change the program and the final prices.
Standard: No mountain guide included.
A prepayment of 30 % has to be paid directly after reconfirmation. Final payment becomes due 40 days before starting date of the tour.
Demands
This program fits anybody who wants to get their first contact with this fascinating activity as well as hikers with some previous experience. You should be able to walk between 5 to 7 hours daily, with a maximum of 700 meters vertical drop in ascent. You will enjoy the daily tours with a light backpack and leave the rest of your luggage at the lodges.
Personal equipment: Hiking boots, warm clothes (for wind and rain): jacket and over-pants, a small hiking backpack for the day, gloves and a warm hat, good sun-screen, sun-glasses, a hat and light clothing for hiking.
RATING

minimum: 2
maximum:
DATES
Duration: 5 Days
TERMS & CONDITIONS
DOWNLOADS
RECOMMENDATION