Ultimate British Columbia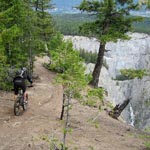 Mountain Biking Holidays in Western Canada
For the truly addicted! Gorge yourself on British Columbia singletracks until you're stuffed, stay in spectacular lodges and hotels, and enjoy other sights and activities such as hot springs, paragliding and more.
This one-of-a-kind trip will take you to some of the best mountain biking trails in interior British Columbia and Alberta with breakfasts and lunches, spectacular scenery and full van support. This tour features 12 nights lodging in hotels and lodges, and includes 2 rest or other activity days.
ITINERARY:
(subject to change without prior notice)
Day 1: Arrival
Your guide will meet you at Calgary Airport at 4:00 pm (at the information desk on arrivals level) and drive the group to our lodge in Fernie. This is our base for the next few days of Fernie trail riding. Tonight, dine Canadian style in one of Fernie's excellent restaurants (dinner is not included in the tour price).
Day 2: Fernie, BC
After a good sleep and hearty breakfast, get on your bikes and have an easy local ride for about 2-3 hours. After returning to the lodge for lunch, we pedal on the Coal Creek Heritage Trail, passing a few mining relics and the old ghost town of Coal Creek. We may even fit in an optional ride around Island Lake with its beautiful old growth cedar forest below the Lizard Range. Have your meals at our deluxe lodge on the banks of the Elk River, and enjoy evening barbecues on the deck overlooking the spectacular Lizard Range.
Day 3: Fernie, BC
After breakfast at the lodge, head out for a great spin to Fernie Alpine Resort. After tackling the gruelling Gorby climb, it's off to the technical challenges of Black Forest and Snake Bite - great rides through old-growth cedar forest. After lunch, take the afternoon off in preparation for some big rides ahead. Relax on our deck overlooking the Elk River and prepare yourself for the drive to Rossland tomorrow!
Day 4: Fernie, BC
Sleep in, enjoy the sights of Fernie, and rest up your legs for another 4 days of riding. There's plenty of optional morning activities in Fernie, including fly fishing, horseback riding, hiking, swimming, and more! In the afternoon, hop in the van for the scenic 4-hour drive to Rossland.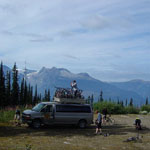 Day 5: Rossland, BC
Home of the annual "Rubberhead" mountain bike festival, this town of 4,000 people is surrounded by one of the best mountain bike trail networks in the world. Using our van will allow us to do up to 7 trails in this mountain bike paradise. Trails like the 11-mile long "Dewdney Trail" on Record Ridge, 15-mile-long "Rubberhead" (part of the festival course) and the 16-mile-long "Smugglers" help justify this region's claim to be the "Mountain Bike Capital of Canada". One ride on any of the trails in Rossland and all will become clear! Our lodge is just outside of town, located close to all the singletrack. It is also within walking distance of the almost-as-legendary-as-its-trails Rossland nightlife!
Day 6: Rossland, BC
"Seven Summits" is one of the best trails in Canada, and has recently been voted one of the "Top 10 trails in the world". The trail is an epic - up to 8 hours - and, like the name suggests, we visit 7 mountain tops in the Rossland area. This is alpine singletrack at its absolute best! After a great day's riding, head into Rossland for dinner at a local restaurant before returning to our lodge.
Day 7: Nelson, BC
Situated in the Selkirk Mountains, on the shores of Kootenay Lake and overlooking Kokanee Glacier, Nelson is one of the prettiest towns in all of British Columbia, and Canada's No. 1 Small Arts Community. Full of hardcore mountain bike fanatics who love nothing more than building and riding singletrack, there is a massive network of challenging singletrack in the area, much of it van-accessible. The network of trails in Nelson is so extensive that even a week wouldn't be enough to ride each trail once! We'll be able to indulge all our fat-tyre fantasies here, as we visit trails such as "Paper Bag", "Billy Jo Jim Bob" and a selection of the myriad other trail options on Mount Station. Our accommodations are on the shore of Kootenay Lake, just steps away from great swimming. If you still can't get enough, nearby bike trails offer up the option of night riding for the truly hardcore!
Day 8: Kootenay Lake to Revelstoke, BC
Today is a necessary and well-earned rest day off the bikes, allowing us to recharge our batteries and get ready for the awesome riding yet to come. We've included a visit to world-renowned Ainsworth Hot Springs (where you can swim through a cave with 44 degree water) to soak tired legs, then lunch on the shores of Kootenay Lake (lunch is not included in the tour price). After lunch, hop in the van for the spectacular 2-hour drive along Kootenay Lake to Revelstoke. Our hotel in Revelstoke is well situated for taking advantage of the epic trails in the area.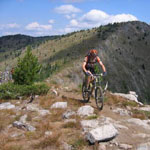 Day 9: Revelstoke, BC
Revelstoke is surrounded by massive mountains and is situated next to stunning Glacier National Park. Having rested yesterday, it is time to tackle another epic: the "Keystone Standard Basin" ride. This incredible ride is an hour's drive into the backcountry north of Revelstoke, alongside Lake Revelstoke. Six hours of sheer alpine bliss: buffed singletrack and jaw-dropping scenery. After the ride, head back to Revelstoke for dinner.
Day 10: Revelstoke, BC
The singletrack on Mt. Macpherson is everything an avid mountain biker could want: challenging climbs, fun downhills, and a huge network to satisfy all levels. After the morning's ride, hop in the van for the 90-minute drive to Golden via spectacular Roger's Pass and the Illicilaweat Glacier. Spend the next two nights at our cozy cabins at Sander Lake, just metres away from the trail network.
Day 11: Golden, BC
We'll explore the "Moonraker" trail network, conveniently located next to our cabins, including the stunning "Canyon Creek" Trail. This trail follows the edge of a massive canyon whose walls drop 1,500 feet below - your full attention will be required! Generally the "Moonraker Trail" series is a network of intermediate level trails on a mix of singletrack and bush riding amongst cedar and fir forest interspersed with meadows, streams and beaver ponds. Again we'll tailor something for the group, but look out for great trails like "Moonraker", "Bear Claw", "Cedar Snag" and "Devil's Slide"!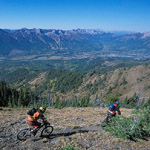 Day 12: Golden, BC
Definitely a big-grin day with some major vertical descent and technical delights on offer! Have breakfast at the camp, load your gear and bikes and then drive to the summit of "Mount Seven", Golden's premier ride, which rears 1,300 metres (4,000-ft) up above the Columbia Valley. This is a region of deep valleys and high peaks and includes some good technical riding, ridge rides and long wilderness exploration areas (as well as some mellow valley riding). The "Summit Trail" snakes its way down the mountain, taking in spectacular views of the valley and the Kicking Horse and Columbia rivers as it switchbacks downwards. We'll definitely get the chance for another ride down (or two!) using the van and check out some of the other fantastic descent options on Mount Seven, such as "Snake Bite" which is a fun, luge-style, downhill blast through the forest. When we're done here we head into Golden for lunch (not included) and load up the van for the drive to Kananaskis. We take time out en route with a stopover in the beautiful and world-famous town of Banff. Tonight we'll stay at a hotel in Canmore.
Day 13: Kananaskis, AB
The spectacular Jumping Pound / Cox Hill ride. Rated in several guidebooks as one of the best rides in North America, this incredible trail will live on in your dreams for years after you ride it. Imagine a challenging, switchbacking singletrack climb up the side of a mountain, followed by lunch at the top of a mountain. Then a ridge ride at 7,000 feet surrounded by the massive Rocky Mountains. Another challenging singletrack climb, then seven kilometres of singletrack, and almost 3,000 feet of vertical descent. We will be finishing at approximately 2 pm, then driving to your hotel in Calgary (approx. 1 hour). We will also make a stop at Calgary Airport if you wish to fly out that night. Accommodation is not included in the tour price.
Services included
4 nights of accommodation in our lodge
8 nights cabins/hotels
hot springs fees
meals excluding dinners
2 experienced local mountain biking guides
all land transport including one or more support vehicles
park entry fees
Services not included
bike rental
airport pickup + dropoff
gratuities
dinners
alcoholic beverages
Optional Services
Independent transfers from Calgary Airport to Fernie can be arranged in advance at extra cost.
Hints
This day-to-day schedule should be taken only as a general guide. Although we update our itineraries every year, to take into account such things as: changes to biking routes and changes in the routing or availability of local transport, it is not possible to guarantee that any of our holidays will run exactly according to the proposed itinerary. A variety of factors, including adverse weather conditions and difficulties with transportation, can lead to enforced changes. The trip leader will make any changes that are necessary.
The pickup for this trip is on day 1 at 4:00 p.m. at Calgary International Airport at the information desk on arrivals level. Look for your driver with a sign in his/her hand.
We will arrive in Calgary at around 3:00 pm on day 13, weather and other conditions permitting. Should you wish to book an evening flight, please don't book anything before 7:00 pm to take into account delays and other factors. Otherwise, we will be stopping at the Best Western Airport Inn, where you can book a room in advance; the hotel features free airport shuttles and breakfast.
A prepayment of 20% has to be paid directly after reconfirmation. Final payment becomes due 30 days before starting date of the tour.
Demands
Our tours are not designed for the casual rider; rather, they are designed for people who mountain bike on a regular basis, and are fit and passionate about the sport of mountain biking.
RATING

minimum: 3
maximum: 9
DATES
Duration: 13 Days
TERMS & CONDITIONS
DOWNLOADS
RECOMMENDATION