Chile Cross Country Biking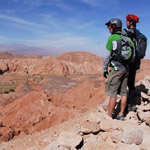 Sand , surf and singletrack
In co-operation with our local partners in Chile, we have developed a combined mountain biking and surfing holiday in one of the world's most spectacular countries. Chile is a narrow stretch of South America's Pacific Ocean shore. The coastline of this country stretches over 4,000 kilometres along the Pacific Ocean. The massive Andes provide the mountain backdrop for incredible singletrack rides, including Mt. Aconcagua, South America's highest peak at 6,955 m.
On this trip we'll spend five days riding in the Santiago and Valparaiso areas, with stops for Pacific surfing, then fly north to the Atacama desert - the driest in the world - for five more days of incredible scenery and singletrack, including the El Dorado trail, one of the world's most scenic singletrack rides.
Highlights:
- Spectacular scenery and riding in the driest desert in the world, the Atacama
- One of the world's most scenic rides, the EL Dorado trail near San Pedro de Atacama
- The charming and beautiful seaside town of Valparaiso, home of Chilean poet Pablo Neruda
- Riding at Cerro El Roble, in the shadow of South America's highest peak, Mt. Aconcagua
- Surfing and beach time at Viña del Mar
- Visits to Atacama area attractions such as El Tatio geysers at 4,300 m, laguna de Chaxa, and the Quebrada del Tigre (Devil's Gorge)
ITINERARY:
(subject to change without prior notice)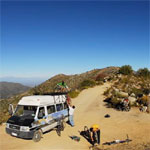 Day 1: Santiago
Arrival in Santiago. You will be transferred to the hotel for some resting and accommodation time. In the afternoon, go on your first ride, the "Huinganal & Molino".
Day 2: Santiago - Valparaíso
Enjoy your breakfast at the hotel. After that, you will be picked up and driven to "El Roble", at an altitude of 6.675 feet. This hill is the highest of the Coastal range of mountains. From the top, you will ride through the mountain ridge. Great technical ride, great ocean view, finishing at Olmue. The afternoon is free to explore this amazing city. Situated about 120 km (72 miles) northwest of Santiago, Valparaíso is the second biggest city in Chile. In 2003, Valparaíso was declared a World Heritage Site, due to its historical importance, natural beauty, original architecture and layout.
Day 3 Valparaíso
After breakfast, enjoy riding in Viña del Mar, following the singletrack trails. Take in the great ocean and city views during the afternoon which is free at your disposal. The day finishes with a delicious dinner.
Day 4: Zapallar - Maitencillo
Enjoy your breakfast in Valparasio, before the departure to Zapallar, where you start riding the "Quebrada del Tigre & Siete Portones" trail. Maybe this is the most interpretative spot of the flora and fauna of the central region of Chile, with spectacular views to the Pacific Ocean. Spend the afternoon on the Zapallar & Maitencillo beaches, perhaps the most beautiful and exclusive ocean resorts in Chile. Try surfing!
Day 5: Santiago - Flight to San Pedro
Depart after breakfast from Zapallar to Santiago, where you will arrive at about 11:30. Pack up the Bikes, and get ready for the flight to San Pedro de Atacama, 2,400 metres (7,874 ft) above sea level. So you might find that you run out of breath a little more quickly than normal. Spend the rest of the day in calm in order to get used to the altitude. The "Salar de Atacama" is the largest salt flat in Chile. It is located 55 km south of San Pedro de Atacama and is surrounded by mountains with no drainage outlets. Large volcanoes dominate the landscape, including the Licancabur, Acamarachi, Aguas Calientes and Láscar. The latter is one of the most active volcanoes in Chile.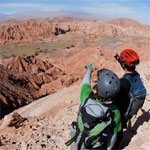 Day 6: San Pedro - "El Dorado" trail
On your way to "El Dorado", you will be crossing through the Salt
Mountains. Enjoy the view of the Atacama desert, the volcanos, death valley, panoramic view of the Catarpe Valley, and the ruins of Pucara de Quitor, a defensive fortress built by the Atacameños before the Inca control among 900 BC and 1200 BC. Free afternoon and evening in San Pedro to explore the town.
Day 7: Lagoons - Tocanao
Today's destination: Laguna Cejar , a lagoon on the northern shore of the Salt Flat, to revel in this amazing landscape that is also a birdwatcher's paradise. Don't miss the flamingos flying across the deep blue skies! After a 4 hour ride, have lunch in Tocanao, before riding the "Llamas" trail. In the evening, make an interesting visit to the "Moon Valley", in Spanish "Valle de la Luna", a moon-like landscape located about 13 km west of San Pedro de Atacama, in the Antofagasta Region of Chile. It is part of Los Flamencos National Reserve.
Day 8: Tatio Geysers - Caspana
Time for some "cultural experience". Visit the geysers of Tatio, locally known as "Los Géiseres del Tatio", located within the Andes Mountains of northern Chile at 4,200 meters above mean sea level. Contrary to some reports, it is not the highest-elevation geyser field in the world. With over 80 active geysers, El Tatio is the largest geyser field in the southern hemisphere. Afterwards, make a trip to the unbelievable town of Caspana.
Day 9: "Devil's Throat"
At 09:00, depart for a 3 hrs ride on this amazing single track. Explore Salt Mountain, crossing the Atacameños and Incas ruins. In the afternoon: bikes packing up. Get your flight to Santiago at 18:40, arriving there at 20:35 to catch your international flight or whatever you intend to do next.
Services included
Two experienced local mountain biking guides
Airport pickup and all land transport including support vehicles
9 Nights accommodation in local hotels
Breakfasts and lunches
Admission to cultural sites and natural attractions
Airport transfers in Santiago and Calama
Flight from Santiago to Calama
Services not included
Travel Insurance (mandatory)
Tips for local staff
Miscellaneous personal expenses - dinners, drinks, souvenirs etc.
International flight to and from Santiago
Excess baggage fee for bicycle, for international flight to and from Santiago
Flight from Calama to Santiago
Reciprocal entry fee (40.00-130.00 CAD, depending on country, only payable once, i.e. if you have already visited Chile, you will not have to pay this)
Optional Services
If you wish to stay in Cusco for a few days after the trip - hotel per person per night (double occupancy): 35.00 CAD
Your flight back to Santiago is not included in the tour price. We have left this open in case you wish to make additional holiday plans in the Atacama area or in Bolvia after the tour. There are several flights per day from Calama to Santiago to catch your connecting flight home.
Hints
We will pick you up at Santiago airport and take you to your hotel in Santiago. Please advise us of your flight arrival and flight no., and we will meet you at the airport.
A prepayment of 20% has to be paid directly after reconfirmation. Final payment becomes due 30 days before starting date of the tour.
Demands
Your bike MUST be at least a mid-level mountain bike - call us if unsure. Front suspension is mandatory. It is VITAL to ensure your bike is THOROUGHLY SERVICED to guarantee it is in good mechanical order before departure.On a trip like this there will definitely need to be repairs and adjustments en-route. There will be the opportunity to buy limited spares initially.
Mountain biking in Chile is challenging, and not suitable for beginners or weak intermediates. The trails are rocky, featuring some technical sections where solid bike handling skills are mandatory. Some of the trails have exposure (i.e. there are steep dropoffs on one side of the trail). Many of the exposed sections are short and can be walked easily, however if you are not comfortable with technical, rocky trails, then this trip is not for you.
RATING

minimum:
maximum: 10
DATES
Duration: 9 Days
TERMS & CONDITIONS
DOWNLOADS
RECOMMENDATION