Amazing Andes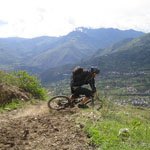 Cross-Country biking in the Cordillera Blanca
Ride 2,500-year-old trails in the Cordillera Blanca! Peru's highest mountain range offers some of the most spectacular mountain biking in the planet. Massive descents, Huascaran National Park, hotsprings visits and lots of singletrack.
Huaraz is one of the best places on earth for mountain biking. There are amazing trails more than 2,500 years old that descend from the top of the Cordillera Blanca and Cordillera Negra (White and Black Mountain Ranges) and end in the center of Huaraz. This holiday is one of the most cultural and scenic tours of its kind on earth.

We'll explore the best of Huaraz and its surroundings. We'll visit Chiquian at 3,350 m (10,990 ft.) at the entrance of the Callejon de Huaylas where Huaraz is located. We'll have an acclimatization trek to the waterfalls and then we'll return to Chiquian, walk on its narrow streets and finally reach the lookout for the Huayhuash Mountain Range and its snowy peaks.
On the second day we'll ride our bikes on amazing trails near Chiquian and have spectacular views of the Yerupaja summit, the second highest in Peru at 6,634 m (21,765 ft.). Then we'll descend into the Pativilca Valley and then climb to the town of Huasta (3,385 m / 11,105 ft.), visit its colonial church and enjoy the peaceful life of this town.
The third day we'll leave Chiquian behind and go to Chavin, a Pre-Inca site more than 2,500 years old. Here we'll discover some amazing features of this culture and walk inside the tunnels built inside this big complex. This place has breath-taking attractions and you will discover how the Chavins recruited people from other cultures.
From day four to day twelve we'll enjoy the best trails in Huaraz, riding almost from the top of the Cordillera Blanca and Cordillera Negra and ending on a relaxing hot springs at the bottom of the valley. We'll visit Huascaran National Park and one of the most scenic lakes in Llanganuco.

Highlights:
Mountain bike on Chavin Pre-Inca trails more than 2,500 years old.
Descend from the top of the Cordillera Blanca and Cordillera Negra and end in the center of Huaraz with spectacular and unique views on all sides.
Guided tour to Chavin Pre-Inca site, enter into their tunnels and visit the museum.
Breath-taking landscapes in Chiquian and Huaraz with the two highest mountains in Peru: Huascaran and Yerupaja.
Relaxing hot springs after our rides in Huaraz.
ITINERARY:
(subject to change without prior notice)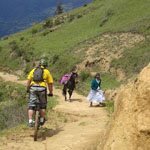 Day 1: Arrival

You will be picked up at the airport in Lima, and transferred to your hotel in the Mira Flores area of Lima. Spend the rest of your day exploring the sights and sounds of Lima or just relax on a nearby beach and get ready for the trip ahead.
Days 2-3: Lima

Have breakfast of fresh fruit salad, cereals and toast and eggs at your hotel at 7:30. After breakfast, get on your bikes and discuss the trip ahead. Meet our driver Joselo and load up our 15-seater van for the drive to our trailhead. The 2-hour drive takes us to an altitude of 10,000 feet. Do a short climb to get the lungs going, then enjoy a 4-hour downhill all the way to the beach. After a couple of relaxing hours on the beach, head back to town for dinner (dinners not included).
Day 4: Lima - Chiquian

You will be picked up at 6:00 a.m. from your hotel. Today, we'll drive to Chiquian. Our first stop for a late breakfast will be the town of Chancay, on the Pan-American Highway. Continue until we reach the town of Chiquian at the entrance of the Cordillera Blanca and at an altitude of 3,350 m (10,990 ft.). For acclimatization, we'll have an after-lunch trek of two hours to the waterfalls of Chiquian. Return into town to stroll through its narrow streets. If the weather is fine, you can enjoy the view of the Cordillera Blanca, the Huayhuash Mountain Range and the Yerupaja summit with its 6,634 m (21,765 ft.). The rest of the afternoon is at your own disposal. Try to acclimatize thoroughly.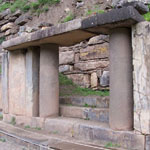 Day 5: Chiquian - Huasta

This morning's spectacular trail (20 km, approx. 4 hours) will present us amazing views of the Cordillera Blanca and the Yerupaja summit. Enjoy the beautiful nature. At the village of Pancal, you can get pure and crystal water directly from the mountains. Return by the same trail to Chiquian where you have lunch. After that, ride to the town of Huasta, at the foot of the Huayhuash Mountain Range. Visit its colonial church and relax in this peaceful town. Those with a lot of energy return to Chiquian on their bikes; for the others, the van will be waiting in Huasta. In total we'll ride approx. 35 km this day.
Day 6: Chavin de Huantar - Huaraz

After a nutritious breakfast, we are going to Conchucos Valley, at the other side of the Cordillera Blanca. Our van will climb to the mountain pass. From there, start riding your bikes downhill until you reach the town of Chavin de Huantar. We'll ride 50% on singletrack and 50% on dirt road and paved road. We'll have lunch in Chavin de Huantar and then we are going to have all the afternoon to visit the archeological site of Chavin, more than 2,500 years old. We are going to explore the tunnels inside the site and then we'll visit the museum and discover how these people lived in the past. This is an experience that you will never forget! Finally, we'll be transferred to the city of Huaraz where we'll stay for the next several days and ride the best trails in the area.
Day 7: Huaraz

Today, we'll go to the top of the Cordillera Negra. Our van will take us to the mountain pass of Callan Punta at an altitude of 4,240 m (13,911 ft.), where we'll ride a trail more than 2,500 years old! The riding goes downhilll, with amazing views of the Cordillera Blanca. We'll reach Huaraz at the bottom of the valley, located at an altitude of 3,090 m (10,138 ft.). There, in Huaraz, our van will be waiting for us for another transfer to an altitude of 4,100 m. We'll make another amazing descent that starts near Lake Churup and ends in the center of Huaraz. We'll have incredible views of both the Cordillera Blanca and Cordillera Negra. After lunch and a short rest, our afternoon ride will take us to the hot springs of Monterrey, where we'll end this day with a refreshing and relaxing swim.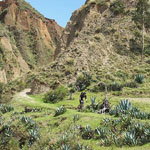 Day 8: Huascaran NP

Today's destination is Huascaran National Park, where ride our mountain bikes from a Cordillera Blanca mountain pass down to Lake Llanganuco with its impressive turquoise color. Enjoy spectacular views of Huascaran summit, with its 6,768 m (22,205 ft.) the highest of Peru and the fourth highest peak in South America. Then we'll ride our bikes to Yungay at the bottom of the valley and visit this town that was buried in 1970 by an earthquake followed by an avalanche. Only two palm trees survived this. In the late afternoon we'll return to Huaraz and re-visit the hot springs of Monterrey for another refreshing and relaxing bath.
Day 9: Caraz - Cañon del Pato - Huallanca

After breakfast, our private van will take us to the town of Caraz at an altitude of 2,990 m (9,810 ft.), where our ride starts. We'll cross a series of dams and enter into the Cañon del Pato (Duck Canyon). Our ride finishes in Huallanca where we can take a refreshing swim in a nice pool. This place is very hot due to the lower altitude (1,820 m / 5,971 ft.). At the end of the afternoon we'll return to our hotel in Huaraz.
Day 10: Punta Olímpica

This is a classic mountain bike tour in Huaraz. Punta Olimpica is a mountain pass located at an altitude of 4,850 m (15,912 ft.) and has beautiful views of the snowy peaks of the Cordillera Blanca and the southern part of the Huascaran. We start early in the morning with a van transfer from Huaraz to Punta Olimpica and after enjoying the breathtaking views of this area, we'll start our mountain bike ride going downhill from the top of the Cordillera Blanca to the bottom of the valley.
Day 11: Huaraz - Paltay - Honcopampa - Huaraz

Early in the morning, we'll go with our private van to the town of Paltay at an altitude of 2,850 m (9,350 ft.) where our trail starts. First we'll climb about 10 km on a dirt road, crossing many nice villages with spectacular views of the entire valley and the snowy peaks of the Cordillera Blanca. In the town of Collon, the dirt road ends and a nice singletrack starts that crosses many agricultural fields until we reach the archaeological complex of Honcopampa. Then, we'll start our downhill to the Callejon de Huaylas (Santa River Valley) and reach the hot springs of Chancos. We'll ride a total of 30 km in about five hours.
Day 12: End of tour

Early in the morning we'll start to return to the city of Lima, where our tour ends.
Services included
Airport transfers in Lima
Private transportation from day 1 to day 12 - The van will follow us where possible and will assist us if needed
12 nights at 3* hostels or similar
All breakfasts, snacks during the mountain bike rides and lunches on the tour
Entrance fee and guided tour to Chavin de Huantar
Entrance fee to Huascaran National Park
Entrance fee to the hot springs of Monterrey
Two experienced local mountain biking guides plus a local driver will assist you at all time and help you improve your mountain bike skills
Daily maintenance of bikes and extra parts in case of emergency
Services not included
Flight to Lima
Dinners
Travel insurance
Personal expenses
Tips for local staff
Optional Services
Extra days guided riding in Lima are 100.00 CAD/person/day.
We can also arrange extra nights at our hotel in Lima for 30.00 CAD/person/day
Budget 5.00-10.00 CAD per dinner.
Hints
This day-to-day schedule should be taken only as a general guide. A variety of factors, including adverse weather conditions and difficulties with transportation, can lead to enforced changes. The trip leader will make any changes that are necessary.
We will pick you up at Lima airport and take you to our hotel in Lima. Please advise us of your flight arrival and flight # and we will meet you at the airport. We recommend coming a day or two early and doing some extra acclimatizing.
At present there are no rental agencies in Lima that rent mountain bikes. Our partner in Peru has 2 quality DH bikes and 1 XC bike available for rental. Please ask for availability. Otherwise, we suggest bringing your own bike. If you absolutely cannot rent a bike, let us know and we will rent one for you.
Our hotels in Lima, Cusco and Ollantaytambo are comfortable, clean and well-appointed and up to Western standards. However, our hotels in Andahuaylas and Huancarama are rustic, owing to the remote nature of these towns.
Please contact the High Commission of Peru in your country for information on visas.
A prepayment of 20% has to be paid directly after reconfirmation. Final payment becomes due 30 days before starting date of the tour.
Demands
Your bike MUST be at least a mid-level mountain bike - call us if unsure. Front suspension is mandatory. It is VITAL to ensure your bike is THOROUGHLY SERVICED to guarantee it is in good mechanical order before departure.On a trip like this there will definitely need to be repairs and adjustments en-route. There will be the opportunity to buy limited spares initially.
Our tours are not designed for the casual rider; rather, they are designed for people who mountain bike on a regular basis, and are fit and passionate about the sport of mountain biking.
RATING

minimum: 3
maximum: 9
DATES
Duration: 12 Days
TERMS & CONDITIONS
DOWNLOADS
RECOMMENDATION