Inca Trail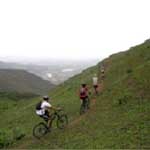 Cross-country biking in Peru
Peru may well just be the best mountain biking destination in the world, and we have the Incas to thank for that. During the reign of their empire, they built over 50,000 km of trails from Ecuador to Argentina, with most of it in Peru. They were used for hundreds of years by Inca couriers and are now open to mountain biking, with long downhills and challenging climbs through remote Quechua-speaking villages. We'll pass through important Inca sites that will leave you breathless, including the Lost City of the Incas, Machu Picchu. We'll cross the Apurimac Canyon to finally enter into the city of Cusco and make our final ride at the Inca sites of Chincheros, Moray and Maras. Join us for the ultimate mountain bike holiday in Peru!
On this tour, you will experience firsthand the vibrant and fascinating culture of this South American country and ride epic singletrack while doing it. We have developed this exciting 10-day trip in Peru with the help of two local partners: Wayo Stein, renowned DH rider and Russo Covarrubias, Peruvian cross-country champion. Along with one of our own guides, you will ride great trails, visit Inca archaeological sites and experience Peruvian culture at its best.
ITINERARY:
(subject to change without prior notice)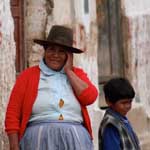 Day 1: Arrive in Lima
Your shuttle will meet you at Lima Airport. From there, we will take you to our hotel in Miraflores. If you have time, feel free to explore Lima's beaches and history. Please notify us of your flight times and we will arrange to meet you at the airport.
Day 2: Pachamac - skills training
A large Inca fortress with impressive construction dominates the entire Lurin Valley at this important Inca archaeological site. We will have the opportunity to discover hidden Inca constructions deep inside the valley and the mountains. It's also possible to visit the main Inca Fortress in Pachacamac after our ride.

We'll spend the morning working on skills development, then break for lunch. After lunch, we'll take a ride up to the top of Chiromoyo mountain for an incredible downhill back to the valley.
Day 3: The Cactus Trail
Early in the morning, around 6:30 am we will have breakfast in our hotel. At 7:00 am, we will be transferred to Huaral, a fertile valley located 100 km north of Lima. It takes approximately 1 1/2 hours to reach Huaral where we will visit our friend Jose and his guinea pig farm. We will take some fresh fruits directly from the plants and start riding our bikes. Jose knows the trails on the mountains of Huaral like the backs of his hands. He will show us his incredible local trails that he has developed by hand in these scenic hills. We will have unique views of Huaral and if the day is clear it's possible to see the Pacific Ocean.

We will ride approximately 30 km in 4 hours. In the afternoon we will enjoy a delicious lunch that consists of BBQ chicken and salads served in the middle of his farm. At the end of the day we will return to our hotel in Miraflores.
Day 4: Santo Domingo de Los Olleros
We will start our 4th day in Peru with this amazing downhill trail that was one of the first big downhills in the Andes to be discovered by local people. This is a full day trip to one of the most recognized downhill & free ride trails for MTB in Peru with more than 20 km of pure downhill singletrack. This trail ends on the beach, where we can take a refreshing swim and eat ceviche by the Pacific Ocean. On the way, we'll have multiple stops where we'll work on various mountain bike skills, including braking, cornering, descending and switchbacks.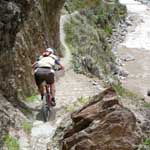 Day 5: Transfer to Cusco and riding in Cusco Valley
We will pick you up from your hotel at 7:00 am and take the am flight to Cusco. The rest of the morning is free to establish on our hotel and complete the acclimatization process. We will also build our bikes again for the afternoon ride.After a local lunch near the main plaza, we will pick our bikes and start riding from our hotel to the upper part of the city. We will pass through main Inca sites and have a great introductory ride in Cusco. Once we are on top of the city, we will ride down a main Inca trail straight into the city. We will end our ride on our hotel and have the rest of the day to explore the city of Cusco.

We will ride approximately 20 km in 3 hours. The altitude range goes from 3,400 to 3,700 meters (11,155 to 12,139 ft.).
Day 6: The Incas Backyard Trail
Early in the morning, after we take breakfast, we will be transferred to the village of Salkantay located on top of the city of Cusco at an altitude of 4,150 masl (13,615 ft.). We will ride an ancient Inca trail that was used as a shortcut to go from Cusco to the Sacred Valley and Machu Picchu. As we descend this amazing trail, we will reach the Inca sites of Saqsayhuaman, Puca Pucara and Tambomachay to finally reach the village of Yuncaypata and end in Cusco.

We will ride approximately 30 km in 4 hours. The altitude range goes from 4,150 to 3,300 meters (13,615 to 10,827 ft.).
Day 7: Sacred Valley Inca Treasures
Early in the morning, after a nutritious breakfast, we will be transferred to Chinchero, a strategic Inca site near the Sacred Valley. Chinchero is located at an altitude of 3,700 masl (12,139 ft.) and from this place it's possible to see the entire plateau of Maras and the Vilcanota's Mountain Range with its +5,000 meters glaciers like Chicon and Veronica. We will cross agricultural fields, border Lake Huaypo and reach the Inca site of Moray at an altitude of 3,600 masl (11,811 ft.). We will stop here and explore this Inca agricultural lab and its round terraces. After our visit to Moray and experience the special energy of this place, we will continue our tour riding an Inca Trail that will take us to the town of Maras and its Inca Salt Mines. It is a spectacular place where we will have amazing views of this salt mine and also the Sacred Valley below us. Finally we will end our tour on a side of the Urubamba River, at an altitude of 3,000 masl (9,843 ft.). It's possible to continue with our bikes to the town of Ollantaytambo, where we will stay for the next three nights.

We will ride a total of 40 km in approximately four hours before we reach Ollantaytambo.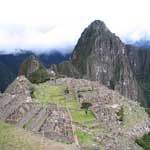 Day 8: The Origin of the Inca Empire
There are three theories that explain the origin of the Inca Empire. The three of them agree that its origins were near Ollantaytambo, in the Patacancha Valley. Early in the morning, we will be transferred to the top of the Patacancha Valley at an altitude of 4,000 masl (13,123 ft.) and where it's possible to find the origins of the Inca Empire on the Patacancha Village. We will visit some Inca sites and see how people still live and dress like 500 years ago! Then we will continue riding our bikes and visit the village of Huilloc where we can interact with local people helping them on their farms or developing clothes, just like the Incas did more than 500 years ago. Finally, we will continue riding down the valley and after a 30 minutes climb, we will reach the Inca site of Pumamarca and see the impressive terraces that goes from the bottom of the valley to the top of the mountains. From this place we will ride one of the best singletracks in all Cusco and we will descend directly to Ollantaytambo.
Day 9: Machu Picchu
For those of you who have never been to Machu Picchu, this destination is a must-see on any adventurer's list. The Lost City of the Incas is beyond words - a sublime and spiritual place that boggles the imagination. This optional trip features a 2-hour train ride through the Sacred Valley and a bus ride up to Machu Picchu. For those who have already visited the City, we'll have the option of doing some more spectacular rides around Ollantaytambo. We'll spend the night back in Ollantaytambo, resting up for the final day's epic ride!

Please note: The Machu Picchu trip is not included in the price of your tour. The all-day trip to Machu Picchu includes the return train ride through the Sacred Valley, bus from Aguas Calients to Machu Picchu, guide and admission. Cost is 240 CAD/p.p. If you prefer to ride, we will have a fantastic half-day ride to a nearby valley surrounded by Inca terraces.
Day 10: Lares - Cusco
This is one of the best trails for mountain biking in Cusco. This epic trail starts at an altitude of 4,350 masl (14,271 ft.), on the mountain pass that divides Lares with Cusco, and goes downhill following the shape of the mountain ending in the town of Calca on the Sacred Valley, at an altitude of 3,000 masl (9,842 ft.). At the middle of the trail we will cross a deep canyon.
Day 11: Cusco and transfer to Lima
We have reached the last day of our amazing trip in Peru and it's time to say goodbye to Cusco and its wonderful Inca Trails. Flights depart every hour until 3:30 pm, making it possible to do some shopping in the Indian markets of Cusco. We'll offer an optional morning ride in Cusco for those sticking around until the afternoon or next day.
Services included
Two experienced local mountain biking guide
Transportation in air-conditioned 15 and 21 passenger vans
10 Nights accommodation in local hotels
Breakfasts and lunches
Admission to Inca cultural sites
Admission to Provincial and National Parks
Hotsprings admission
Airport transfers
2 Flights within Peru
Full bike repair and maintenance toolset
Skills coaching with certified coaches
Services not included
Travel Insurance
Tips for local staff
Miscellaneous personal expenses - drinks, souvenirs etc.
Dinners' budget 5.00-10.00 CAD per dinner
The Machu Picchu excursion is not included (approx. 240.00 CAD for train ticket, bus ride and guide)
International flight to and from Lima
Allow 25.00 CAD each way for baggage fees for flights within Peru
Optional Services
Additional days of guided riding around Lima per person per day: 100.00 CAD
Additional nights at our hotel in Miraflores p.p. per night (double occupancy): 45.00 CAD
If you wish to stay in Cusco for a few days after the trip - guided riding per person per day: 100.00 CAD
Cusco hotel per person per night (double occupancy): 45.00 CAD
Machu Picchu trip, includes return train ride from Ollantaytambo, bus to Machu Picchu, admission, and guide: 200.00 CAD
Hints
Your flight back to Lima is included in the tour price. There are several flights/day from Cusco to Lima to catch your connecting flight home, starting at 6:00 am and ending at 3:30 pm. The flight is approximately 1 hour. Please notify us of your flight time out of Lima so that we can book you the appropriate flight.
At present there are no rental agencies in Lima that rent mountain bikes. Our partner in Peru has 2 quality DH bikes and 1 XC bike available for rental. Please call or e-mail for availability. Otherwise, we suggest either bringing your own bike or renting one in your hometown. If you absolutely need to rent a bike and cannot do so in your town, let us know and we will rent one in Canada for you.
We recommend that you use travellers' cheques, which are easily exchanged in banks and bureaux de changes (usually commission free) and often attract better exchange rates than cash. US Dollars, Euros, and Pounds Sterling are readily exchanged. Credit cards can be used to purchase goods and services in most shops, hotels and restaurants in Peru.
A prepayment of 20% has to be paid directly after reconfirmation. Final payment becomes due 30 days before starting date of the tour.
Demands
Your Bike MUST be at least an mid-level mountain bike - call us if unsure. Front suspension is mandatory. We cannot stress enough the importance of ensuring that your bike is in perfect working condition before you start this trip. You are depending on your bike to transport you throughout your holiday, across demanding terrain. It is VITAL to ensure it is THOROUGHLY SERVICED to guarantee it is in good mechanical order before departure.
The mountain biking in Peru is challenging, and not suitable for beginners. The trails are rocky, featuring many technical sections where solid bike handling skills are mandatory. Switchbacks are frequent, and some of the trails have sections exposure (i.e. there are dropoffs on one side of the trail). Many of the exposed sections are short and can be walked easily, however if you are not comfortable with technical, rocky trails, then this trip is not for you. If you are looking for a challenging, unique mountain bike experience, then this trip is for you!
RATING

minimum: 6
maximum: 10
DATES
Duration: 11 Days
TERMS & CONDITIONS
DOWNLOADS
RECOMMENDATION