Antarctic Air Cruise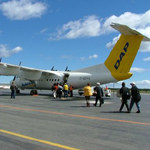 How we get there
Discover the white continent
Antarctica is an ecological wonder that bewitches explorers, scientists and voyagers alike. Getting to know and contemplate this yet unexplored continent has been the goal and dream of many adventurers that are not satisfied with simply imagining how it would feel like to traverse its ice caps and who have made up their minds to enter this wildlife paradise. The Antarctic Continent keeps many hidden surprises for those who visit it. This Fascinating territory contains more than 90% of the earth's land ice, which transforms it into the largest sweet water reserve on earth.
Antarctica has the singularity of being the continent that remained hidden from man during the longest period of time and thus, its first visitors arrived at these virgin frozen lands only two hundred years ago.
Its matchless beauty contrasts with extreme climate conditions, all of which makes it an exotic destination, truly hypnotizing for those few that reach this far away corner of the universe.
Among the main species that make up marine Antarctic fauna are Whales, Elephant Seals, Weddell Seals, Adelie, Chinstrap and Gentoo Penguins, apart from the variety of birds, such as Albatrosses, Petrels and Snowy Sheathbills.
In this enchanting adventure not only will you have the opportunity of coming into contact with animals unique in their species, but will also enjoy the awesome scenery made up by glaciers, mountains and roaming icebergs. An amazing panorama that can only be found in Antarctica.
Crossing the Drake Passsage by airplane in about 3 hours makes this tour unique (versus 2-2 1/2 days on board a ship in the sometimes not so calm sea!).
ITINERARY:
(subject to change without prior notice)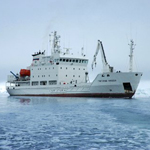 M/V "Grigoriy Mikheev"
Day 1
Arrival at the city of Punta Arenas where you will be met by the staff, to be later transferred to the selected hotel. During the afternoon, before dinner, you will receive instructions in relation with the norms that should be followed in Antarctica and about the procedures of embarkation and disembarkation. Later, you will enjoy our welcome dinner at the José Nogueira Hotel, a centenary French style mansion, where you will have the chance to meet your expedition mates. PLEASE NOTE: Passengers should arrive at Punta Arenas at 15:00 hours at the latest.
Day 2
Our Antarctic adventure begins. Flight from Punta Arenas to King George Island (South Shetland Islands). The flight takes a little over three hours. Upon arrival we will be able to tour around the area where the "Presidente Eduardo Frei M." Chilean Base and "Bellinghausen" Russian Base are located. We will gather at the beach on Fildes Bay for embarkation, by Zodiac boats, to the M/V "Grigoriy Mikheev" (2009: "Professor Moltanovskiy").
Days 3-6
As we cruise between the South Shetland Islands and the Peninsula, sailing along ice-filled fjords and between spectacular icebergs, we will enjoy the company of sea birds, penguins, seals and whales. Our Journey toward the south may include visits to some of the most magnificient spots in the white continent such as: Livingston Island, Port Lockroy, Petermann Island, Paradise Bay, Cuverville and Deception Islands amongst others. Our adventure will be full, with daily landings and cruises in zodiacs boats, selected lectures and an enjoyable time on board.
Day 7
Return to King George Island where we will disembark, in Zodiac boats, at Fildes Bay, a Chilean base, and head to the "Teniente Marsh" aerodrome to take the flight back to Punta Arenas . End of program upon arrival at the Airport in Punta Arenas. A transfer to the city will be available for all passengers staying overnight in Punta Arenas.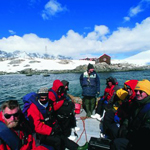 A zodiac about to disembark
IMPORTANT NOTICE:
Every effort will be made to adhere to the planned program, however it must be realized that with this type of adventurous travel to Antarctica, changes to the itinerary may occur due to severe and unpredictable weather. We need to emphasize the fact that weather conditions are unpredictable and safety is always the paramount concern on any Antarctic voyage.
For this reason we reserve the right to change the itinerary here described due to weather conditions and other factors beyond the tour operator's control without consulting the participants. Any change to the planned itinerary will be made exclusively and absolutely according to the judgment of the Captain of the aircraft or the vessel. It is understood that such decisions will be made in the best interests of all the passengers and with regard to the safety of the vessel and the aircraft.
A tight time-schedule connection with an Antarctic expedition is unwise. For this reason, we strongly suggest that a flexible air ticket be held for your journey home, and in any case not to foresee a flight on the same day that the return flight from Antarctica is foreseen.
In case that departure to or from Antarctica cannot take place due to unfavorable weather conditions either at point of origin and/or destination, the tour operator has established the following Contingency Plan.
A - FOR THOSE PASSENGERS TRAVELLING TOWARDS ANTARCTICA
The following contingency plan applies on DAY 2 of the Travel Program. From Day 2 to Day 6 every effort will be made to transport passengers to Antarctica taking into consideration their safety and the safety of the aircraft. In case such efforts are not successful, the corresponding daily program will apply:
Day 2:
Guided tour to sites of historic and wildlife interest close to Punta Arenas. Lunch is included. Dinner and lodging at Hotel José Nogueira.
Day 3:
Departure for Puerto Williams (Navarino Island, by the Beagle Channel). Arrival at Lakutaia Hotel for a full day program including: nature walks, guided tours to
historical aboriginal sites and botanical park. Lunch is included. Dinner and lodging at Lakutaia Hotel.
Day 4:
Breakfast at Lakutaia Hotel. Guided horseback riding, sailing to Wulaia (by the Murray Channel), trekking, biking or kayaking according to preferences. Lunch is included. Dinner and lodging at Lakutaia Hotel.
Day 5:
Breakfast at Lakutaia Hotel. Guided horseback riding, sailing to Wulaia (by the Murray Channel), trekking, biking or kayaking according to preferences. Lunch is included. Dinner and lodging at Lakutaia Hotel.
Day 6:
Breakfast at Lakutaia Hotel. Departure for Ushuaia for a full day visit, including tours, meals and time for walking. Flight back to Puerto Williams. Dinner and lodging at Lakutaia Hotel.
Day 7:
Breakfast at Lakutaia Hotel. Flight from Puerto Williams to Punta Arenas on time for connecting flights.

If on Day 6 the tour operator will not be able to transport passengers to Antarctica, he will refund to each passenger 40% of the total cost of the Travel Program. Refunding will take place at the tour operator's earliest convenience and will release the tour operator from any further liability.
B - FOR THOSE PASSENGERS TRAVELLING BACK FROM ANTARCTICA
In case of a delay on the return flight from Antarctica, those passengers on board the ship will continue cruising to nearby places until return flight is authorized. Full board and all excursions are included. No refunding for whatever reason is foreseen.
Services included
Transfer from Punta Arenas airport to the selected hotel
One overnight in Punta Arenas at the selected hotel
Welcome Dinner at Jose Nogueira Hotel
Flight from Punta Arenas to Frei Station on King George Island
Cruising for 6 days and 5 nights along the Antarctic Peninsula
All meals and beverages on board
All guided shore excursions
Lectures and entertainment on board
Flight from Frei Station on King George Island to Punta Arenas
Comprehensive pre- and post-voyage information material
Loan of waterproof thermal boots for landing in Antarctica
Services not included
Accommodations and meals other than those included in the program
Visa and/or Passport expenses
Arrival and/or departures taxes
Communication expenses
Laundry expenses
Gratuities (suggested 10.00 USD per day)
Personal insurance
Optional Services
The above price is for Twin Cabin without private facilities (with wash basin)
Twin Cabin with private facilities: 8,700.00 USD
Twin Cabin with private facilities 2009: 9,990.00 USD
Superior Cabin: 9,900.00 USD
Superior Cabin 2009: 11,490.00 USD
Suite (from 2009): 12,490.00 USD
Rates per person and based on double occupancy. Single occupancy must pay 85% of cabin rate
Hints
+ Only departure
Flights scheduled and Antarctic itinerary may vary depending on weather conditions. At the end of the program, a free transfer to the city will be available at the airport for all passengers staying overnight
The maximum weight allowed on the flights to and from Antarctica is 15 kg per passenger (from 2009: 20 kg / new aircraft), including hand luggage (Canadian Safety Regulations applicable for these flights). The excess baggage may be left in custody in Punta Arenas
We strongly recommend using soft bags NOT hard suitcases
We strongly recommend a flexible air ticket in case of delay in Antarctic flights
A prepayment of 1,000.00 USD has to be paid directly after reconfirmation. Final payment becomes due 120 days before starting date of the tour.
RATING
DATES
Duration: 7 Days
ROUTEMAP
TERMS & CONDITIONS
DOWNLOADS
RECOMMENDATION