Annapurna Trekking
Himalaya with 1 day Rafting
ITINERARY:
(subject to change without prior notice)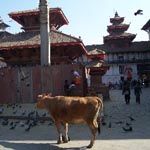 Patan
Day 01: Departure
Leave for Kathmandu
Day 02: Arrival in Kathmandu
On arrival at Kathmandu International Airport, transfer to the hotel. The rest of the day is at your disposal.
Day 03: Kathmandu
Sightseeing tour to Kathmandu city visiting Durbar Square, Kumari Temple (living goddess) and Swayambhunath Stupa (monkey temple).
Day 04: Flight Kathmandu to Pokhara
On this wonderful flight you get the opportunity to view the whole western Himalayas including Annapurna and Dhaulagiri. Meet your trekking team at Pokhara airport, and drive together for one hour by bus to Nayapu, your trek starting point from where you depart to Tirkhedhunga (1,540 m).
Total walking time: 3 hours.
Day 05: Tirkhedhunga - Ghorepani
After breakfast, you continue with your trek. Allow for two hours for a steep climb and a walk through Rhododendron forest. Have lunch within this forest, then walk on to Ghorepani (2,813 m).
Total walking time: 6 hours.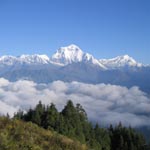 Annapurna Range
Day 06: Ghorepani - Poon Hill - Tatopani
In the early morning, walk up to Poon Hill (3,210 m) from where you have a wonderful view of Annapurna and Dhaulagiri. Enjoy a warm cup of coffee with this spectacular scenery. After breakfast, you walk down through wonderful forest landscapes to Tatopani (1,190 m). Total walking time: 7 hours.
Day 07: Tatopani - Ghasa
Today, enjoy your trek along the banks of Kaligandaki river (the world's deepest river) through subtropical forest to Ghasa (2,010 m). Total walking time: 6 hours.
Day 08: Ghasa - Tukuche
Follow your trail further along Kaligandaki river and again through the rainforest with its beautiful flora and fauna to Tukuche (2,590 m). Total walking time: 6 hours.
Day 09: Tukuche - Eklebhatti
Enjoy your day with an excellent view of the Annapurna Massif. En route, visit Marpha, a beautiful village, and continue walking to Eklebhatti (2,800 m) in the Mustang area. Total walking time: 6 hours.
Day 10: Eklebhatti - Muktinath
Today, you face a steep walk to Muktinath Temple. This is a popular place of pilgrimage for Hindus. On the way, you see many pilgrims from India and Nepal. Overnight at Muktinath (3,802 m). Total walking time:5 hours.
Day 11: Muktinath
Rest day at Muktinath. You have an option to trek approx. 5,000 m towards Thorong La Pass.
Day 12: Muktinath - Jomsom
Trek from Muktinath to Jomsom (2,720 m). Overnight at Jomsom. Total walking time: 6 hours.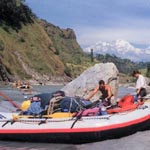 Rafting
Day 13 : Flight Jomsom - Pokhara
Flight from Jomsom to Pokhara. Pokhara is a beautiful town with three lakes, and you can enjoy walking along the lakeside or make a boat ride with the beautiful mountain scenery in the back. Overnight at Pokhara.
Day 14: Rest day in Pokhara
A whole day at your proposal.
Day 15: Trisuli River Rafting
Drive to Trisuli River for an entire day of rafting. This wild River flows through the Himalaya but its waters are still warm enough for rafting. Afterwards, drive back to Kathmandu for overnight.
Day 16: Departure
Transfer to the airport for your final departure flight.
Services included
Hotel Kathmandu/Pokhara with breakfast
Trekking/Rafting on full board
Flight Kathmandu/Pokhara and Jomsom/Pokhara
All transfers by private car/coach
Travel Insurance for porters/guides
Services not included
Visa and International airport tax
Lunch/Dinner at Pokhara and Kathmandu
Drinks and Tips
Travel Insurance for participants
Hints
* Travel time from September to May (but not June/July/August, because then it is rainy-monsoon season in Nepal)
After every meal (three times a day), tea/coffee will be served during the trekking.Apart from this, every morning we provide clients with either boiled water or soft black tea to carry with them on their Thermos Bottle. For the supplement of extra drinks, clients have to buy mineral water themselves which is available at all places.
Recommended equipment list: sleeping bag, a warm jacket, good trekking shoes, sunglasses/sun cream, an insulated bottle for hot drinks and basic medicines.
Maximum luggage weight 20 kg per person. Luggage not needed during the trek can be deposited at the hotel in Kathmandu where it can be claimed after returning from the trek.
There are always 1 or 2 additional porters with the crew who take care of clients who get sick or unable to even carry their daily private luggage.
Shower possibilities every 3-4 days during the trek; no laundry service available.
A prepayment of 25 % has to be paid directly after reconfirmation. Final payment becomes due two months before starting date of the tour.
Demands
Partly challenging, activities such as hiking which may last longer than expected.
Partly difficult terrain or conditions.
If you plan mountain tours, acclimatisation will be required. You have to be sure-footed.
Good health and physical conditions are recommended. Easy adaptation to activities is required.
RATING

minimum: 2
maximum:
DATES
Duration: 16 Days
TERMS & CONDITIONS
DOWNLOADS
RECOMMENDATION