Everest Base Camp Trek
Himalaya valleys and mountains with a view
ITINERARY:
(subject to change without prior notice)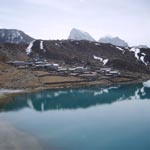 A terraced village
Day 1: DEPARTURE
Leave for Kathmandu (1,400 m).
Day 2: ARRIVAL
On arrival at Kathmandu International Airport, you will be met and transferred to the hotel. The rest of the day is at your free disposal.
Day 3: KATHMANDU
Sightseeing tour to Kathmandu valley visiting the palaces, Durbar Square, Hindu temples and shrines, Buddhist stupas, or just relaxing at the hotel. A favorite destination is the Monkey Temple, a Buddhist temple situated on a small hill that offers panoramic views of the city. Or you can join the thousands of Hindus who venture to the Pashupatinath temple, one of the most famous Hindu temples in Nepal and the most famous Shiva temple in Asia.
Day 4: PHAKDING (2,600 m)
We fly on a twin-engine Otter to the Himalayan foothills where we will begin our trek into the Khumbu region. The views from the plane are amazing, providing dramatic views of terraced hills and the distant Himalayan giants.
After arriving in the village of Lukla (2,750 m), we will meet the rest of our staff and porters and trek for about two and a half hours to Phakding.
Day 5: NAMCHE BAZAAR (3,440 m)
We continue trekking along the banks of the Dudh Kosi, crossing this majestic river many times on exciting suspension bridges laden with prayer flags. After entering Sagamartha National Park, the trail ascends steeply with breathtaking views of Namche Bazaar, the gateway to the Khumbu region.
Day 6: NAMCHE BAZAAR
Today is a rest and acclimatization day in Namche Bazaar. Namche is a colorful village with many wonderful and interesting shops and vendors, fabulous food, and stunning views of the surrounding mountains. An early hike above town, before the clouds move in, will reward climbers with a spectacular Himalayan sunrise and views of Mt. Everest, Lhotse (the 4th highest peak in the world), and the beautiful Ama Dablam.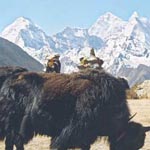 Yaks
Day 7: THYANGBOCHE (3,920 m)
The trek continues along the rushing glacial waters of the Dudh Kosi with magnificent views of the mountains. We will spend the night next to the Thyangboche monastery, the spiritual center of Khumbu region. Inside the monastery are incredibly ornate wall hangings, a 20-foot sculpture of Buddha, and the musical instruments and robes of the Lamas.
Day 8: DINGBOCHE (4,410 m)
From Thyangboche the trail drops to Debuche, crosses another exciting suspension bridge on the Imja Khola, and climbs to Pangboche amongst thousands of Mani stones. Our uphill trek continues, taking us to the quaint traditional Sherpa village of Dingboche with its exquisite views of Lhotse, Island Peak, and Ama Dablam.
Day 9 - DINGBOCHE
Another rest day. There is the option of taking a light acclimatization hike up the valley for a wider variety of photos of the mountains of the Khumbu region.
Day 10: DZUGLA (4,700 m)
From Dingboche, the trail traverses through farmlands and meadows before continuing along the lateral moraine of the Khumbu Glacier. We will stop in Dzugla, giving our bodies plenty of time to rest and relax amidst the majestic mountains of Nepal.
Day 11: LOBUCHE (4,900 m)
Today's trail continues along the lateral moraine of the Khumbu Glacier and passes by stone memorials for climbers who have perished on nearby summits. We follow the trail to Lobuche and camp just below the terminal moraine of a tributary glacier.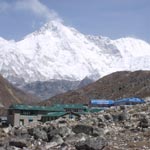 Mt. Everest Base Camp
Day 12: EVEREST BASE CAMP (5,500 m)
After an early morning start, we ascend Kala Pattar (5,545 m) and enjoy famous views of the Himalayas, without having to climb Mt. Everest! On the way back walk to EVEREST BASE CAMP located at the foot of the Khumbu icefall. We will spend the day and night at Everest/Lhotse Base Camp, giving you a chance to thoroughly explore this historic area.
In the event of bad weather, we have the opportunity for a second chance to climb Kala Pattar. Today we will also continue our trek to Everest Base Camp, located at the foot of the Khumbu icefall.
Day 13: PHERICHE (4,260 m)
We head down the glacier and re-enter the lush and beautiful valleys, surrounded by spectacular snow-capped peaks. Upon reaching the village of Pheriche we will visit the Himalayan Rescue Association's Trekker's Aid Post, established by Sir Edmund Hillary.
Day 14: NAMCHE BAZAAR (3,440 m)
Today we trek back along the Dudh Kosi river through a magnificent rhododendron forest and past brilliant waterfalls. Shortly before reaching Namche, the trek takes us through a pine forest, where musk deer often graze in the early morning. Arriving in town, we may see lowland porters, highland Sherpas, and Tibetan people trading food and supplies during Namche's market time.
Day 15: LUKLA (2,750 m)
Trek from Namche Bazaar to Lukla where we will spend the night.
Day 16: KATHMANDU (1,400 m)
Flight back to Kathmandu, upon arrival transfer to the hotel.
Day 17: Rest day at KATHMANDU
In the morning, we can watch Kathmandu rise in prayer along the banks of the holy river Bagmati at Pashupatinath, with burning ghats similar to the Ganges in India. Or we can visit the Buddhist temple of Swayambhunath and explore the temples in the city of Patan. Final celebration dinner!
Day 18: Free day in KATHMANDU

Day 19: DEPARTURE
Transfer to the international airport for your final departure.
Services included
Hotel in Kathmandu with breakfast
Trekking on full board
Flight Kathmandu/Lukla/Kathmandu
All transfers by private car/coach
Travel Insurance for porters/guides
Services not included
International flights to Kathmandu
Visa and International Airport tax
Lunch/Dinner in Kathmandu
Drinks and Tips
Travel Insurance for participants
Personal expenses
Hints
* Travel time from September to May (but not June/July/August, because then it is rainy-monsoon season in Nepal)
After every meal (three times a day), tea/coffee will be served during the trekking. Apart from this, every morning we provide clients with either boiled water or soft black tea to carry with them on their Thermos Bottle. For the supplement of extra drinks, clients have to buy mineral water themselves which is available at all places.
Recommended equipment list: sleeping bag, a warm jacket, good trekking shoes, sunglasses/sun cream, an insulated bottle for hot drinks and basic medicines.
Maximum luggage weight 20 kg per person. Luggage not needed during the trek can be deposited at the hotel in Kathmandu where it can be claimed after returning from the trek.
There are always 1 or 2 additional porters with the crew who take care of clients who get sick or unable to even carry their daily private luggage.
Shower possibilities every 3-4 days during the trek; no laundry service available.
A prepayment of 25 % has to be paid directly after reconfirmation. Final payment becomes due two months before starting date of the tour.
Demands
Partly challenging, activities such as hiking which may last longer than expected.
Partly difficult terrain or conditions.
If you plan mountain tours, acclimatisation will be required. You have to be sure-footed.
Good health and physical conditions are recommended. Easy adaptation to activities is required.
RATING

minimum: 2
maximum:
DATES
Duration: 19 Days
TERMS & CONDITIONS
DOWNLOADS
RECOMMENDATION