Nepal Mountain Biking
Round trip from Kathmandu to the bottom of the Himalayas
Cycle through the mighty Himalayas on remote paths otherwise used only by villagers and their buffalo or holy cows. An off-road challenge for experienced mountain bikers.
Follow these wild and challenging trails through some of the most stunning scenic and cultural landscapes in the world. Explore the Himalayan ranges, the extreme valleys and forests of the rugged middle hills, the charming terraced fields, the timeless villages. You will remember this tour for its unique beauty as well as for its mountain biking challenges.
ITINERARY:
(subject to change without prior notice)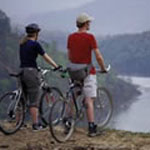 Enjoying the view
Day 1: Arrival in Kathmandu
You will be met at the airport. After checking in at your hotel, take a rest before putting together your bikes. Spend the evening in one of Kathmandu's great restaurants and get to know each other over a beer and some food.
Day 2: Kathmandu Valley
We take you for a three hour ride in the Kathmandu Valley and introduce you to the kind of terrain Nepal mid-hills offer. The afternoon will be free to explore some of the temples of Kathmandu or to do some shopping.
Day 3: Fly to Pokhara
In the morning, your journey begins with a stunning flight from Kathmandu to Pokhara. On a clear day, the views of the Himalayan ranges are simply incredible. In the afternoon take your bikes for a short run around Phewa Tal, the beautiful lake by which Pokhara lies. Pokhara (situated at an altitude of 800 m) has a laid-back charm. The incredible Himalayan skyline with the sacred Machapuchare and the Annapurna mountains dominates the town. Overnight in a tranquil lakeside guesthouse.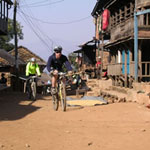 Riding through a village
Day 4: Pokhara - Sarankot and back
Today's ride is accompanied by incredible views, and rather challenging. First cycle for 8.5 km, a sweaty climb circling Sarankot hill. From there you have the most amazing views of Machapuchare, the Annapurnas, Manaslu and many other peaks. After a well earned rest, descend 6 km on dirt through fields of barley or wheat and great hillside villages to the main Baglung Highway. From there make a long journey downhill on bitumen road back to Pokhara, where we enjoy a nice cold beverage.
Day 5: Pokhara - Begnas Tal
Leave Pokhara and continue on your awesome off-road expedition. The day starts with an ascent from 780 m to 1.270 m, stretching over 7 km on a rough dirt track. Just below the top of Kali hill, proceed on fire trails to an awesome downhill hike to the shores of Begnas Tal. The camp will be set up ready for you to relax. Optionaly, take the bike on a pleasant single trail circuit of the lake before enjoying your well deserved dinner.
Day 6: Begnas Tal - Kalasti
Today, traverse two small ridges via Sundari Danda (beautiful ridge in Nepali) and descend to the Mhodi Khola river near Borletar. In the morning, head off on jeep trails, but after climbing 350 m, at the second pass, find yourself on a small downhill fire track. It takes you through terraced fields with irrigation channels. You find yourself continually met by amazed and amused local people who question your sanity for biking through their villages and along their everyday paths. After reaching Borletar, follow a rough jeep track along the river, until you reach your campsite near the little village of Kalasti. Again, you have the luxury of having nothing to do but relax after approx. 50 km of hard riding.
Day 7: Kalasti - Marsyangdi Valley
With plenty of climbing to be done, today's ride is mostly uphill, interspersed with some amazing downhill runs. The track clings to the ridge as you pass through picturesque villages and forests. After 2 km on the main highway, turn off to the campsite in the Marsyangdi Valley, and take in the views of stunning Manaslu, after having ridden aprox. 28 km.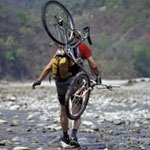 Crossing a river
Day 8: Marsyangdi Valley - Gorkha
This is the starting point of the famous Annapurna trekking route, which you follow on a paved road for 10 km before crossing the raging Marsyangdi River to continue cycling up along a maze of small jeep trails. After crossing a small pass, descend to the Dorandi River for lunch and a swim before heading off again along a jeep track and then paved road up to the hilltop town of Gorkha. Enjoy the luxury of a shower in a hotel, where you spend the night.
Day 9: Gorkha
Gorkha was the ancient capital of Nepal. The Royal family originates from here, who formed the basis of the famed Gorkha Regiment of the British Army and unified Nepal. Today can be used as a rest day or if you prefer, you can spend it exploring the old palace, Gorkha Durbar. Perched 300 m above the town, it is well worth the climb, with stunning views over the kingdom. You can also take a circular half day tour around town. Have another night with hot showers in a hotel before getting back to camping and the rest of your journey.
Day 10: Gorkha - Maleku
A rough undulating track takes you 5 km along to the village of Mailung at about 1,100 m altitude. Then, descend 700 m on a wild, overgrown track into the Burki Gandaki Valley. Here meet an old jeep trail which has apparently never seen a jeep. Follow the river for 4 km until you are obliged to carry your bike for about 25 minutes up a stepped path and down again. Those with nerves of steel can continue on the precarious path that cling to the side of the hillside - the drop to the left is insane. After a short time, cross the Trisuli River and continue along the main highway for 11 km to your campsite on the riverbank.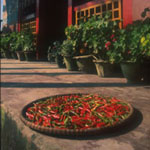 Indigenous product: chilli
Day 11: Maleku - Kakani
This day starts off with a 7 km section on the main highway along the river. Resume your off-road style as you turn off onto a dirt track and continue following the Trisuli to Batar Bazaar. Ascend 1.600 m over a distance of 25 km on the old highway, until the panoramic viewpoint of Kakani on the north western edge of the Kathmandu Valley is reached. Camp in this great spot and enjoy the sunset from this charming vantage spot at 2.100 m.
Day 12: Kakani - Kathmandu
Follow the scar route on the northern fringe of the Kathmandu Valley. Start off on single trails, have a short carry near the top of the hill. After this, your choice includes a rapid downhill race back to Kathmandu, or a leisurely descent. The latter will allow you to take in the sights and enjoy the fresh air. For the last night you camp at Naga Gompa after riding approximately 36 km.
Day 13: Kathmandu
Crown this epic holiday with a day in Kathmandu at your leisure. Have a day of sightseeing or just relax and get your things packed up for departure.
Day 14: Departure
You will be transferred to the airport for your return flight.
Services included
Hotel with breakfast in Kathmandu
Full service on the ride, all meals, and camping equipment
Flight to Pokhara
Hotel in Pokhara
Western, Nepali guide and Mechanic
Staff Insurance
Services not included
Lunch and dinner in Kathmandu and Pokhara
Soft and alcoholic drinks
International flight to and from Kathmandu
Nepal Visa fees
Bar bills and laundry
Travel insurance
Airport taxes
Optional trips and sightseeing tours
Tips
Excess baggage charges
Hints
A prepayment of 25% has to be paid directly after reconfirmation. Final payment becomes due 42 days before starting date of the tour.
RATING
DATES
Duration: 14 Days
TERMS & CONDITIONS
DOWNLOADS
RECOMMENDATION