Tibet Trekking
On the Roof of the World
ITINERARY:
(subject to change without prior notice)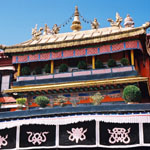 Day 1: Leave for Kathmandu
Day 2: Kathmandu
On arrival at Kathmandu international airport transfer to hotel, briefing for the entire program. Rest of the day free for independent activities. Dinner at a typical Nepali Restaurant.
Day 3: Kathmandu
Sightseeing tour to Kathmandu vallley visiting old temples and palaces, 2,000 years old Buddhist Stupas, Tibetan handicraft centre and local market.
Day 4: Kathmandu - Lhasa
Early morning tansfer to the airport for your flight to Lhasa, which is one of the world's extraordinary flights passing over Mount Everest with spectacular view of the entire Himalayan Range from Nepal and Tibet. You will be met at Gonggar Airport by your Tibetan guide. After immigration formalities take a 1.5-hour drive along the 93 km road leading to Lhasa lying at an altitude of 3,650 meters. It is advisable to rest and take it easy for the remainder of the day due to Lhasa's altitude.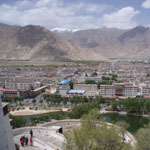 Day 5: Lhasa
Foremost, your tour begins with a visit to Sera Monastery. An experienced tour guide also working as an interpreter escorts you to this preserved monastery of white-washed walls and golden roofs. Equally adventurous and exciting tempo builds up while touring Norbulingka, the summer palace of the Dalai Lama. Jokhang Temple is another important sacred site which unravels more deep seated mysteries of Tibetan Buddhism. Visit to Barkhor Markets can be quite a change from other visits as you roam around the city savoring every tiny detail from stall hawkers coaxing their clients to purchase their goods to an exhibition of Tibetan culture, custom and tradition. Eventually, the tour for the day concludes as you return to the comforts of your hotel.
Day 6: Lhasa
Like the previous day, you experience invaluable insights during your visits to Potala Palace and Drepung Monastery. This 17th century Potala Palace offers an awesome view of the entire city, and also has private quarters of the Dalai Lama, numerous grand state rooms and chapels. Ancient history has it that Drepung Monastery which was built in the 14th century used to shelter around 10,000 monks but as now there has been quite a declination resulting in only a few hundreds. The Tibetans' respect and belief are immensely knotted with this monastery.
Day 7: Lhasa - Ganden
If you head along the south bank of the Kyi Chu to Medro Gongkar, Ganden is 45 km east of Lhasa. On continuing eastwards you will drive past Tibet University crossing the Lhasa East bridge to the gas station. En route you will encounter a village and a line of telegraph posts. A monastery lies 18 km ahead at the top of Wangku Ri, a scarred ridge. This is the first monastery of the Gelugpa sect. Its architecture has been distorted to a larger extent by the "Cultural Revolution". The main road leads to Ganden Valley. At the south-west corner of Ganden, a large rock draped with prayer flags can be found. You will spend two nights here acclimatizing and preparing for your further adventure.
Day 8: Ganden
Ganden is an interesting place to stroll through aimlessly. The sheer ochre walls of many of the buildings make great backdrops for photographs. The "Kora", a trail leading around Ganden, is not to be missed. Hardly 5 minutes goes by without people stopping in front of a rock, shrine, or crevice in a boulder to perform unusual rituals that "test" their faith and help them earn religious merit, all in a carnival-like atmosphere. This circuit begins at the south west corner of Ganden. A large rocky cleft draped with prayer flags marks the start of this scenic circuit, which takes at least one hour to complete. After the "Kora" you can walk up an adjacent hill to view Ganden and its surroundings.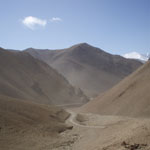 Day 9:Yama Do
You resume your Tibet trekking adventure as you trek away from Ganden southwards along the Angor Ri, the highest point on the Ganden Kora. After ascending for 1 - hours, you see several cairns near a saddle. The trail further leads westwards descending to Hepu village. 30 houses become visible. 3 - hours of trekking brings you close to the Shug La pass. Ani Pagong lies 1 hour away from Hepu. 1 hour of continuous ascent leads to lush meadows. Then appears Yama Do where on finding a perfect campsite you will rest for the night.
Day 10: Tsotup Chu
Leaving behind Yama Do, you have to climb eastwards negotiating boulders along the final climb atop 5,250 meter Shug La, the highest point on this trail. The pass is distinctively marked with its large cairn wrapped in prayer flags and yak horns. After a brief stop at the pass to savor the grand vistas you make a sharp descent walking past a boulder field. The trail eventually opens into the valley and up ahead in some distance crosses Tsotup Chu, a large stream running through rich pastures of yaks, goats and sheep. You encounter several herdsmen on the way. After trekking for 4-5 hours, we camp for the night at a superb location in the Tsotup Chu Valley.
Day 11: Herdsmen's Camp
As you leave the Tsotup Chu Valley, you come across a main water course flowing from the south-east, with a tributary from the south-west. You take the route along this tributary followed by steep ascents for 30 minutes to a large basin. Thereafter, the tributary disappears out of sight. The trail further opens into the valley progressing south to the Chitu La at 5,100 meters capped with several cairns. The trail further brushes past a sheer rock wall on its south flank. A descent into a basin showcasing three turquoise lakes follows. Further on, the trail moves on to the west side of the stream and, after 30 minutes, approaches the campsite. Many herdsmen's camps can be seen in the vicinity. Following the rock-strewn valley floor, you will head to a flat seasonal camp on the east side of the valley. As you reach your campsite on the west side, you will rest and stay there for the night.
Day 12: Wango
Traversing through lush scrub forest along a wide trail, you trek ahead basking in the sheer pleasure of two hours of blissful moments. Along the trail you can witness a multitude of rich wildlife; you find more than 15 species of trees and shrubs, fragrant junipers growing on the southern slopes and rhododendron on the shadier slopes. A succession of lush meadows appears en route. Further ahead, the pristine village of Changtang zooms into picture. The majority of the local villagers are engaged in animal husbandry for livelihood. The Yarlung Tsangpo Valley can be seen to the south. You can ascend steeply up to the Yamalung Hermitage for one hour. But if you choose not to go there, you can simply wait near the bridge. Ancient history has it that Guru Rinpoche after rigorous meditation attained spiritual enlightment with the blessings from the deity Amitayus (Tibetan: Tsepame) at Yamalung (also called Emalung). This heritage site houses small temples sheltering monks, a sacred spring and stone carvings of the 8th Guru Rinpoche, King Trisong Detsen and Indian pundit Shantarakshita. Stone houses come into sight after walking for one hour to the village of Nyango. The trail overlooks big tributary streams cascading from the north-west to join the Samye valley. The old trade route from Lhasa to Samye follows this valley. You can see four small shops fully resourced with soda and cigarettes. The trail further proceeds towards Wango. Overlooking lush meadows, you will camp between Wango and Pisha.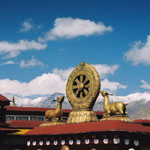 Day 13: Tsedang
Pisha offers a picturesque view of the entire Lower Samye Valley. At its lower end, an undulating hill called Hepo Ri appears which is regarded as very sacred. The trail winds across a ridge towards the fields and villages of Samye reviving ancient history. A partially rebuilt palace is nestled on the summit. History boasts that the palace is the birthplace of King Trisong Desten, and possessed a big temple in ancient times. Further on up the road, you will find a small red and white temple. It is believed to have been built under the shade of a white sandalwood tree that was nourished by the buried placenta of King Trisong, but was chopped down during the "Cultural Revolution". Further on, the trail, overlooking amazing spires, leads to Sangbu village. You will find a well trodden track for the jeep ride to Samye. As you approach Samye valley, you can visit Samye monastery with its panoramic picture of Samye. Shortly after this insightful visit, you will drive to Tsedang, the third largest city in central Tibet. On the Southeast of Tsedang, you will get the mesmerizing view of the mountain GANGPO RI, summiting to a height of 4,130 metres above sea level. Tibetans regard this mountain as their legendary birthplace. You eventually rest for the night at a comfortable guest house.
Day 14: Yarlung Valley
Today will be spent exploring the Yarlug Valley which is also known as the "Valley of Tombs". Historians say that the Tibetan civilization originated here. You can spot massive burial mounds of Tibetan Kings. Today's sights include the Tandruk Monastery from the 7th century which holds a wood carved altar, interesting relics and murals. Yambulakang, the castle perched dramatically on a pinnacle above the valley, is the oldest known dwelling in Tibet, reputedly the home of the Yarlung Kings. The view from the castle is awesome. The tour continues to the west of Tsedang, crossing the Tsangpo River on a boat to reach the Samye Monastery. It was founded in 779 AD, and is situated in a green valley among barren mountains surrounded by a village. Built between 763 and 75 AD and planned as a representation of the universe, it includes a collection of pagodas and temples.
Day 15: Departure for Kathmandu
Drive to Gongar Airport for the flight to Kathmandu; upon arrival transfer to your hotel.
Day 16: Kathmandu
A full day of rest in Kathmandu.
Day 17: Departure
You will be escorted to the airport in time for your flight home.
Services included
4 Nights Hotel at Kathmandu with breakfast.
3 Nights Hotel Lhasa with breakfast
Airfare Kathmandu-Lhasa-Kathmandu
Trekking Ganden-Samye and Tesedang on full board
All transfers as per itinerary by Toyota Land Cruiser
Services not included
International airport tax
Visa for Nepal and Tibet
Lunch/Dinner at Kathmandu and Lhasa
Drinks
Hints
* Travel time from beginning of May through end of November
After every meal (three times a day), tea/coffee will be served during the trekking.Apart from this, every morning we provide clients with either boiled water or soft black tea to carry with them on their Thermos Bottle. For the supplement of extra drinks, clients have to buy mineral water themselves which is available at all places.
Recommended equipment list: sleeping bag, a warm jacket, good trekking shoes, sunglasses/sun cream, an insulated bottle for hot drinks and basic medicines.
Maximum luggage weight 20 kg per person.
There are always 1 or 2 additional porters with the crew who take care of clients who get sick or unable to even carry their daily private luggage.
Shower possibilities every 3-4 days during the trek; no laundry service available.
Clients must hold only ordinary passport for Tibet visa
Visa will be applied and obtained by local travel agent in Kathmandu from Chinese Embassy
Visa may not be granted for journalists,diplomats and government employees
Travellers are strongly advised not to take any picture of Dalai Lama
A prepayment of 25 % has to be paid directly after reconfirmation. Final payment becomes due two months before starting date of the tour.
Demands
Partly challenging, activities such as hiking which may last longer than expected.
Partly difficult terrain or conditions.
If you plan mountain tours, acclimatisation will be required. You have to be sure-footed.
Good health and physical conditions are recommended. Easy adaptation to activities is required.
RATING

minimum: 2
maximum:
DATES
Duration: 17 Days
TERMS & CONDITIONS
DOWNLOADS
RECOMMENDATION