Extended Vietnam Hiking
More highlights of Vietnam by foot
Vietnam is one of the most delightful places in south-east Asia, a land of idyllic beaches, tranquil bays, coral islands, spectacular mountains, valleys and primal forests, and is home to a warm-hearted and hospitable people. The striking and varied landscapes, from high rolling hills to undeveloped beaches, are a traveler's paradise and cover a wide range of climates. There is plenty to see from a long, varied history, and the French colonial inheritance is visible in many ways, not least in a serious interest in food.
Vietnam consists of two river deltas, the Red River in the north (Tonking) and the Mekong in the south, and these are connected by a narrow, hilly coastal strip (Annam) about 800 km long. Much of the country is very fertile, and it has attracted a succession of invaders, including the Chinese, Japanese and French. Over the last few years Vietnam has opened its doors voluntarily to outsiders. Private initiatives and businesses are being encouraged (although still often drowned in red tape), and tourism is high on the agenda for development. Almost all travel restrictions have been dropped, and we can now visit the whole length of the country.
Whether you are mountain biking or hiking, Vietnam offers a variety of colours, cultures and scenery to ensure you get a different scene for everyday.
This is one tour with a difference, from the quiet mountain villages stuck in a time warp to the hustle and bustle of the heaving cities the extremes are never more apparent. A superb mixture of the old and the new this tour has it all, great accommodation, over night train rides, diverse culture, good food and amazingly friendly locals.
We start the hiking tour in the north and work our way south on foot, vehicle and train. The scenery on hiking is such you forget about time and distance as the surroundings become so enthralling. The ability to interact with the locals in the local markets and villages is a highlight of the tour and you will be left with an amazing feeling towards the Vietnamese for they have so little which they share so freely.
ITINERARY:
(subject to change without prior notice)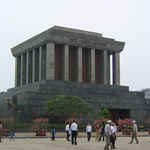 The National Monument
Day 1: Arrival in Hanoi
You will be met by your tourguide at the airport and transferred to the centrally located hotel "Huyen Trang". After a little rest you will explore the city by foot and have the opportunity to change some money. The first evening meal is a great way to get to know each other.
Accommodation: 3 Star Hotel. Meals: D
Day 2: Hanoi
After a nice breakfast you are going on a sightseeing tour, where you see the Ho Chi Minh Mausoleum and the museum, as well as the "Literature Temple", Vietnam's first university.
In the afternoon you explore the old quarter with more than 36 roads by foot, in which you can find an interesting mixture of French and Chinese architecture and do your first shopping.
Accommodation: Hotel Meals : B/L/D
Day 3: Hanoi - Sapa
On a long journey along the red river you can see a fascinating landscape of many rice fields. You reach Lao Cai early evening. On the drive up to Sapa (1,600 m) you have a view of Fansipan, the highest mountain in Indochina. In the evening you walk through the village. You overnight at the "Cha Long" Hotel, which looks like a castle with lots of local art displayed.
Accommodation: Hotel Meals : B/L/D
Day 4: Sapa
In the morning you can stroll along the market and further to the orchid gardens. You will be driven to the mountain station of Sapa, which used to be a French vacation spot. On this 32 km journey you will have a fantastic view over the valley. After lunch in a local restaurant you go on your first 3-hour hike down the Muong Hoa Valley. Visit two mountain tribes the Dzay and Black Hmong, who live here more than 1,000 years and have hardly changed their lifestyle. You will be picked up by Jeep and driven back to your hotel in Sapa.
Accommodation: Hotel. Meals: B/L/D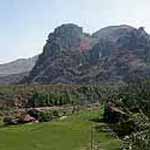 Mountain landscape
Day 5: Mountain village Ban Ho-Thanh Phu
A short drive per Jeep will take you to Su Pan. Here the walk begins to the mountain people of the Tay, who live in a small village named Ban Ho -Than Phu (walking time 3-4 hours). You experience the simple way of life and you will be amazed by their hospitality. If you are interested in cooking, your guide will teach you Vietnamese cooking. The result will positively surprise you.
Accommodation: Traditional longhouse on stilts at a guest family. Meals: B/L/D
Day 6: Ban Ho-Thanh Phu via Sapa - Bac Ha
You leave your "host family" and hike approximately 2 hours through rice fields up to the road. From there a jeep brings you back to Sapa and connects with a bus to Bac Ha. You stay at Hotel "Sao Mai" which is built on stilts and situated in a big garden with plum-trees.
Accommodation: Hotel. Meals: B/L/D
Day 7: Bac Ha - Can Cau
Today you will be driven to the small village of Can Cau (20 km). Saturdays is always market day and you can experience the multicolored life there. The Highland trek of about 3-4 hours will take you to the flower villages of the Flower Hmong, who wear the most colourful of Vietnam's dresses. In the afternoon transfer back to the hotel "Sao Mai".
Accommodation: Hotel. Meals: B/L/D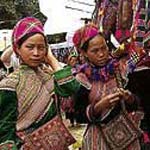 Market scene
Day 8: Bac Ha - Hanoi
Visit the big market of Bac Ha. You cannot resist those Vietnamese markets. A 4 hour hike will follow, where you will see the plum gardens of Ban Pho and Na Hoi. You have the opportunity to see the farmers doing their daily work and visit the mountain tribe of the Nung. In the afternoon you will be driven to Lao Cai, where at 8.20 p.m. the night train to Hanoi leaves. There are always 2 people in a sleeping wagon first class, where there are usually 4 people.
Accommodation: First Class Night train. Meals: B/L/D
Day 9: Hanoi - Halong Bay
After your arrival in Hanoi a bus transfer is organized at 6am to take you to the coast of Hai Phong. A well deserved breakfast is waiting for you before you board a traditional wood boat. It is a unique experience to sail through the famous Halong Bay with more than 3,000 islands. From time to time the boat anchors near one of the numerous desert beaches and you are able to enjoy the beautiful nature and take a refreshing bath in the beautiful water.
Accommodation: Boat / 2-bed compartment with shared facilities. Meals: B/L/D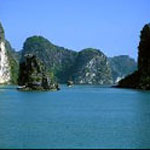 Day 10: Halong Bay
This day is for you to relax and enjoy the beautiful beaches. You can go kayaking or on your own investigation tour to see the amazing limestone wash-outs.
Accommodation: Boat / 2-bed compartment with shared facilities. Meals: B/L/D
Day 11: Halong Bay - Ho-Chi-Minh-City
At around lunch time your cruise ends in Halong City. From there you get a transfer back to Hanoi. Afternoon flight to Ho-Chi-Minh-City (Saigon). You have the opportunity to walk on your own around the safe old part of the town. Overnight in a beautiful hotel originating from the French colonial age named "Grand Hotel".
Accommodation: Hotel. Meals: B/L
Day 12: Ho-Chi-Minh-City - Island Binh Hoa Phuoc
On this day you explore a part of the Mekong Delta by bicycle. The country is flat and the landscape very beautiful. You can choose if you like to cycle 45 km from MyTho to CaiBe or "only" about 25 km from CaiLay to CaiBe and sit in the bus for the first part. By ferry you arrive from CaiBe over a tributary of the Mekong at the small island Binh Hoa Phuoc at the "QuocNam Guesthouse". In the afternoon you can go on a cycling tour around the island on small trails.
Accommodation: "QuocNam Guesthouse". Meals: B/L/D
Day 13: Island Binh Hoa Phuoc - Can Tho
After a beautiful sunrise you can look forward to see the small market nearby. By ferry you arrive at VinhLong and cycle further through the Mekong delta and through the villages of BaKe, TamBinh and TraOn to Can Tho approx 60 km. (For your information: you can choose to sit in the bus at any time.)
Accommodation: Can Tho at the "Victoria Hotel Can Tho". Meals: B/L/D
Day 14: Can Tho - Ho-Chi-Minh-City (Saigon) - departure
In the morning you go by boat to the "swimming market of Cai Rang", whose inspection is a unique experience. With a "Xe-Loi", a kind of local taxi, you get back to Can Tho. A ferry and bus will take you directly to the airport of Ho-Chi-Minh-City.
Meals: B/L
Services included
Domestic flights from Hanoi to Saigon with Vietnam Airlines including taxes if apply
Overnight Accommodation in DBL rooms incl. Bathrooms in selected Lodges and hotels of for Vietnam typical middle class, 1 night at a Host family in a traditional longhouse (simple), 1 night in night train / first class (4-people-compartments in which only 2 people sleep)
2 Overnights on a boat in the Halong Bay in 2-bed-room without ensuite facilities
Meals: daily breakfast, 13 x lunch, 11 x dinner
Travel in mini bus or jeep (with 4 participants) for all travels
Travel by night train from Bac Ha to Hanoi
Kayaking in the bays of the Halong Bay
Two bicycle tours along different river arms in the Mekong delta
All national park fees and admission fees as well as the activities mentioned in the itinerary (except marked as "optional")
Tourguide
English speaking guide
Services not included
International Flights
Drinks
Travel Insurance
Personal expenses
Optional Services
Please note that there will be a surcharge if you want to book this tour with less than 4 participants.
Price for 9 Day tour: USD 1,455.00
Surcharge for single room: USD 270.00
Hints
Visas issued by an Embassy of the Socialist Republic of Vietnam allow you to visit the entire country. The validity of the individual passport has to exceed the one of the visa by at least one month.
A prepayment of 25% has to be paid directly after reconfirmation. Final payment becomes due 42 days before starting date of the tour.
RATING

minimum: 4
maximum: 12
DATES
Duration: 14 Days
TERMS & CONDITIONS
DOWNLOADS
RECOMMENDATION