Vietnam Mountain Biking
Mountains and beaches plus culture
Explore Vietnam by bike on our 14 day Vietnam mountain biking tour. This biking tour is fully-supported and designed to capture the very best Vietnam offers the adventurous traveller - challenging cycling and a diverse cultural experience.
Your journey takes you to the charming ancient cities of Hanoi and Ho Chi Minh City, the verdant expanse of the Red River Delta and Cuu Long with their fertile banks farmed by generations of peasants. Cycle amongst massive limestone mountains adorned with ancient forest, jungle and steep rice terraces, cultivated by hill tribes as they have been for thousands of years. These are places where a tourist is still a stranger and a curiosity.

The slow unhurried pace of life will seem light years away from the stresses of the modern world. A rejuvenating and enriching biking adventure into this beautiful, unspoilt corner of Asia awaits you.
ITINERARY:
(subject to change without prior notice)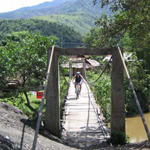 Crossing the bridge
Day 1: Hanoi
Please arrive at Hanoi Airport before 12:00 noon. You will be transferred to the city (45 min) to check in to your Hanoi Hotel. Afterwards, we take you on a City Tour. Among the various places of interest are the Ho Chi Minh Mausoleum (closed on Mondays) and the Temple of Literature. You have the opportunity to
enjoy a traditional water puppet show, and in the evening have your first Group dinner together.
Accommodation: Hotel. Meals: Dinner. No cycling.
Day 2: Hanoi - Muong Lay (formally Lai Chau)
In the morning, you fly to Dien Bien, leaving the city far behind and stepping straight back in time as you enter the world of rural Vietnam. Assemble your bike, and after lunch cycle on a tar seal road seldom used by vehicles. The tour takes you through rolling countryside filled with tropical trees, plantations and dotted with small villages. After approximately 60 km, board your back up vehicles and drive to the village of Muong Lay, on the fringes of the Hmong tribal region.
Accommodation: Hotel. Meals: Breakfast, Lunch, Dinner.
Elevation/Cycling: 900 m up, 56 km / 4 hrs riding.
Day 3: Moung Lay - Lai Chau (formally Tam Duong)
Leave the hotel in the morning to cycle from on tar seal roads, winding along through the fields and hillsides. A climb of 17 km awaits you after lunch, followed by an awesome downhill ride. Enjoy the views of mountain ranges, lakes, rivers, jungle, and tiered paddy fields rising and falling as far as the eye can see. By now, you are getting deeper into tribal lands and you are able to see Tay, Hmong and Tsao tribespeople in their villages and tending their crops. There are possible variations this afternoon which can include some single trail riding. An optional massage can be a nice reward for today's workout.
Accommodation: Hotel. Meals: Breakfast, Lunch, Dinner.
Elevation/Cycling: 915 m up, 640 m down, 65 km / 4 hrs riding (or variations).
Day 4: Lai Chau - Sapa
Start off with a short road section before you enjoy spectacular single trail riding in the morning through small villages. As you get closer to the Hoang Lien Son peak, you will cycle between these 1,000 m-3,000 m mountains. Finally, you reach the highest pass in Vietnam (at 1,900 m). Then descend to Sapa (at 1,600 m). The deeper into the mountains you go, the more hill tribes you will see, wearing amazingly elaborate and colourful costumes with huge earrings. These people have been living in the hills for a thousand years, and their way of life has hardly changed from generation to generation.
Accommodation: Hotel. Meals: Breakfast, Lunch, Dinner.
Elevation/Cycling: 1,520 m up, 590 m down, 87 km / 5-7 hrs riding.
Day 5: Sapa - Muong Bo - Sapa
A half day trip combining dirt roads, single trails, and a steep downhill (1,000 m). You will be walking and/or cycling from village to village, (meeting Hmong and Tay hill tribes). Sometimes, the trails are passing through a local's backyard. (Don't worry, they don't mind! If you are the first rider into a village, their jaws just drop with amazement, but as the last rider passes, everyone will be outside and showing great excitement). The late afternoon and evening is free (although the 3 hour single trail ride can be extended to a 6 hour ride).
Accommodation: Hotel. Meals: Breakfast, Lunch.
Elevation/Cycling: 500 up, 1,100 m down, 37 km / 4 hours riding.
Day 6: Sapa - Ban Khoang - Lao Cai (Chinese border) - Bac Ha
Wind your way up higher and higher into the mountains. You will be cycling HIGH for half a day at 1,400-1,600 m, followed by the big descent to Lao Cai. Then, drive to Bac Ha (1,400 m) which takes approximately 2 hours.
Accommodation: Hotel. Meals: Breakfast, Lunch, Dinner.
Elevation/Cycling: 900 m up, 2,250 m down, 79 km / 5.5 hours riding.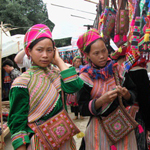 Young women at a market
Day 7: Bac-Ha
The Sunday market is a great opportunity to view local life-styles, just make sure you bring enough film! From late morning, cycle for up to 4 hrs on trails through villages, admiring the stunning scenery of mountains and forest. Wherever you stop, you will become a major focus of attention. When you are stopping to admire the view seemingly in the middle of nowhere, people will suddenly appear from the hills. The main tribe you will see today is Flower HMong, the most colourful tribe in Vietnam.
Accommodation: Hotel. Meals: Breakfast, Lunch, Dinner.
Elevation/Cycling: 370 m up, 560 m down, 25 km / 2.5 hours riding.
Day 8: Bac-Ha - Lao Cai - Hanoi
Today is a single trail day - a fantastic ride along the hill ridges through evergreen forests and ancient hill tribes. Lunch is en route, plus you can have snacks and a cold beer at the end of the ride. Then, pack up the bike and be transferred to Lao Cai in time for a shower before you board the night train back to Hanoi. The bikes will be sent to Ho Chi Minh City.
Accommodation: Overnight train. Meals: Breakfast, Lunch, Dinner. Elevation/Cycling: 600 m up, 1,600 m down, 54 km / 5.5 hours riding.
Day 9: Hanoi via Saigon to DaLat
In the morning, take a flight to Saigon (HoChiMinh City). Embark on a short city tour on arrival in Saigon, before lunch. In the afternoon, get transferred back to the airport for a short flight to DaLat, the homeland of flowers, coffee plantations and mountain lakes.
Accommodation: Hotel. Meals: Breakfast, Lunch, Dinner. No Cycling.
Day 10: DaLat
Today, you cycle right from DaLat out to the east through old French villas for about 8 kms before skirting the eastern side of Victory Lake. The next 20 km is single track (farmland and forest), the best that Vietnam has to offer and a great challenge! Lunch today is an on-the-road picnic at the most convenient
hilltop before you continue via Tiger Falls and wind your way back to DaLat for a well earned evening meal.
Accommodation: Hotel. Meals: Breakfast, Lunch, Dinner.
Elevation/Cycling: Majority up/down; very little flat riding today, 45 km.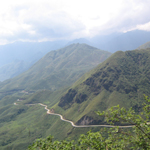 Over the hills and far away...
Day 11: DaLat
Today, ride the best single track downhill in the DaLat area, with outstanding views of the lakes and surrounding farmlands. Your first climb takes you up to 1,750 m. Take a break before encountering a couple of steep climbs, then plunging down dirt roads through a pine forest to TaNung. We drop 1,000 m
over 20 km - a great thrill for speed junkies. Transfer or ride the 20 km (uphill) back to DaLat.
Accommodation: Hotel. Meals: Breakfast, Lunch, Dinner.
Cycling: Hills, 52 km.
Day 12: DaLat - DiLinh - MuiNe
An early start. Descend 20 km from DaLat to TaNung village and onto the DucTrong district (+950 m). Don't miss the thrilling 35 km downhill ride! Back on the road, get transferred 45 km to DiLinh. On the way there, you pass
numerous coffee, tea, banana and rubber plantations. This region, the highlands, is renowned for producing the finest tea and coffee. Stop for a taste, before getting back on your bike, undulating 18 km before "flying" downhill 50 km on a narrow route through GiaBac tribal village to MaLam Town. The easy 40 km flat road continues up to MuiNe Beach (or transfer if preferred).
Accommodation: Hotel. Meals: Breakfast, Lunch, Dinner.
Cycling: Total Ride 112 km.
Day 13: MuiNe
Time out; relax by the pool at the resort and soak up some sun, or cycle to some of the local fishing villages through the sand dunes - a 30 km round trip.
Accommodation: Hotel. Meals: Breakfast, Lunch, Dinner.
Cycling: Optional 30 km.
Day 14: MuiNe - Ho Chi Minh City Airport
In the morning, you are transferred back to HoChiMinh city by van (4 hrs), where you will box up your bike and bid farewell before the trip home.
Meals: Breakfast. Cycling: none.
Services included
Internal flight from Hanoi to Dien Bien
Support vehicle and support truck
All meals listed
Accommodation: Hotels and Guesthouses (2-4 star)
Admission fees and permits
Overnight train (4 bunks in 1)
Experienced English speaking guide
Airport transfers on days 1 and 14 only
Services not included
International Flights
Internal Flights Hanoi-Saigon-Dalat
Bike rental
Drinks & favourite snack bars (except bottled water provided while riding)
Travel Insurance
Personal expenses
Guide and local tips
Vietnam visa (to be obtained in advance)
Optional Services
Price for 9 days tour: 1,725.00 USD
Surcharge for single room: 430.00 USD
Bike hire: 250.00 USD
Single surcharge 9 days: 300.00 USD
Bike hire 9 days: 175.00 USD
Hints
Visas issued by an Embassy of the Socialist Republic of Vietnam allow you to visit the entire country. The validity of the individual passport has to exceed the one of the visa by at least one month.
The tour operator reserves the right to modify tour itineraries in situations such as adverse weather or to better suit client requirements.
If any cyclist is riding in such a manner that it causes damage to the rented bike that person will be held liable for all expenses incurred to repair the bike to allow reuse.
Helmets must be worn at all times.
A prepayment of 25% has to be paid directly after reconfirmation. Final payment becomes due 42 days before starting date of the tour.
Demands
Designed for participants wishing to improve their fitness and experience new highs of achievement.
Riding distances may vary from the itinerary, depending on the abilities of the group and options taken. There is plenty of riding for all levels.
Fitness Required: A good level of fitness is required, exercising at least two to three times a week prior to the tour.
Recreational Riders & Sightseeing Passengers: Whilst this tour is graded medium we are happy to cater to a small number of recreational riders who may wish to take part in our shorter daily rides. We also welcome limited numbers of nonriders/sightseeing passengers on our tours. If you are keen to experience Vietnam but prefer to do this on four wheels rather than two please do not hesitate to check our availability on your departure of choice.
RATING

minimum: 6
maximum: 12
DATES
Duration: 14 Days
TERMS & CONDITIONS
DOWNLOADS
RECOMMENDATION