Vietnam Mountain Biking 9 Days
A biking tour in small groups
Vietnam is one of the most delightful places in south-east Asia, a land of idyllic beaches, tranquil bays, coral islands, spectacular mountains, valleys and primal forests, and is home to a warm-hearted and hospitable people. The striking and varied landscapes, from high rolling hills to undeveloped beaches, are a traveler's paradise and cover a wide range of climates. There is plenty to see from a long, varied history, and the French colonial inheritance is visible in many ways, not least in a serious interest in food.
Vietnam consists of two river deltas, the Red River in the north (Tonking) and the Mekong in the south, and these are connected by a narrow, hilly coastal strip (Annam) about 800 km long. Much of the country is very fertile, and it has attracted a succession of invaders, including the Chinese, Japanese and French. Over the last few years Vietnam has opened its doors voluntarily to outsiders. Private initiatives and businesses are being encouraged (although still often drowned in red tape), and tourism is high on the agenda for development. Almost all travel restrictions have been dropped, and we can now visit the whole length of the country.
Whether you are mountain biking or hiking, Vietnam offers a variety of colours, cultures and scenery to ensure you get a different scene for everyday.
ITINERARY:
(subject to change without prior notice)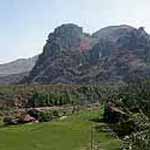 Mountain landscape
Day 1: Hanoi
Arrive at Hanoi Airport before 12pm. Transfer to the city (45 min) and check-in at Majestic Salute Hotel. In the afternoon go on a tour of the City which takes us past the Ho Chi Ming Mausoleum (closed on Mondays), visit the Temple of Literature, and after dinner enjoy a traditional water puppet show.
Accommodation: Hanoi Hotel, No cycling, Meals: Dinner
Day 2: Hanoi - Lai Chau
This morning we fly to Dien Bien leaving the city far behind and stepping straight back in time as we enter the world of rural Vietnam. We assemble our bikes and after lunch cycle on a narrow tar road, seldom used by vehicles, through rolling countryside filled with tropical trees, plantations and dotted with small villages. After 60 km we board our back up vehicles and drive to the village of Lai Chau, on the fringes of the Hmong tribal region.
Accommodation: Lai Chau Hotel, Elevation/cycling: 900 m up, 56 km / 4 hrs riding, Meals: Breakfast, Lunch, Dinner
Day 4: Tam Duong - Sapa
Today we enjoy spectacular single trail riding in the morning through small villages. As you get closer to the Hoang Lien Son peak, you will cycle between these 1,000-3,000 m high mountains, to finally reach the highest pass in Vietnam (at 1,900 m). Then descend to Sapa (at 1,600 m). The deeper into the mountains you go, the more hill tribes you will see, wearing amazingly elaborate and colourful costumes with huge earrings. These people have been living in the hills for a thousand years and their way of life has hardly changed from generation to generation.
Accommodation: Sapa Hotel (3 star), Elevation/Cycling: 1,520 m up, 590 m down, 87 km / 5.5 hrs riding, Meals: Breakfast, Lunch, Dinner
Day 3: Lai Chau - Tam Duong
This morning we cycle from the door of the hotel straight onto single track routes which wind along through the fields and hillsides. After the single trail ride we load up for 40 km and start cycling again along the Nam Na River to Pan Tan where our restaurant for lunch has a great scenic view. A gutsy climb of 17 km awaits us after lunch followed by an awesome downhill enjoying the views of mountain ranges, lakes, rivers, jungle, and tiered paddy fields rising and falling as far as the eye can see. We're also getting deeper into tribal lands and we'll see Tay, Hmong and Tsao tribespeople in their villages and tending their crops.
Accommodation: Tam Duong Hotel, Elevation/Cycling: 915 m up, 640 m down, 65 km / 4 hrs riding, Meals: Breakfast, Lunch, Dinner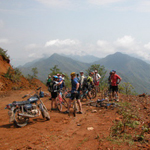 Encounter on the way
Day 5: Sapa - Muong Bo - Sapa
A half day trip combining dirt roads, single trails, and a steep downhill (1,000 m). You will be walking and/or cycling from village to village, (meeting Hmong and Tay hill tribes) trails sometimes passing through a local's backyard. (Don't worry, they don't mind! If you are the first rider into a village their jaws just drop with amazement, but as the last rider passes, everyone will be outside and showing great excitement.) The afternoon is free (although the 2 hour single trail ride can be extended to a 6 hour ride).
Accommodation: Sapa Hotel, Elevation/Cycling: 500 m up, 1,100 m down, 37 km / 3.5 hours riding, Meals: Breakfast, Lunch
Day 6: Sapa - Ban Khoang - Lao Cai - Bac Ha
A high country road with just deep blue skies and fluffy white clouds all around, as we wind our way up higher and higher into the mountains. You will be cycling HIGH for half a day at 1,400-1,600 m, followed by the big descent to Lao Cai on the Chinese border. Then we drive to Bac Ha (1,400 m) which takes 2 hours.
Accommodation: Bac Ha Hotel (2-3 star), Elevation/Cycling: 900 m up, 2,250 m down, 79 km / 5.5 hours riding, Meals: Breakfast, Lunch, Dinner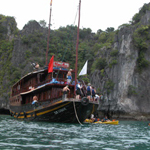 A traditional boat
Day 7: Bac Ha
The Sunday market is a great opportunity to view local life-styles, just make sure you bring enough film! From 10am, cycle for 4 hrs on trails through villages, admiring stunning scenery of mountains and forest. Wherever you stop you will become a major focus of attention. Stopping to admire the view seemingly in the middle of nowhere, people will suddenly appear from the hills. The main tribe you will see today is Flower HMong, the most colourful one in Vietnam.
Accommodation: Bac Ha Hotel (2-3 star), Elevation/Cycling: 370 m up, 560 m down, 25 km / 2.5 hours riding, Meals: Breakfast, Lunch, Dinner
Day 8: Bac Ha - Lao Cai - Hanoi
Today is the " Single trail day" - A fantastic ride along the hill ridges through evergreen forests and ancient hill tribes. Picnic lunch along the way and we can have snacks and a cold beer at the end of the ride. We then pack up the bikes and drive to Lao Cai in time for the night train back to Hanoi. Bikes will be sent to Ho Chi Minh City.
Accommodation: Overnight train (1st Class sleepers), Elevation/Cycling: 600 m up, 1,600 m down, 54 km / 5.5 hours riding, Meals: Breakfast, Lunch, Dinner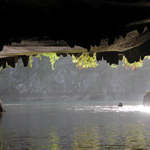 A unique natural bridge
Day 9: Hanoi Departure Day
After your arrival in Hanoi you will have breakfast. At lunch time transfer to the airport.
Meals: Breakfast
Services included
All meals listed
Accommodation: Hotels and Guesthouses (2-4 star)
Admission fees and permits
Internal flight: Hanoi to Dien Bien
Overnight train: 1st class air-conditioned compartment (4 bunks in 1)
Support vehicle and support truck
English speaking guide
Services not included
International Flights
Bike rental
Drinks
Travel Insurance
Personal expenses
Optional Services
Price for 14 Day tour: 2,420.00 USD
Surcharge for single room: 390.00 USD
Bike rental 75.00 USD
Hints
Visas issued by an Embassy of the Socialist Republic of Vietnam allow you to visit the entire country. The validity of the individual passport has to exceed the one of the visa by at least one month.
A prepayment of 25% has to be paid directly after reconfirmation. Final payment becomes due 42 days before starting date of the tour.
RATING

minimum: 6
maximum: 12
DATES
Duration: 9 Days
TERMS & CONDITIONS
DOWNLOADS
RECOMMENDATION