Rodopi Mountains Road Cycling Tour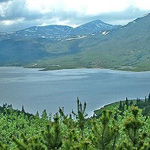 A lake in the mountains
Experience Bulgaria's culture and nature by bike
The Rodopi Mountains' landscape consists of high ridges and deep river valleys with gorges, river basins and valleys. Here one can also find 70 % of the world minerals as well as 600 caves. The Rodopi Mountains house also some of the loveliest coniferous woods in the country.
This road cycling tour will take you even higher, at about 2,000 m. Most of the mileage goes along main, asphalt roads with relatively little traffic, that are well-suited for biking. Along them you can see some old-time transportation means: wooden carts pulled by a horse, a donkey or a cow. You can also meet some nomad gypsies, picking mushrooms and berries in the woods, some local Muslim minorities living on tobacco and potato cultivation or herds of sheep or goats coming down from the hills at the end of the day.
We stay in family-run hotels (day 4) and 3-star hotel (days 2, 3, 5 & 6) with private facilities and in guesthouses (days 1 & 7) with shared facilities on HB (breakfast & dinner included).
A detailed roadbook will be provided upon arrival. Luggage is taken care of throughout the whole trip. A small rucksack for carrying personal items during the day is necessary. There is a supporting vehicle with a guide, that meets the tourists few times a day to check if everything is OK. It is possible to skip some parts of the stages for the day and to travel with the luggage instead.
ITINERARY:
(subject to change without prior notice)
Day 1: Arrival
Arrive at Sofia or Plovdiv Airport and accommodation in Sofia or Plovdiv depending on your arrival time. Please note that the starting point of the trip is between these two cities so you may meet the rest of the group on the morning of Day 2.
Day 2:Sestrimo - Velingrad
The cycling starts a few kilometers outside the village of Sestrimo. It will take us up to Belmeken dam (2,000 m) through old coniferous woods. In the afternoon, the road passes the mountain meadows of Iundola before descending to the town of Velingrad, where we stay overnight.
Biking distance: 76 km, about 5,30 h. Uphill/downhill cycling - 500m/1,300 m
Day 3: Velingrad - Dospat

We start passing through the picturesque landscape of Tsigov Chark by Batak dam to the town of Dospat (1,200 m). We circle the blue-green waters of Goliam Beglik and Shiroka Poliana dams before reaching the town of Dospat where we stay overnight.
Biking distance: 71 km, taking about 5 hours. Uphill/downhill cycling - 600m/700 m.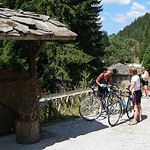 Roadside stop
Day 4: Dospat - Trigrad
After breakfast, we start from the centre of Dospat via the town of Borino to the Buinovsko Gorge. The next stop is the Yagodina Cave. Here we make a cave tour before going further to Trigrad village, passing among the 250 m high cliffs of the Trigrad Gorge (1,450 m). Another fascinating cave is expecting us .The Devil's Throat Cave is housing one of the highest underground waterfalls in Europe. We stay overnight in Trigrad.
Biking distance: 50 km, taking about 4 hours. Uphill/downhill cycling - 700m/800 m.
Day 5: Grohotno - Shiroka Luka - Pamporovo

A pleasant descent along Trigradska River brings you to the village of Grohotno and the nature phenomenon "The Elephant" - a 10 m high rock formation. Then the biking continues upstream along the Shirokolushka River to the village of Shiroka Luka (1,060 m, or 3,477 ft). We stop here to savour the spirit of this architectural reserve, famous for its preserved houses dating back from the Bulgarian Revival Period. Eventually the trip ends at Smolyan Lakes. Transfer to Pamporovo resort for overnight.
Day 6: Rozhen - Laki - Borovo
Cycling from Pamporovo to the historic place of Rozhen. After that, you start climbing up until 1,700 m. Up there, a big picturesque meadow with a junction marks the beginning of a gentle downhill ride in the direction of Laki town with a protected area called "Momina voda". In the vicinity, stop at the picturesque village of Borovo and another famous religious place with chapels and healing springs - Krastova Gora. Overnight in Borovo.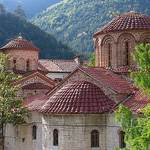 Bachkovo Monastery
Day 7: Jugovska Valley - Bachkovo Monastery - Plovdiv

The downhill ride continues along Jugovska River valley to the main road Smolyan-Plovdiv. A short transfer brings you to the "The Miraculous Bridges", a unique nature phenomenon. Pass through the spa resort Narechenski Bani. 5 km further, you will reach the Bachkovo Monastery (the second largest in Bulgaria). The cycling ends in the town of Plovdiv.
Day 8: Time to say Goodbye
After breakfast you will be transferred to Sofia or Plovdiv Airport for departure.
Transfer time: 20 min to Plovdiv Airport or 2 h to Sofia Airport.
Services included
Equipped bike (helmets and saddle bags are provided upon request only)
English-speaking guide/driver with a supporting vehicle
Map
Roadbook
Transfers from/to Sofia airport
Accommodation and boarding as mentioned above
VAT and all local taxes
Services not included
Tips
Entrance fees
Alcoholic beverages or cigarettes
Other personal expenses
Optional Services
Single room supplement: 80 EUR
Hints
Departure dates: 01.05.09-30.09.09 - every Saturday. Other dates also possible upon request.
A prepayment of 100 EUR has to be paid directly after reconfirmation. Final payment becomes due not less than 5 weeks before starting date of the tour.
Demands
Road conditions: We use two-way roads (one band per direction) with an asphalt covering (the latter usually not brand new!). The country roads are quite peaceful, sometimes without any cars. The road surface in these areas may be not very smooth at some stages. The traffic might be a little bit heavier at some tracks but only for a short while.
RATING

minimum: 2
maximum:
DATES
Duration: 8 Days
TERMS & CONDITIONS
DOWNLOADS
RECOMMENDATION