Hiking: Cortina - Marmolada - Tre Cime di Lavaredo
On the traces of World War I in the Dolomites
The highest peaks of the Dolomites were the stage for battles during World War I among men who attempt to live together in peace today. The war trails offer an interesting insight into history; everywhere you may detect ladders, bridges, trenches and galleries. A spectacular Dolomite scenery leads us through the mountains of Tofana, Marmolada, Cristallo and Tre Cime di Lavaredo during the whole week.
HIGHLIGHTS: Famous mountains of the Dolomites; Experience history by following old war trails, which today are symbols of peace; Differentpaths and mountains every day; A cosy mountain inn with spectacular views of the surrounding mountains
ITINERARY:
(subject to change without prior notice)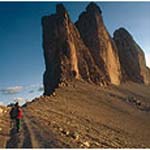 Tre Cime di Lavaredo
Day 1: Arrival
We meet in our hotel at the Passo Giau above Cortina at 6:00 p.m. Our guide briefs you the procedure for the week and checks the equipment. Dinner.
Day 2: Castelletto / Tofane
Ascent to Lagazuoi (2,790 m) by cable car. Wonderful views of Civetta, Pelmo, Tofana; almost all peaks over 3,000 m of the Dolomites are visible! We walk to the deeply fissured rock of Castelletto (2,450 m). There we get an insight of the battles between Italians and Austrians. Descent to Passo Falzarego. Transfer back to our inn. Walking hours approx. 5-6.
Day 3: Marmolada
Transfer with wonderful views of the Marmolada, 1 hour of ascent by cable car. At the edge of the glacier we hike to the Cima Dodici (Sas de Mez) with its old military positions. Exciting descent to Col de Bous (2,350m), Gran Poz and back to the Fedaja Reservoir. Walking hours: approx. 5.
Day 4: Andraz / Col di Lana
Transfer to the ruin of Castle Andraz and to Castello (1,720 m). Ascent to Col di Lana (2,465 m), a place where hard battles have taken place during World War I. We continue our hike to Passo Valparola and enjoy fascinating views of the Dolomites of Ampezzo and Sesto during our whole walk. Walking hours: approx. 5.
Day 5: Croda dal Lago
The jagged peaks of Croda dal Lago dominate the whole area of Passo Giau, today's destination. Through rock-scree fields we reach Valle Formin, hike past the mountain lake Federà and afterwards enjoy easy walks over alpine meadows and through stone pine forests. Walking hours: approx. 5.
Day 6: Monte Piana
Transfer to Lago di Misurina (1,760 m). Hike to Monte Piana. Visit the open-air museum with the original war positions, which have been restored in the last years. Exciting views of the Tre Cime di Lavaredo and Monte Cristallo. Back to Misurina and Cortina, where you have a coffee break and visit the interesting Geological Museum. Walking hours: approx. 4-5.
Day 7: Nuvolau / Cinque Torri
Easy rock steps lead us to the peak of Nuvolau (2,575 m), where we have a break and enjoy the wonderful views. Around the bizarre Cinque Torri (Three Towers) we walk back to Passo Giau. Farewell Dinner at the hotel. Walking hours: approx. 4:30.
Day 8: Departure
After breakfast the tour is at its end.
Services included
Guidance by our experienced hiking guides
7 Days halfboard
Transfers from / to hotel
Visit of the geological museum in Cortina
Transfers from / to station or airport
Services not included
Beverages and lunches
Cable cars and chairlifts
Optional Services
Supplement for single room per day: 35.00 EUR
Hints
Mountain Inn *** (2,236 m), situated on the Passo Giau (11 km above Cortina D'Ampezzo) with wonderful views of the surrounding mountain ranges. Come and enjoy the hospitality and typical cuisine in the wooden "Stuben". Comfortable and cosy rooms with facilities, telephone and TV.
A prepayment of 200.00 EUR has to be paid directly after reconfirmation. Final payment becomes due 30 days before starting date of the tour.
Demands
2 stars: Medium difficulty: partial steep, stony paths. Differences in height from 500 to 800 m, occasionally reaching heights of more than 1,000 m. 4 to 6 hours. Participants should have a good condition, hiking experience, a secure tread and should not be afraid of heights. Climbing experience is not necessary.
3 stars: Higher difficulty: repeatedly steep, narrow climbs with rock steps and some easier climbing passages. Differences in height from 500 to 900 m, occasionally also more than 1,300 m. Average trekking time approx. 5 to 7 hours. Participants should have a healthy condition, hiking experience in high-alpine areas, a secure tread and should not be afraid of heights. Climbing experience is not necessary.
RATING

minimum: 4
maximum: 8
DATES
Duration: 8 Days
TERMS & CONDITIONS
DOWNLOADS
RECOMMENDATION