Dolomites Ski Traverse
A ski traverse with short ascents and long descents
From the Pala Group eastwards as far as the Three Peaks of Lavaredo! Using ski lifts and then ever upwards with climbing skins (1-3 hrs daily), we reach peaks not even dreamed of by the every-day on-piste skier. Our plan is to follow less well-known routes of the Dolomites, enjoying long runs down quiet valleys, through deserted forests and the exhilarating challenge of some of the many hidden chutes. Our taxi will transfer your luggage to the next stop each transfer morning so that your only encumbrance will be your small daypack, which should definitely contain your camera!
If you are arriving by train or air into Bolzano please advise us so that you may take advantage of our complimentary scheduled transfers from Bolzano to your hotel.
ITINERARY:
(subject to change without prior notice)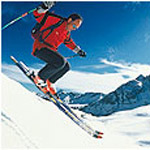 Skiing perfect white slopes
Day 1 (Saturday): Arrival
At approx. 6pm, meet your guide at your hotel in Siusi:
Pensione Profanter, 1,100 m; I-39040 Siusi, via Ratzes 22 ; Tel: 0471 706 508
Over welcome drinks you will be briefed on the procedure the week and your equipment chekked. Transfer to the Alpe di Siusi at Saltria, ca. 25 min., with the snowmobile (20 min.) to the refuge "Dialer" at 2,145 m. The cars remain at the hotel parking lot in Siusi for the whole week until the last overnight stay.
Refuge Dialer / Room with shared shower, good kitchen, sauna; I- 39040 Alpe di Siusi. Tel: 0471 72 79 22
Day 2: Catinaccio
After a brief bus transfer to the Alpe di Siusi we put the skins on the skis and climb to the Passo Principe, 2,500 m, (2 1/2hr). A long descent takes us to Vigo di Fassa via the Towers of the Vajolete Gardeccia, 1,920 m. A short transfer to the Alpe Lusia for your overnight stay in a mountain hut at 2,050 m.
Refuge Lusia, 2,056 m / Rooms with shared shower; Tel: 0462 573 101
Day 3: Pale di S. Martino
A chairlift ride to 2,170 m where we begin the 2 1/2 hr ascent between the spectacular rock faces of the Pala group to Passo Mulaz (2,620 m). From here, one may still climb on up to the Mulaz Peak (2,905 m). From the pass there is a 1,200 vm run down to Falcade and then with the help of modern lifts on to the Col Margherita, 2,550 m. On and off-piste runs take us to Passo di S. Pellegrino (1,920 m), and on towards the Monzoni Group followed by a final run down to our overnight resting place.
Regufe Fucchiade / Rooms with shower, fine kitchen; Tel: 0462 57 42 81
Day 4: Monzoni - Marmolada
Up to the Forca Rossa, 2,490 m, (2 hr), then down the north face to Malga Ciapéla, 1,450 m. The cable car will then take us back up to Punta Rocca, 3,250 m, on the Marmolada Glacier from where we have an exciting run down the glacier to the lake Fedaia at 2,000 m, or - conditions permitting -, right down to Pian Trevisan at 1,700 m. A 10 min taxi transfer to the ski lifts which will take us up to our hotel on the Passo Sella, 2,150 m.
Hotel*** Maria Flora, Passo Sella / Rooms with shower, toilet, tel, TV; Tel: 0462 601 116
Day 5: Sella
We will ski the well groomed runs to the cable car to go up the Sass Pordoi to 2,950 m. A 2 hr traverse with skins takes us to one of the various chutes (Setus, Culea, Mezdi) leading to Passo Gardena or alternatively we climb the Piz Boè, 3150m. and ski down to Corvara. More piste skiing through the Alta Badia until, in the afternoon we arrive via Cinque Torri at our Hotel on the Giau Pass with its magnificent view over the Cortina valley.
Rifugio ENROSADIRA, Passo Giau, 2,136 m / Modest mountain hut, double and single room with shower, toilet; Tel: 0437 720 109
Day 6: Cortina
The crossing of the Cristallo, 2,840 m, is one of the unforgettable experiences of ski touring. A short, 800 m steep climb followed by a long run down the north face via the Val Fonda leads us to Carbonin. From there a 15 min taxi ride takes us to Misurina and our hotel under the shadow of the Three Peaks of Lavaredo.
An alternative itinerary may be the Croda del Lago.
Day 7: Three Peaks of Lavaredo - Sesto
From Cortina to Sesto via the Three Peaks is a magnificent experience. On skins from our hotel via the Rifugio Auronzo, 2,320 m we reach the Rifugio Lavaredo, 2,450 m, 2.30 h . We are rewarded then with the long run down the picturesque Fiscalina valley to Sesto, 1450m. Return by taxi to Siusi and final hotel overnight.
Pensione Profanter, Siusi / Room with shared shower, toilet, Tel., TV, sauna, good kitchen; Tel: 0471 70 65 08
Day 8 (Saturday): Departure
After Breakfast, departure.
Services included
Ski guide / ski and mountain guide and instructional program
7 Overnights with half board
Organised transfers
Transfer from / to Bolzano railway station or airport
Services not included
Beverages and lunches
Skilift fares (depending on the tour program)
Optional Services
Single room supplement per day: 20.00 EUR
Hints
The ski touring route described below is a selection of the many possible routes in the vast Dolomites ski area. Program and accommodation are subject to change.
The programme may be subject to change without notice based on current snow and weather conditions.
A prepayment of 200.00 EUR has to be paid directly after reconfirmation. Final payment becomes due 30 days before starting date of the tour.
Demands
Downhill ski equipment
Warm, weatherproof ski clothing
All weather over jacket jacket for extreme conditions
Sun glasses (Revo sun glasses available from our Alpine School Shop) sun cream, goggles
Small day pack (also available from the Alpine School shop)
Avalanche transceiver (may be hired from the Alpine shop). It is obligatory to carry a transceiver when skiing off-piste
Soft bag or backpack for your luggage transfer. Maximum weight 14 kg. Available from the Alpine school if required
RATING

minimum: 4
maximum: 7
DATES
Duration: 8 Days
TERMS & CONDITIONS
DOWNLOADS
RECOMMENDATION