The Great Dolomite Traverse
From the Sciliar to the Dolomites of Sesto
The guides of the Dolomite Adventure Service have given a great deal of thought when putting together this trek across the best known mountains of the Dolomites. Starting at the Catinaccio and ending in Sesto Pusteria you will pass by o over well known landmarks like the Catinaccio di Antermoia, Sassolungo, Sella and Fanes groups as well as the famous Three Peaks of Lavaredo, above Misurina. Most of the time you will trek at about 2,000 m with occasional climbs up to 3,000 m.
HIGHLIGHTS: Every day new mountains and landscapes; Mountain peaks with exciting views; Famous names and untouched nature; Mixture of cosy mountain lodges and comfortable hotels; Luggage transport to the hotels; Small groups (4-8 people); Guidance by an experienced local mountain or trekking guide.
ITINERARY:
(subject to change without prior notice)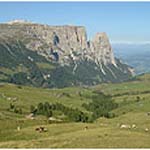 Ideal climbing landscape!
Day 1: Saturday - Arrival
Meet our guide at the hotel*** in Castelrotto at 6:00 pm. Over welcome drinks there will be a briefing about the week to come.
Day 2: Sunday - Crossing the Catinaccio
Transfer to Alpe di Siusi, descent to Alpe di Tires and through the Grasleiten Gorge to Passo Grasleiten, where we can have our lunch. Ascent to Scalieret Peak (2,890 m). We are surrounded by the spectacular scenery of the bizarre rock walls of Catinaccio and the Vajolet Towers. Descent to the mountain lodge Antermoia next to a lake (2,496 m), where we pass our first night.
Walking hours: approx. 5 (if Scalieret Peak included 6:30)
Day 3: Monday - Alpe di Siusi / Sasso Piatto
We wander down the picturesque Val Duron and after a short climb we follow the edge of the plateau of the Cresta di Siusi until we reach the mountain lodge Sasso Piatto. An option today is to climb to the top of the Sassopiatto (2,965 m) before continuing on down to the Sella Pass and overnight stop at 2,298 m. Now we are in the Ladin speaking area.
Luggage transport. Walking hours: approx. 4-5 (if Sasso Piatto included 7:30)
Day 4: Tuesday - The Sella Group
Up with the cable car to Sasso Pordoi (2,980 m) we cross the Sella Group to climb the Piz Boe at 3,150 m. From there we have wonderful views to the surrounding mountains including the Marmolada, the only glacier in the Dolomites! Afterwards we have a wonderful long walk down the Vallon (2,535 m) and to Corvara, where we shall spend the night (1,560 m).
Luggage transfer. Walking hours: approx. 6-7
Day 5: Wednesday - Sasso della Croce / Fanes
Transfer to La Ila and a steep rocky ascent to Forcella Lavarella (Forcella de Medesc 2,533 m) with an optional climb to Sasso Santa Croce (2,910 m). Upon reaching the plateau with its areas of karstic terrain sliced with natural fissures, you will realize why this area has inspired more legends than any other part of the Dolomites! Lovely and relaxing walking down to our overnight mountain lodge Utia di Lavarella (2,050 m).
Walking hours: approx. 5-6
Day 6: Thursday - Val di Fanes / Cortina
Descending from the Fanes basin, we pass picturesque alpine meadows and waterfalls en route. At the bottom of the Tofana our path leads us to Laghi Ghedina and to Cortina, where you have the possibility to soak up the atmosphere, perhaps visiting the centre or havina a coffee at one of the local bars. Transfer to Lago Misurina (1,750 m), just right at the bottom of the spectacular south-face of the Cime di Lavaredo.
Luggage transfer. Walking hours: approx. 4-5
Day 7: Friday - Tre Cime di Lavaredo - Sesto
A marvellous traverse of the famous Tre Cime di Lavaredo (Three Peaks of Lavaredo). Towering at almost 3,000 m these three peaks attract walkers and climbers alike and are one of the most scenic and photographed areas of the Dolomites. From here we descend the Val Fiscalina to Sesto, where we are met by our taxi for the transfer back to Castelrotto.
Walking hours: approx. 5. Driving hours: approx. 2. Overnight in hotel, accommodation with farewell banquet.
Day 8: Saturday - Departure
After breakfast the tour is at its end.
Services included
Guidance by our mountain or trekking guide
4 Overnights in hotel with double rooms and facilities, telephone, TV and sauna
1 Overnight in a mountain inn with facilities, telephone and TV
1 Overnight in a mountain lodge with double rooms (limited), multi share rooms and share facilities
1 Overnight in a mountain lodge with multi share rooms and without shower possibilities
7 Overnights, breakfast and dinner included
Transfers: Sesto & Castelrotto, all transfers in between
Transfers from / to train station and airport
Luggage transport to the hotels
Services not included
Beverages and lunches
Cable cars and chairlifts
Optional Services
Surcharge single room p. day: 35.00 EUR
Hints
Changes of the program are left up to the mountain-walking leader.
Only small groups (4-8 people).
In case the group is larger than 8 people, two trekking guides are sent in order to have the possibility of dividing the group regarding the participant's hiking abilities.
If you do not find your preferred dates in the brochure, please contact us as we will be happy to discuss an arrangement that will suit you. Special arrangements may be made to satisfy individual groups with their own private guide.
Single rooms are only partly available.
A prepayment of 200.00 EUR has to be paid directly after reconfirmation. Final payment becomes due 30 days before starting date of the tour.
Demands
2 stars: Medium difficulty: partial steep, stony paths. Differences in height from 500 to 800 m, occasionally reaching heights of more than 1,000 m. 4 to 6 hours. Participants should have a good condition, hiking experience, a secure tread and should not be afraid of heights. Climbing experience is not necessary.
3 stars: Higher difficulty: repeatedly steep, narrow climbs with rock steps and some easier climbing passages. Differences in height from 500 to 900 m, occasionally also more than 1,300 m. Average trekking time approx. 5 to 7 hours. Participants should have a healthy condition, hiking experience in high-alpine areas, a secure tread and should not be afraid of heights. Climbing experience is not necessary.
RATING

minimum: 4
maximum: 8
DATES
Duration: 8 Days
TERMS & CONDITIONS
DOWNLOADS
RECOMMENDATION