Tre Cime di Lavaredo - Dolomiti di Sesto
From mountain lodge to mountain lodge in the heart of the Dolomites
The beauty of the Dolomiti di Sesto is fascinating, because of a huge variety of different rock formations and peaks. The "vie ferrate" (Italian for: Iron Roads) lead you over exposed rock shelves, past steep walls, over ridges and through grooves. Admire the Tre Cime of Lavaredo, the best-known peaks of the Dolomites, towering to almost 3,000 m!
HIGHLIGHTS: Fascinating views of the Tre Cime di Lavaredo; intensive experiences in the Dolomites; a variety of different "vie ferrate"; cosy mountain lodges; on the traces of World War I.
ITINERARY:
(subject to change without prior notice)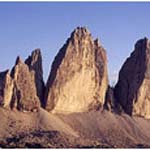 Tre Cime di Lavaredo
Day 1: Arrival - Ascent to the mountain lodge
We meet in the hotel Lago D'Antorno next to the Misurina Lake at 3:00 pm. Our guide briefs you the procedure of the week and checks equipment. Descent to the mountain lodge Fonda Savio (2,360 m); your backpacks are transferred independently. Dinner.
Walking hours: approx. 1:30
Day 2: Cima Cadin / Via Merlone
Ascent over the "via ferrata" of Via Merlone to the summit of Cima Cadin (2,788 m). Spectacular views of the surrounding mountains and valleys. Descent over the easy "via ferrata" Panorama to our overnight mountain lodge Lavaredo (2,345 m), at the bottom of the Tre Cime di Lavaredo.
Walking hours: approx. 6 hours
Day 3: Monte Paterno
Easy hike to Passo Paterno with an impressive view of the North faces of Tre Cime di Lavaredo. Ascent to Monte Paterno (2,745 m), where traces of the old trenches from World War I are not an uncommon sight. Further on to the mountain lodge Zsigmondy (2,225 m).
Walking hours: approx. 5-6 hours
Day 4: Alpini trail
Over exposed rock shelves and through steep walls the Alpini trail, which is full of history, leads to the ridge of Sentinella (2,710 m). A beautiful wilderness fascinates your eyes! Overnight in the mtn. lodge Berti (1,950 m).
Walking hours: approx. 5-6 hours
Day 5: Roghel - Cengia Gabriella
At first sight it seems impossible to climb the "via ferrata" Roghel and descend over vertical ladders, but see how much you achieve with the encouragement of an experienced guide! Further on over the rock shelf "Cengia" with marvellous views! Overnight at the cosy mountain lodge Carducci.
Walking hours: approx. 6:30 hours
Day 6: Rif Pian di Cengia - Misurina
Easy, but wonderful hike to the mountain lodge Pian di Cengia and descent to Misurina. Optional possibility to climb a "via ferrata" to "Toblinger Knoten". Dinner and overnight at the hotel.
Walking hours: 4-6 hours
Day 7: Departure
After breakfast the tour is at its end.
Services included
Guidance and assistance by an experienced and authorized mountain guide
5 Overnights, breakfast and dinner included in alpine huts and 1 overnight in hotel
"Vie ferrate" equipment on hire
Transfer from / to train station or airport
3-5 People in each group
Services not included
Beverages and lunches
Cable cars and chairlifts
Optional Services
Surcharge single room per day: 35.00 EUR
Hints
Changes of the program are left up to the mountain-walking leader.
A prepayment of 200.00 EUR has to be paid directly after reconfirmation. Final payment becomes due 30 days before starting date of the tour.
Demands
2 stars: medium-difficult - difficult
Walking experience in a high alpine, difficult area is prerequisite, vie ferrate experience is helpful.
RATING

minimum: 3
maximum: 5
DATES
Duration: 7 Days
TERMS & CONDITIONS
DOWNLOADS
RECOMMENDATION