In the Heart of the Dolomites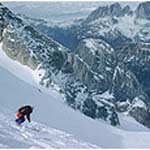 Combined off-piste and ski touring instructional week
Our small but fine mountain hotel is situated high above Cortina d'Ampezzo at an altitude of 2,230 m in the centre of the fantastic scenery of the Dolomites. If you are looking for a quiet and peaceful atmosphere to conclude the day and enjoyable comfort at the same time, you'll find it here.
The ski touring route described below is a selection of the many possible routes in the vast Dolomites ski area. The detailed planning of the program is the guide's responsibility.
Accomodation: Mountain inn at Passo Giau (2,136 m) in great panoramic surroundings. Double rooms and a limited number of single rooms with private facilities, fine cuisine with Italian and Ampezzan specialities, cosy rooms.
ITINERARY:
(subject to change without prior notice)
Day 1: Welcome
On arrival, your guide will welcome you at the hotel on the Passo Giau and explain the proposed itinerary. Your equipment will be checked, and, if necessary, supplementary equipment distributed. Dinner will make an excellent opportunity to get to know the rest of the group.
Day 2: Off-piste training
Warm up and off-piste training besides the Cinque Torri ski area and on the Passo Falzarego, including some short climbs.
Day 3: Passo Giau - Monte Pore
Easy tour from the hotel to the Monte Pore (2,405 m). Descent on the northern face to Buchenstein. Climbing time 2-3 h.
Day 4: Cortina d'Ampezzo
Well prepared tracks and a short transfer bring us to the ski areas of Cortina. Off-piste descents that are accessible by skilift and short climbs.
Day 5: Monte Formin
Start off with a descent to the pass road (1,750 m). Climb to the peak of Monte Formin (2,657 m) where you will be presented a great panoramic view of the Dolomites. Descent on the northern face. Climbing time 3-4 h.
Day 6: Marmolada
Transfer to Malga Ciapéla (1,450 m), ca. 45 min. You will reach the Marmolada (3,320 m) by funicular. Off-piste descents down the Marmolada Glacier to Lake Fedaia.
Day 7: Cristalloscharte
One of the most beautiful ski tours in the Dolomites: From the Passo Tre Croci (1,880 m), we climb to the Cristalloscharte (2,180 m) with its fantastic rock scenery. 1,300 v.m. descent on the northern face. Transfer back to the Passo Giau. In the evening, we celebrate the last day of this unforgettable week.
Day 8: Departure
Our ski touring week ends after breakfast.
Services included
Ski guide / ski and mountain guide and instructional program
7 Overnights with half board
Organised transfers
Transfer from / to Bolzano railway station or airport
Services not included
Beverages and lunches
Skilift fares (depending on the tour program)
Optional Services
Single room supplement per day: 35.00 EUR
Avalanche transceiver for rent
Ski touring equipment for rent
Hints
A prepayment of 200.00 EUR has to be paid directly after reconfirmation. Final payment becomes due 30 days before starting date of the tour.
Demands
2 stars: You love to ski fast on all pistes, "red" and "black". No deep-snow experience necessary; you are looking forward to some deep-ski adventure when the weather is fine.
3 stars: In all sorts of snow, you ski safely and fast; you want to ski off-piste as much as possible. You take a challenge in decending down steep slopes under instruction. In some of the runs short ascents (10-45 min.) may become necessary.
Snowboard: It is possible to join this tour with a snowboard. From more than 3 snowboarding participants, own groups will be installed.
RATING

minimum: 4
maximum: 6
DATES
Duration: 8 Days
TERMS & CONDITIONS
DOWNLOADS
RECOMMENDATION