Ski Safari Dolomites South
Latemar - Pala Group - Marmolada
This new ski safari leads around the Sella massive, far off the known ski areas. We cross the Dolomites from west to south-west: from the Catinaccio to the Latemar, from the Pala group to the Passo San Pellegrino, from the Marmolada to the Fassa Valley. A ski safari in a breathtaking, less known part of the Dolomites!
HIGHLIGHTS: Daily new ski pistes, other mountains; Mountain romanticism with comfort and culinary specialties; Skiing in a fantastic mountain scenery; Dolomiti Superski: the skipass of the superlatives offers innumerable departures, far piste connections; The Marmolada: onto the queen of the Dolomites with the skis.
ITINERARY:
(subject to change without prior notice)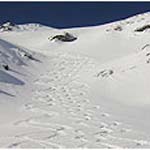 Winter wonderland
Day 1: Welcome
Meet your guides and fellow safari goers at 6:00 pm in the hotel in Tires. Over welcome drinks you will be issued your lift pass and be briefed about the procedure for the week. Excess baggage may be left here if not required during the safari.
Day 2: Obereggen - Alpe di Lusia
We start out on the sunny open slopes under the rugged cliffs of the Rosegarden Range. From the Rosegarden Hut at 2,370 m we ski the long 1,250 v.m. run down to Nova Levante where a taxi waits to take us to Obereggen (25 minutes) and the modern ski area on the Latemar with its 65 km of cleared runs and cosy mountain bars. In the late afternoon we ski to the other side of the valley and the Alpi di Lusia. Our overnight stay will be at 2,050 m in a traditional mountain guesthouse with shared facilities and a spectacular view of the Pala group, the Latemar and the Catinaccio.
Day 3: Pala group
After some thrilling runs down the well cleared runs of the Lusia or some interesting off-piste excursions, it is on to the Rolle Pass and the ski area of San Martino di Castrozza with more choices of off-piste skiing for the adventurous ones. Here we will spend 2 nights in a *** Hotel in San Martino di Castrozza or on the Rolle Pass.
Day 4: San Martino di Castrozza
Tognola, Malga Ces, and the Ski Carousel of S. Martino have approx. 60 km of cleared open and forest runs. The cable car to the Rosetta (2,740 m) is in good conditions , opens steep, long, off-piste areas between the huge craggy cliffs.
Day 5: Passo San Pellegrino
We ski the steep northfacing slopes and wide long runs from Col Margherita to Passo San Pellegrino with its sunny slopes and frequent spring snow conditions. In the afternoon there is the long 1,300 v.m. run to Falcade where our transfer meets us to take us to Sotto Guda at the foot of the Marmolada Glacier.
Day 6 : Pellegrino - Civetta
Long piste tour from Col Margherita (2,530 m) down to Falcade (1,200 m). Transfer to Alleghe, an extensive ski region at the foot of the Civetta with approx. 85 km of piste. Skiing with a marvellous panorama view awaits us! Overnight in Sotto Guda , a small mountain village at the foot of the Marmolada (1,250 m).
Day 7: Marmolada - Fassa Valley
The wide northfacing slopes of the glacier provide ample off-piste excitement and its long perfectly cleared runs are a skier's dream. (Unfortunately the glacier is open only when weather conditions permit.) We then ski via Arrabba and Canazei to the areas of the Gardena Valley: Seceda (2,520 m), descend to Ortisei (1,200 m). Transfer (approx. 20 minutes) back to our final overnight stop in Siusi at the "Pension Profanter".
Day 8: Departure
Our ski safari week ends after breakfast.
Services included
Leadership and support by authorized ski leader or guide
7 Overnights with breakfast and dinner in the Hotel***
Ski pass Dolomiti Superski for 6 days
All inter-transfers with cab or ski bus. Transfers are excepted at interruption of elevators (weather caused, acts of god) or greater ski program changes on request of the participants
Baggage transport to accommodations
Transfer from / to Bolzano train station or airport
Optional Services
Surcharge single room p. person p. day: 35.00 EUR
Avalanche transceiver for hire (for off piste skiers)
Hints
The ski safari route described above is a selection of the many possible routes in the vast Dolomites ski area. Programme and accommodation are subject to change.
Some of the hotels and mountain inns are situated directly on the slopes. They all offer good cuisine and a cosy, friendly atmosphere.
HELISKIING: Helicopter flights for various departures on enquiry!
Double rooms and multiple bed rooms. A limited number of single rooms is available.
A prepayment of 200.00 EUR has to be paid directly after reconfirmation. Final payment becomes due 30 days before starting date of the tour.
Demands
1-star-skiers: You are comfortable on all medium difficulty runs (red runs) and prefer broad on-piste descents. The main goal is to enjoy pure skiing fun with breaks to relax.
2-star-skiers: You are comfortable on all medium difficulty runs (red and black runs). No off-piste skiing experience is required, but you are prepared to try some off-piste descents in good snow conditions.
3-star-skiers: You can handle off-piste descents in all snow conditions and like to spend as much as possible off the prepared runs.Under the direction of your skiing guide, you like to ski narrow couloirs and steep slopes. Some off-piste variations include short ascents (10-45 minutes).
Snowboard: Ski safaris / ski plus: These programs are also suited for snowboarders. Separate snowboard groups for 3 or more snowboarders.
RATING

minimum: 4
maximum: 8
DATES
Duration: 8 Days
TERMS & CONDITIONS
DOWNLOADS
RECOMMENDATION