East Coast Biking Tour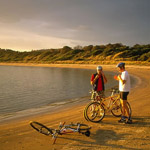 Discover Tasmania's nature by bike
Tasmania is a land of dramatic coastlines, rugged mountains, tall forests and sparkling highland lakes. Over a third of the state is reserved in a network of National Parks and the Tasmanian Wilderness World Heritage Area, a refuge and habitat for rare plants and animals.
On this extraordinary cycle tour, you will coast along peninsulas with pristine white beaches, pass quaint colonial villages and challenge your perspective. See sandy beaches, breathtaking ocean views, relict rainforest, fossil-filled cliffs, azure waters, pink granite peaks and famous national parks. Encircled by the Southern Ocean, the Tasman Sea and Bass Strait, Tasmanians breathe the world's cleanest air and rejoice in pure water and fertile soils. Savour superb food and delicious wines along the way to tempt any gourmet. Cycling on Tasmania's east coast is one of Australia's truly spectacular coastal journeys. Completely different from the rugged mountainous west coast, the east is blessed with a calmer, mild climate with ever-changing terrain and scenery. This cycling tour takes you through a temperate natural paradise nearly 300 km along the island's East coast from north to south.
ITINERARY:
(subject to change without prior notice)
Day 1: Launceston
Arrive Launceston at your own arrangements. Airport transfers are available between 9:00 am and 2:00 pm should you require a pick-up and assistance checking in at the hotel. Meet in the lobby for a tour briefing, introductions and bike preparation at 3:00 pm for approximately 1 hour.
Spend the day in Launceston today, like most Tasmanian towns it is easy to explore and nature is right nearby; Launceston Gorge, with its Victorian parklands, complete with peacocks, has steep, rugged cliffs and wild areas that attract climbers. It is within easy walking distance of the city centre.
The city is compact and its pretty, colourful Victorian and Edwardian homes line the hillsides along the river banks. With a population of around 68,000 the city has a strong sense of identity, and has one of the best regional galleries in Australia - the Queen Victoria Museum at Inveresk, along with art and craft galleries and quality restaurants.
Overnight: Launceston (motel)
Day 2: Launceston to St. Helens
Depart from your hotel this morning ready to cycle, and travel out of the city as a group. Cycle 15 km through to Whitehills through farming land and a newly developed wine region, then head to Evandale for a morning coffee and break. A classified historic town, many of Evandale's buildings remain largely in original condition. It is famous for a popular Sunday market, and as host to the annual World Penny Farthing bicycle Championships.
From Evandale continue south along a quiet backroad to Nile and through to Conara. Take a van transfer the remainder of the trail to St. Helens and your accommodation for the evening. Later this afternoon, take a transfer to explore the Bay of Fires Conservation Area and enjoy a stretch of the legs on the beach.
Cycling distance: 60 km
Overnight: St. Helens (Tidal Waters Resort)
Day 3: St. Helens to Bicheno
Either start today's ride from St. Helens and travel along the coast to Bicheno. Or take a transfer to St. Mary's and begin the day by enjoying a spectacular downhill ride along the Elephant Pass to the coast.
Hug the coast south to the fishing village of Bicheno. This is the flattest riding of the entire trip, so enjoy the leisurely day, with views most of the day over the Tasman Sea as you pedal along the stunning coastline dotted with pristine white sandy beaches. End the day at Bicheno, a small seaside town, primarily a fishing port and a beach resort.
Cycling distance: 60-75 km
Overnight: Bicheno (Diamond Island Resort)
Day 4: Bicheno to Swansea via Coles Bay and Freycinet NP
An easy cycling day today with a gently undulating 40 km ride to Coles Bay from Bicheno along the Freycinet Peninsula road. Regroup in Coles Bay and enjoy stretching your legs on a group walk to famed Wineglass Bay, voted by several travel authorities as one of the world's ten best beaches.
Freycinet National Park is one of Tasmania's oldest national parks, founded in 1916, and it features stunning red and pink granite formations and a series of jagged granite peaks in a line, called "The Hazards". Spend the afternoon enjoying the park, then transfer to your accommodation in Swansea this
evening.
Cycling distance: approximately 40 km
Overnight: Swansea (motel)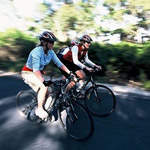 Two ladybikers
Day 5: Swansea to Richmond
The town of Swansea is located in the centre of Tasmania's east coast, on the northwest shore of Great Oyster Bay and overlooking Freycinet National Park. From here, you will cycle 60 km south along the coastline to another coastal town of Triabunna. Regroup here and transfer to Richmond for your accommodation this evening.
Richmond is a particularly well-preserved vibrant tourist town, with many of the sandstone structures still standing. It is home to Australia's oldest bridge still in use, the Richmond Bridge, built in 1823.
Cycling distance: approximately 60 km
Overnight: Richmond (motel)

Day 6: Richmond to Hobart
From Richmond, ride into Hobart over Grass Tree Hill to Risdon Cove - the original first settlement of the city of Hobart. From here, ride over the Bowen Bridge and along the inner city cycleway, leading to your finish in the centre of Hobart. Regroup at the Cenotaph and then celebrate your east coast achievement with a drink at Salamanca Place.
If you have any energy left, join the optional transfer up Hobart's icon Mt. Wellington standing at 1,270 m and overlooking the entire southern area of Tasmania. Ride the bikes back down to sea level on the easiest 21 km of cycling you'll ever do!
Cycling distance: approx 30 km (plus an optional 21 km down Mt. Wellington)
Overnight: Hobart (motel)

Day 7: Tour finishes today
Free day to explore Hobart, Tasmania's cosmopolitan capital city with a population of just over 200,000 people.
Airport transfers available until 12:00 pm (noon).

For those continuing on the journey, enjoy your trip, for those leaving, happy travels and congratulations!
Services included
Airport transfers on first and last days
Comprehensive trip notes, maps and itinerary planning
12 nights accommodation in 3.5 star standard ensuite (based on twin share)
Expert guide/driver/maintenance person
Luggage transfers
Breakfasts and lunches
National Parks Fees
Services not included
Travel insurances
Airfare to Tasmania
Dinners - there are suitable restaurants in each overnight town
Cycling clothing or wet weather gear (may be hired if required)
Bike and equipment hire is available if required
Optional Services
Single room supplement: 675.00 AUD
Bike Hire: Mountain or touring bikes - 21 gear, front suspension, front handlebar bag, flat pedals (toe clips available, or bring your own pedals and shoes) and helmet, : 230.00 AUD
Hints
The tour operator reserves the right to modify tour itineraries in situations such as adverse weather or to better suit client requirements.
A prepayment of 25% has to be paid directly after reconfirmation. Final payment becomes due 42 days before starting date of the tour.
Demands
Daily cycling distances: approx 50-70 km. Cycling will be on sealed roads every day and suitable for both road or touring bikes and mountain bikes with slick tyres. There will be some short transfers required on the odd occasion over rough ground or long distances.
RATING

minimum: 4
maximum: 12
DATES
Duration: 7 Days
ROUTEMAP
TERMS & CONDITIONS
DOWNLOADS
RECOMMENDATION