West Coast Biking Tour
Discover Tasmania's "Wild West"
Encircled by the Southern Ocean, Tasman Sea and Bass Strait, Tasmanians breathe the world?s cleanest air and rejoice in pure water and fertile soils - the wine and food are acclaimed around the world.
Cycling on Tasmania's west coast will make you feel like riding through one of the last great temperate wilderness areas on Earth. Feel empowered by Tasmania's frontier country, coasting beneath majestic man ferns, up craggy mountains, around glinting glacial tarns and lakes and into the playground of the shy Tasmanian Devil.

The west coast is rugged, mountainous and completely wild, with a temperamental climate and unpredictable weather patterns, throwing down a challenge to those that wish to explore it. This constantly changing terrain is a mixture of challenging and frequent hill climbs combined with breathtaking winding downhills and stunning views, well worth the effort. You won't forget these 7 days too soon.
ITINERARY:
(subject to change without prior notice)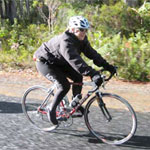 Day 1: Hobart
Arrive in Hobart at your own arrangements. Airport transfers are available between 10:00 and 14:00, should you require a pick-up and assistance checking in at the hotel. At 15:00, meet in the lobby for a tour briefing, introductions and bike fitting (this will take approximately 1 hour). Spend the rest of the day in Hobart. Enjoy the state capital and most populous city of the Australian island state of Tasmania. Founded in 1804 as a penal colony, it is Australia's second oldest city. It also serves as the home port for both Australian and French Antarctic operations. Hobart is perfect for walking, eating and just soaking in the atmosphere of Australia's most stress-free and engaging city. There is a thriving festival scene and a real sense of history. For it can't be bettered. Visit Salamanca Place on the waterfront of Hobart, lined with 19th century waterfront warehouses.
Overnight: Hobart (motel)
Day 2: Hobart - Hamilton
After breakfast, leave the city as a group. Cycle to the Cenotaph and then out of town via the innercity cycleway and through to New Norfolk. From there, continue cycling north through Bushy Park to Hamilton, which you will reach in the evening. The appeal of Hamilton, which is a truly charming and unspoilt village, is based on its peacefulness and its outstanding range of historic accommodation built by convict sandstone. It also has an excellent fishing and aquatic area at Lake Meadowbank. The afternoon leaves you time for a special side trip for a short walk at Mt. Field National Park and photogenic Russell Falls.
Cycling distance: approximately 80 km; Overnight: Hamilton (cottages)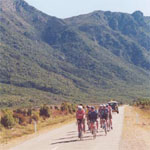 Day 3: Hamilton - Tarraleah
Continue north from Hamilton to the hydro town of Tarraleah. You cycle on the main road linking these two towns. The road heads gradually uphill as you ride through the Central Highlands district. Travelling further inland, the landscape becomes increasingly wild. The road crosses the river where power stations capture the falling water's energy. Thousands of lakes, all teeming with trout, are scattered across the plateau of the lake country. The scenery is peaceful and quiet, the only sounds being your breathing and your tyres on the road.
Cycling distance: up to 60 km; Overnight: Tarraleah (cottages)
Day 4: Tarraleah - Strahan
This morning starts with a quite hilly beginning, heading west along the same winding highway as yesterday. You can be transferred to Derwent Bridge to start with some flat cycling along the plateau (optionally). Enjoy a thrilling downhill from Mt. Arrowsmith, then a wonderful descent down to man-made Lake Burbury. Continue around the lake, through to the old mining towns of Linda and Gormanston. Your last ascent of the day will take you to the top of the hill with views overlooking Queenstown. Finish with a 6 km downhill along the 99 bends amidst the tree-less lunar landscape hills. Regroup in Queenstown, and be transferred the remaining 43 km hilly kilometers to the coastal town of Strahan.
Cycling distance: up to 85km; Overnight: Strahan (motel)
Day 5: Strahan - Cradle Mountain
From Strahan, continue north along the road towards Zeehan. There, a rest stop is recommended. Explore this historic town, at one stage Tasmania's fourth largest, before returning to the main road. Head along the highway south towards Queenstown, then on the backroad alongside Lake Plimsoll which will take you up and over Mt. Murchison. Finish with a fun downhill slide, all the way to the highway. Then, a short ride takes you to Tullah. Turn left into the village centre, and regroup there. You are transferred the remaining distance to Cradle Mountain, one of the favourite features in the Cradle Mountain/Lake St. Clair National park. Spend the afternoon exploring the trails, surrounded by stands of native deciduous beech (wonderfully colourful in autumn), rainforest, alpine heathlands and buttongrass. Icy streams cascade down the mountainsides, and ancient pines are reflected in the still glacial lakes. There are plenty of walk options from 10 minutes to several hours.
Cycling distance: approximately 80 km (transfers from Tullah); Overnight: Cradle Mountain (Cabins)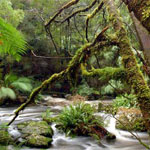 Day 6: Cradle Mountain - Launceston
After breakfast, you are transferred to Deloraine, a charming, historically interesting and attractive town located on the banks of the Meander River. Today is a lovely relatively flat, easy day amidst fields of poppies, sheep and cows. Pass through several quiet rural towns, leading into the city of Launceston.
Cycling distance: approximately 80km; Overnight: Launceston (motel)
Day 7: Launceston
Take your time to explore Launceston, Tasmania's second largest city with a population of just over 80,000 people. Airport transfers are available until 12.00pm. For those continuing on the journey, enjoy your trip, for those leaving, happy travels and congratulations!
Services included
Airport transfers on first and last days
Comprehensive trip notes, maps and itinerary planning
6 nights accommodation in 3.5 star standard ensuite accommodation for two people (twin/double rooms or single supplement for sole share room)
Expert guide/driver/maintenance person
Luggage transfers
Breakfasts and lunches
National Parks fees
Services not included
Airfare to Tasmania
Dinners (there are suitable restaurants in each overnight town)
Cycling clothing or wet weather gear (may be hired if required)
Bike and equipment (mountain or touring bike hire is available if required)
Optional Services
Single room supplement: 505.00 NZD
Note: On day 4, you can take the day off, and board the scenic railway from Queenstown to Strahan. Your guide can offer transfers to Queenstown, departing from the hotel at 8:30. Train departure is at 10:00, arriving in Strahan at 2:45 to meet up with the group. Additional cost: 99.00 NZD; advance bookings are essential.
Hints
Dates and prices after 01.09.08 are subject to change without notice
A prepayment of 25% has to be paid directly after reconfirmation. Final payment becomes due 42 days before starting date of the tour.
RATING

minimum: 4
maximum: 12
DATES
Duration: 7 Days
ROUTEMAP
TERMS & CONDITIONS
DOWNLOADS
RECOMMENDATION