East Coast Hiking Experience
Discover Tasmania's beauty
Tasmania is a land of dramatic coastlines, over 1,144 named mountains from which to walk, tall forests and sparkling highland lakes. Over a third of the island is reserved in a network of National Parks and the Tasmanian Wilderness World Heritage Area, a refuge for rare plants and animals. Some of them are unique, and can only be found on this island state. Breathe the world's cleanest air and rejoice in pure water and fertile soils. Tasmania's wine and food are acclaimed around the world.
Photographers rave about it - a certain quality of the light in Tasmania. Craggy mountains loom closer, seas carve out a deeper coastline drama along wild beaches, blue sky has a wider reach. Nature's palette shows through without the contamination of urban pollution. And for color, nothing beats Tasmania and it's four distinct seasons.
Renowned for being one of the world's best walking destinations, it has more than 3,000 km of world-class walking tracks, thousands of highland lakes, hundreds of clean beaches and mountain peaks and crags. Spend 7 or 13 days exploring some of the best trails and mountain day walks Tasmania has to offer.
ITINERARY:
(subject to change without prior notice)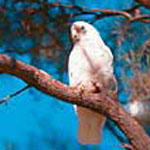 Tasmanian Cacadoo
Day 1: Launceston
Arrive in Launceston at your own arrangements. Airport transfers are available between 9:00 and 14:00 should you require a pick-up and assistance for checking in at the hotel. Meet in the lobby at 16:00 for a tour briefing and introductions. This will take approximately one hour. Spend the day in Launceston today. The town is easy to explore and nature is right nearby. Launceston Gorge, with its Victorian parklands, has steep, rugged cliffs and wild areas that attract climbers. It is within easy walking distance of the city centre.
Its pretty, colourful Victorian and Edwardian homes line the hillsides along the river banks. With a population of around 68,000 the city has a strong sense of identity, and has one of the best regional galleries in Australia - the Queen Victoria Museum at Inveresk, along with art and craft galleries and quality restaurants. Overnight: Launceston (motel)
Day 2: Launceston - Ben Lomond
Today, you travel by van to Ben Lomond. Here, the walking trail to Legges Tor Circuit starts. The magnificent mountain of Ben Lomond with its imposing and precipitous cliffs is visible over much of the northern midlands of Tasmania. The plateau is roughly 14 kilometres in length, 6 kilometres wide and is in excess of 1,300 metres in height. A summit on the plateau named Legges Tor is the second highest point in Tasmania (1,572 metres). In the winter, this is Tasmania's primary ski resort, but out of season, it is a hikers' paradise.
Hike name: Legges Tor Circuit
Length: 11.7 km circuit
Grade: easy - moderate
Total climbing: 430m
Time: 4 hours
Overnight: Ben Lomond (cabins)
Day 3: Ben Lomond - Bicheno
After breakfast, you are transferred to the coast. Here, you visit one of Tasmania's more recently declared National Parks, Douglas Apsley named after the two rivers that merge within it. This park is one of the few that conserve the diverse wealth of dry sclerophyll forest plants found on the east coast of Tasmania. The crystal clear waters that run through the park are a welcome sight on a hot summer's day. From its deep river gorges and waterfalls to its dolerite capped plateau; from dry eucalypt forest and colourful heathlands to pockets of rainforest, Douglas-Apsley National Park is a place of surprising contrasts.
Hike name: Apsley Gorge
Length: 6.1 km circuit
Grade: easy - moderate
Total climbing: 190 m
Time: 3.5 hours
Overnight: Bicheno (motel)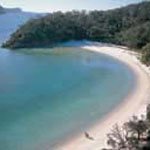 Wineglass Bay
Day 4: Bicheno - Swansea via Coles Bay and Freycinet NP
Travel down to the Freycinet National Park, established in 1916, one of Tasmania's oldest proclaimed parks. It consists of knuckles of granite mountains, surrounded by azure bays and white sand beaches. Therefore, the park is one of the most popular parks. The dramatic peaks of the Hazards welcome you as you enter this beautiful and rugged peninsula. Freycinet NP offers a wide variety of activities. Take a walk to the pass overlooking the perfectly shaped Wineglass Bay or perhaps the Mt. Amos walk if the weather is fitting.
Hike name: Wineglass Bay and Hazards Beach circuit
Length: 12 km circuit
Grade: moderate
Total climbing: 220 m
Time: 4.5 hours
Overnight: Swansea (motel)
Day 5: Swansea to Richmond with day visit to Maria Island
Depart Swansea with time to catch the ferry over to Maria Island National Park, set just off the east coast, and accessible from Triabunna. The story of Maria Island is dominated by the sea: from the rise and fall of the sea that created the island and left a legacy of sea creatures fossilised in its cliffs, to the history of its human occupation. As you cross to the island you follow in the wake of Aboriginal tribes who for thousands of years made regular canoe crossings to the island they knew as TOARRA-MARRA-MONAH.
Today's walk to the summit of Bishop and Clerk (630 m) takes you from grasslands along the edge of the fascinating 290 million year old Fossil Cliffs, through open forest and tall woodland, to the rocky slopes where you will rock-hop then finally scramble over boulders to reach the summit. It is a medium grade walk but the last 50 m is quite a scramble.
Hike name: Bishop and Clerk
Length: 12 km return
Grade: moderate
Total climbing: 560 m
Time: 4 hours
Overnight: Richmond (motel)
Day 6: Swansea to Hobart via Richmond
Transfer to Hobart today with a stop along the way in Richmond for a stroll around this interesting historic town. In Hobart, drive up to The Springs, located at 720 m above sea level and commence your return walk to the summit of Mt Wellington via the Organ Pipes.
The Organ Pipes are one of the most distinctive features on Mt. Wellington, and form a magnificent sight along this track which runs just below their base. These towering, columnar, dolerite cliffs were formed during the Jurassic when Tasmania was in the process of separating from Antarctica during the final stages of the breakup of Gondwana. The cliffs are a favourite haunt of rock climbers.
Hike name: Mt. Wellington summit and Organ Pipes
Length: 7 km return
Grade: moderate
Total climbing: 400 m
Time: 4 hours
Overnight: Hobart (motel)
Day 7: Tour finishes today
Free day to explore Hobart, Tasmania's cosmopolitan capital city with a population of just over 200,000 people.
Airport transfers available until 12:00 pm. For those continuing on the journey, enjoy your trip, for those leaving, happy travels and congratulations!
NEED TO EXPLORE SOME MORE? - This tour is also available back to back with our Tasmania West Coast Hike Itinerary making a total of 13 days exploring this beautiful island paradise. Please inquire.
Services included
Airport transfers on first and last days
Comprehensive trip notes, maps and itinerary planning
6 Nights accommodation in 3.5 star standard ensuite accommodation in double rooms
Expert guide/driver/maintenance person
Breakfasts and lunches
National Parks Fees
Services not included
Airfare to Tasmania
Dinners - there are suitable restaurants in each overnight town
Hiking clothing or wet weather gear (may be hired if required)
Bike and equipment (mountain or touring bike hire is available if required)
Passport/Visa fees
Personal Expenses
Travel Insurance
Drinks & Snack Bars
Optional Services
Single room supplement: 675.00 AUD
Bike Hire: Mountain or touring bikes - 21 gear, front suspension, front handlebar bag, flat pedals (toe clips available, or bring your own pedals and shoes) and helmet, per 7 day tour: 230.00 AUD
Hints
A prepayment of 25% has to be paid directly after reconfirmation. Final payment becomes due 42 days before starting date of the tour.
Demands
An average level of fitness is required, you will need to be doing some form of exercise two-three
times a week on the build up to this tour. Daily cycling distances: approx 50-70 km. Cycling will be on sealed roads every day and suitable for both road or touring bikes and mountain bikes with slick tyres. There will be some short transfers required on the odd occasion over rough ground or long distances.
RATING

minimum: 4
maximum: 12
DATES
Duration: 7 Days
ROUTEMAP
TERMS & CONDITIONS
DOWNLOADS
RECOMMENDATION