West Coast Hiking Experience
Mt. Field, Lake St. Clair and Cradle Mountain
Separated from mainland Australia by the 240 km stretch of Bass Strait, Tasmania is a land apart - a place of wild and beautiful landscapes; friendly, welcoming people; a pleasant, temperate climate; wonderful wine and food; a rich history; and a relaxed island lifestyle. This small pocket of Australia is ideal for touring and offers participants an amazing range of diverse flora and fauna. Many animals found on Tasmania can be found no where else in the world.
Tasmania guarantees a different scene for everyday whatever your activity. Voted as having some of the best beaches in the world the after exercise relaxation is pretty hard to beat as well.
ITINERARY:
(subject to change without prior notice)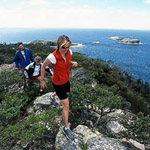 Day 1: Hobart
Arrive in Hobart at your own arrangements. Airport transfers are available between 10:00 and 14:00 should you require a pick-up and assistance for checking in at the hotel. Meet in the lobby at 16:00 for a tour briefing and introductions (this will take approximately 1 hour). Spend the day in Hobart, the state capital and most populous city of Tasmania. Founded in 1804 as a penal colony, it is Australia's second oldest and eleventh largest city, with a metropolitan population of approximately 202,000. The city also serves as the home port for both Australian and French Antarctic operations. For walking, eating and just soaking in the atmosphere it can't be bettered. Visit Salamanca Place on the waterfront. Lined with 19th century waterfront warehouses, this area once bustled with whalers, soldiers, bureaucrats and businessmen. Now they house cafes, restaurants and studios and bustle with shoppers and visitors. Perhaps Australia's most stress-free and engaging city, Hobart has a thriving festival scene and a real sense of history.
Overnight: Hobart (motel)
Day 2: Mt. Field National Park
Leave Hobart today enroute to one of Tasmania's oldest and most popular parks. Few other national parks in Australia offer such a diversity in vegetation, ranging from tall swamp gum forests and massive tree ferns at the base of the mountain, through rainforest to alpine vegetation at the higher elevations. Mt. Field NP has a wide variety of scenic features and wildlife. Today?s walk, which will lead you to the summit of Mt. Field East at 1,274 m, is a long gradual climb rather than a steep hike, but it can be windy at the top.
Hike name: Mt Field East Circuit
Length: 10.4 km circuit
Grade: moderate
Total climbing: 560 m
Time: 4.5 hours
Overnight: Hamilton (cottages)
Day 3: Lake St. Clair NP
After breakfast, you are transferred to Lake St. Clair. At 200 m, this is the deepest lake in Australia and the headwaters of the Derwent River, upon which the capital city of Tasmania is located. Lake St. Clair was carved out by ice during several glaciations over the last two million years. The area around the lake offers a variety of walks, ranging from leisurely strolls to overnight bushwalks, as well as beautiful forests to explore. Lake St. Clair is also the end point of the famous Overland Track. The walk today follows the Shadow Lake Circuit track, then returns to the start via the Mt. Rufus track at Lake St Clair.
Length: 12.5 km circuit
Grade: moderate
Total climbing: 350 m
Time: 4.5 hours
Overnight: Strahan (motel)
Day 4: Cradle Mountain NP
Stroll around the lovely fishing town of Strahan, before you depart for Cradle Mountain NP. The northern end of the Lake St Clair you saw on day three, Cradle Mountain has been extensively shaped by glaciation. This you will be able to see later on, when you take in the view of the deep bowl of Crater Lake on today's walk. The jagged contours of Cradle Mountain stand for the feeling of a wild landscape, while ancient rainforest and alpine heathlands, buttongrass and stands of colourful deciduous beech provide a range of environments to explore. Icy streams cascading out of rugged mountains, and a wealth of wildlife ensure there is always something to captivate you. From the Ronny Creek carpark, follow the duck boarding to join the Overland track. Follow it up to Marion's Lookout. Return via the Horse Track that leads around Crater Lake back to the start.
Hike name: Crater Lake Circuit
Length: 9.4 km circuit
Grade: moderate
Total climbing: 450 m
Time: 5 hours
Overnight: Cradle Mountain (cabins)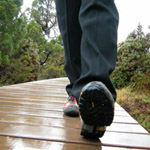 Day 5: Great Western Tiers - Quamby Bluff
Enjoy the fine views of Cradle Mountain for a last time this morning, then head to the Great Western Tiers. They are a wall of mountains rising from the plains, marking the start of the Central Plateau. There are a number of peaks that can be ascended easily. Quamby Bluff is a favourite amongst the locals. Today's walk follows a well-defined but rough walking track through the forest to the small plateau on the peak and returns on the same track.
Hike name: Quamby Bluff
Length: 5.8 km return
Grade: moderate
Total climbing: 500 m
Time: 3 hours
Overnight: Deloraine (motel)
Day 6: Cataract Gorge
Arrive at Launceston today for a relaxing walk along the deep spectacular Cataract Gorge. The city of Launceston is located on a small river flat between two rivers. The North Esk River is a meandering stream while the South Esk flows through what locals affectionately call "The Gorge". It provides some excellent tracks along both sides of the river through the main gorge, and
further upstream, a series of walking tracks lead to Trevallyn Dam. A full day can be spent following tracks along the South Esk River and returning via roads closed for motor traffic, and walking tracks.
Hike name: Cataract Gorge
Length: 13.6 km circuit
Grade: moderate
Total climbing: 390 m
Time: 4.5 hours
Overnight: Launceston (motel)
Day 7: Launceston
Today is at your own disposal to explore Launceston, Tasmania's second largest city with a population of just over 80,000. Airport transfers will be available until 12:00. For those continuing on the journey, enjoy your trip, for those leaving, happy travels and congratulations!
Services included
Airport transfers on first and last days
Comprehensive trip notes, maps and itinerary planning
6 Nights accommodation in 3 star standard ensuite accommodation for two people (twin/double rooms or single supplement for single room)
Expert guide/driver
Breakfasts and lunches
Wildlife park entry
National Parks Fees
Services not included
Airfare to Tasmania
Travel insurances
Dinners - there are suitable restaurants in each overnight town
Wet weather gear (may be hired if required)
Optional Services
Single room supllement: 505.00 NZD
Hints
Dates and prices after 01.09.08 are subject to change without notice
A prepayment of 25% has to be paid directly after reconfirmation. Final payment becomes due 42 days before starting date of the tour.
RATING

minimum: 6
maximum: 12
DATES
Duration: 7 Days
ROUTEMAP
TERMS & CONDITIONS
DOWNLOADS
RECOMMENDATION