New Zealand - Paradise Plus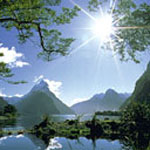 Blue sky over an impressive lakeshore
Road Cycle Tour from Christchurch to Auckland
Over the 19 days of this road cycle tour you will get to experience a diversity of landscape from volcanoes, hot springs, fast flowing rivers, alluvial plains, native forests alive with the sound of native bird song, to impossibly rugged, snow covered Alps and deep, sheer sided fiords.
New Zealand offers a diversity of landscape from volcanoes, hot springs, fast flowing rivers, alluvial plains, native forests alive with the sound of native bird song, to impossibly rugged, snow covered Alps and deep, sheer sided fjords. Where else can you find such variety in a country roughly the size of Great Britain? As one client put it "Yesterday was amazing, I just couldn't imagine today being better, yet it was!" (Dennis Hill). He was still saying that after 20 days!
New Zealand is sparsely populated, with only 4 million people. Its roads are generally quiet and the scenery spectacular; a combination which makes it a perfect cycling destination. It is through this constantly changing, uncluttered countryside that you will cycle, your senses invigorated by the sights and sounds of your surroundings.
A combined bus and cycle tour ensures that you can cycle the highlights of both Islands in a relatively short time. You will cycle approximately 700 km, however you are always welcome to ride in the support vehicle whenever you feel the need. Experience has taught us that it's best not to overdo the first couple of days. Stop when you feel you have done enough. Overdoing those first few days could spoil your holiday!
ITINERARY:
(subject to change without prior notice)
Day 1: Christchurch - Arrival
All tour members meet at the hotel early afternoon. Participants arriving on the same day between 7am and 2pm will be picked up from the airport and transferred to the accommodation. Later in the afternoon we will be doing a short sightseeing tour of the city, including the Port Hills and the 'Sign of the Takahe' with its magnificent views over the South Pacific and across the Canterbury Plains to the Southern Alps. Whatever the time of year, Christchurch is the perfect choice for a well-deserved shortbreak, longer stay or even just a few hours.
Christchurch's unique combination of fascinating heritage, beautiful coastline, peaceful rivers and spectacular natural harbour appeals tp all ages and provides all the ingredients to make your visit extra special.
Christchurch Tourism - the Southern Alps provide a fantastic backdrop to the city. Perched on the coast, the city is the doorway to the Canterbury Plains, which spread westwards towards the mountains. To the southeast, Banks Peninsula, formed by two huge volcanic craters, extends into the Pacific Ocean. Nature has been kind to this part of New Zealand and it is nature that offers the richest rewards for the visitor.
No Cycling
Day 2: Christchurch - Twizel
After driving in our escort van across the flat, alluvial Canterbury plains hrough Ashburton, Geraldine and Fairlie the road climbs the 671 m Burke Pass, which serves as the northern entrance to the area known as the MacKenzie Basin. The area is now famous for its Merino sheep and Hydro- Electric Power System which consists of 6 lakes joined by large canals.
After a short lunch break we start cycling along the canal to Lake Pukaki and then further to Twizel. On a clear day you will be treated to magnificent views of New Zealand's highest mountain, Mt. Cook, or Aoraki, the cloud piercer at the head of Lake Pukaki.
Cycling from: Lake Tekapo to Canal Road - 33 km, total distance 281 km
Day 3: Twizel - Queenstown
Today's ride is predominantly flat, however if the nor'west wind is blowing watch out for strong gusts! Once over Lindis Pass you have left the province of Canterbury and entered Central Otago. Further on you will come to New Zealand's newest hydro lake, Lake Dunstan, on the Clutha River. Cromwell is at the heart of a large pip fruit growing area, with many of the growers selling their wares at roadside stalls, which you will pass on the way to Queenstown. The route into Queenstown follows the Kawarau River through its gorge, past the world famous A.J Hacket bungy bridge and several wineries and vineyards.
Cycling from: Lindis Pass to Lake Dunstan - 61 km, total distance 240 km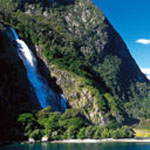 One of hundreds of waterfalls
Day 4: Queenstown - Rest Day
Queenstown is an outdoor adventurers playground. Options include: A day trip to Fiordland's, Milford or Doubtful Sound. Local activities: shopping, gondola ride to the Skyline restaurant and viewpoint, lake ride aboard the historic steamship Earnslaw, jet boating on the Shotover River, bungy jumping, white water rafting, tandem paragliding, or a visit to the Kiwi house to see New Zealand's national icon in the flesh.
No Cycling
Day 5: Queenstown - Wanaka
An early morning visit to Arrowtown, an idyllic gold town with its lovely tree lined streets and fascinating shops, is followed by a challenging ride over the Crown Range. From the saddle there is a great downhill into the Cardrona Valley. On your left you will pass the historic Cardrona Hotel, a relic from the gold prospecting days. From there we cycle to the beautiful lake town of Wanaka.
Here in the heart of the Southern Lakes, ringed by golden hills, snowclad peaks, ancient forests, crystal clear lakes and rivers, you'll find time and space to truly enjoy yourself.
The town acts as a magnet for New Zealanders and international visitors alike who want to return to sample the delights of a range of activities, cafes, shops and restaurants.
Cycling from: Arrowtown to Wanaka - 51 km, total distance 81 km
Day 6: Wanaka - Haast / Fox Glacier
Traveling west toward the main divide of the Southern Alps the road initially follows Lake Hawea, then rejoins Lake Wanaka over a low pass. Here witness a gradual change in New Zealand's ever changing landscape. The dry, arid pasturelands of central Otago slowly give way to the dense native bush of the Mount Aspiring National Park. The road slowly climbs out of the Makarora Valley as it heads towards the newest alpine road to transect the Southern Alps, the 563m Haast Pass. Further on a short walk leads to the 30 m Thunder Creek Falls, a good place to stretch the legs and enjoy the rainforest. From here the road follows the Haast River plains into Haast Village, situated in Fiordland National Park, New Zealand's largest World Heritage Park. There may be time to stop at the local Visitor's Centre, which has excellent displays showing how the land has evolved.
The northward journey is spectacular. The road snakes its way through dense rainforest, over fast running rivers and past lovely lakes, such as Lakes Paringa, Ianthe and Moeraki. To the left the rugged, ever changing coastline and to the right the massive, snow covered peaks of the Southern Alps towering above all. Today's destination is the Fox Glacier township, which lies a short distance from it's glacier. A short walk to the Glacier face - just above sea level will be the perfect ending to the day.
Cycling from: Makarora/Blue Pools to Haast - 81 km, total distance 145 km
Day 7: Fox-Glacier - Hokitika
This morning you may choose to take an optional helicopter flight to the Glaciers (including landing) with spectacular views to Mt.Cook on a clear day. Or maybe take a walk to the picturesque Lake Matheson. which is also known as mirror lake. Leaving Fox the road twists and turns as it seeks passage through the almost impenetrable rainforest and unforgiving, rugged countryside passing Franz Josef Glacier and heading towards Ross - a rural service town. From here we continue our trip by bus to Hokitika. As a fitting finale to the day, take a walk along the nearby beach and watch the setting sun disappear into the sea.
Cycling from: Franz Josef to Hari Hari - 62 km, total distance 160 km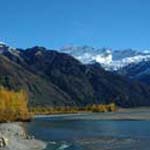 In the Matukituki Valley
Day 8: Hokitika - Westport
We drive the 40 km north to Greymouth where we visit a greenstone factory with the opportunity to buy jade carvings and jewellery at reasonable prices. From here we bike along the spectacular coastline to Punakaiki, where you can take a walk around the famed blowholes and pancake rocks, so named because the limestone formations look like, well pancakes of course! A visit to a small fur seal colony at Cape Foulwind, near Westport will be the last highlight of the day.
Greymouth is the gateway to the South Westland World Heritage National Park. The Arahura River, which enters the sea 8 kilometres north of Hokitika, is a traditional source of pounamu (greenstone) for the Maori people and still yields a large proportion of the Coast's continuing supply.
Cape Foulwind is a conservation area toward the northern end of the West Coast of the South Island. Its main feature is a breeding colony for the New Zealand Fur Seal, which is well worth a look, since you get an excellent view of the nursery area from the viewing platforms on the cliff above it.
Cycling from: Greymouth to Punakaiki – 45 km, total distance 145 km
Day 9: Westport - Nelson
Starting on the Coast you will travel northeastwards along the gorgeous Buller Gorge, with its deep, slow flowing waters contrasting against the lush vegetation of the native forest. The ride finishes at Lyell, now an empty paddock surrounded by bush. Into the van for a drive through the upper gorge to Murchison and further to New Zealand's newest National Park, the Kahurangi. The day finishes in Nelson - the sunniest town of the South Island, situated not far from the beautiful Abel Tasman National Park.
Cycling from: Westport to Lyell – 65 km, total distance 230
Day 10: Nelson - Rest Day
The township of Nelson is very beautiful, colourful and offers a great opportunity to stroll around.
Today's program could be hiking, kayaking or just relaxing with a good book. The famous Abel Tasman Coastal walk offers an easy graded track on which to explore some of the lovely native forest and sandy beaches. Whether you're looking for an active holiday or a lazy day at the beach, Abel Tasman National Park is the perfect destination. Abel Tasman National Park is New Zealand's smallest national park.
No Cycling
Day 11: Nelson - Wellington
The days ride is a short one, although equipped with enough climbs to keep you honest. It starts in Havelock and traverses the lovely Queen Charlotte Drive, finishing in Picton in time to catch the afternoon ferry, which takes about 3 hours and travels along Queen Charlotte Sound, leaving the South Island via Tory Channel bound for New Zealand's capital, Wellington, euphemistically known as the "Windy City", if you are unlucky, you may learn why!
Welcome to Wellington, New Zealand's capital city. Perched on the edge of a spectacular harbour, encircled by green, towering hills, Wellington is a stunning and compact city. Vibrant, exciting and cultured, the nation's capital combines the stimulation and sophistication of a big city with the quirkiness of a charming village. Extending just two kilometres in diameter, Wellington is a truly "walking city". Here you'll find a unique blend of national treasures, arts and culture, gastronomic delights, shopping sensations and scenic beauty, making Wellington the ultimate urban destination in New Zealand. Wellington has a feast of cultural attractions and its crowning glory is "Te Papa", the National Museum of New Zealand. Situated on Wellington's magnificent waterfront, this internationally acclaimed museum combines leading edge technology with traditional exhibits to tell the stories of New Zealand's land and people.
Cycling from: Havelock to Picton - 34 km, total distance 105 km
Day 12: Wellington - Wanganui
Today is a cycle free day. After a short sightseeing tour of Wellington you still have got time to visit the famous National Museum "Te Papa" or the option for a cable car ride to the botanic garden.
Around lunch time the van heads north along state highway 1 towards Wanganui, nestled on the plains near the mouth of the river that gave it its name. It is one of New Zealand's oldest towns and, due to its many mature gardens, is known as the "Garden City". The fabulous Wintergardens of Wanganui in the south of New Zealand's North Island are made up of parklands, the Virginia Lake and a spacious hothouse which boasts spectacular arrays of exotic flowering plants and vines.
No Cycling, total distance 195 km
Day 13: Wanganui - Tongariro NP
The three volcanic peaks of Tongariro National Park, New Zealand's oldest, Mt.'s Ruapehu, Ngauruhoe and Tongariro beckon as you ride along the Mangawhero river toward your nights destination in the National Park.
Cycling from: Wanganui to Kakatahi - 57 km, total distance 125 km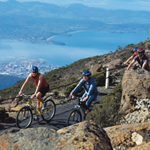 A ride with a view
Day 14: Tongariro NP - Rotorua
This morning you cycle along Lake Rotoaira and further on to Turangi, which lies on the shores of Lake Taupo, the largest lake of New Zealand. Consider for a moment that this lake was formed by a huge volcanic eruption around 135 AD. From there we continue our journey aboard the van for a ride on state highway 1 to Rotorua, famous for its active wonderland of geysers, hot springs and boiling mud pools.
Optional afternoon visit to the Whakarewarewa thermal park as well as the possibility for a dinner feast at a Maori Hangi.
Rotorua is one of the most famous destinations in New Zealand, and has a long history of welcoming visitors. From the moment people arrive in Rotorua they know they're somewhere quite different. There is a scent of sulphur in the air, and at nearby geothermal hotspots there are spouting geysers, acrid-smelling mud pools bubbling and belching, and warm geothermal pools and ponds that create a kaleidoscope of colour.
Cycling from: National Park to Turangi - 53 km, total distance 200 km
Day 15: Rotorua - Rest and Activities day
Morning city tour along the lake to the famous church of St. Faiths. After lunch you can do an optional tour through the Whakarewarewa Thermal Park, famous for its active wonderland of geysers, hot springs and boiling mud pools as well as a dinner feast at a Maori Hangi.
No cycling
Day 16: Rotorua - Whitianga
From Lake Rotorua we take the Kaimai - Mamaku forest road toward temperate Tauranga, which lies on the edge of the Bay of Plenty. Its warm climate and rich soil enables it to grow much of the countries citrus fruits including kiwi fruit, tamarillos and feijoas. The cycle leg today starts in Whiritoa and takes you north east along the Coromandel Peninsula where the coastal road threads its way between the rugged Coromandel range on the left and the coast, littered with beautiful white sandy beaches to our right.
Cycling from: Whiritoa to Tairua - 49 km, total distance 245 km
Day 17: Whitianga - Rest Day
Whitianga has much to offer, from kayaking, riding and hiking some of the local bush walks, to an excursion to Hot Water Beach, so named because a hot spring bubbles up through the sand, making it a lovely warm place to relax at low tide and watch swimmers enjoying the sea and surf.
For many residents of Auckland the Coromandel has become a weekend retreat from the pressures of the modern world of work. For drop-outs from around the world the Coromandel is Shangri-la. Coromandel is an alternative to the Bay of Islands of the far north: a slower, sun-washed piece of New Zealand made up of artist colonies, empty beaches, jungle tracks, and mountain hideaways. The great attraction of the Coromandel remains its natural beauty, which can be experienced by driving (or cycling) the peninsula's few roads, hiking any of its many fine walking tracks, or swimming, boating, snorkeling or just strolling along its coast.
Day 18: Whitianga - Auckland
The day starts with a drive over the forest covered Coromandel range, where remnants of the beautiful Kauri trees that once covered the peninsula can be found. We travel through Coromandel's main town, Thames, which lies at the northern foot of the Peninsula, en route to Miranda and the start of the day's ride. What follows is a beautiful way to finish your tour on an easy coastal section to Clevedon.
After arriving in Auckland, "The city of Sails", we head off to a sightseeing tour in the largest population centre of New Zealand.
Like Sydney, Auckland is dominated by the sea and by the hills. If Rome was built on seven hills, Auckland was built on seven extinct sea-side volcanoes. On one side of the isthmus on which it is built is the Pacific Ocean; on the other the Tasman Sea. At its narrowest, this isthmus is only about a kilometre wide. The city, however, sprawls sideways along the shores of Waitemata and Manukau Harbours and along the Hauraki Gulf. Waitemata Harbour - Sea of Sparkling Waters - is dominated by Rangitoto Island. This closeness to water has two results. First, everyone in Auckland is mad bonkers on sailing. There is one boat to every 16 people. Another effect is that Auckland has a very temperate climate. Most of the rain falls in June, July and August and the coldest month, July, averages about 13 degrees Celsius during the day.
Cycling from: Miranda to Clevedon - 52 km, total distance 251 km
Day 19: Auckland Departure
All participants will be transported to the airport between 7am and 3.30pm.
Services included
Airport transfers (Day 1: 7am - 2pm; Day 19: 7am - 3:30pm)
18 Nights accomodation in hotels, motels or chalets (Please note: sometimes with shared facilities)
Support bus and bike trailer
Ferry between Picton and Wellington
Sightseeing Christchurch, Wellington and Auckland
1 Driver / Guide
Optional Services
Price for 9 days tour North: 2,695.00 NZD
Price for 11 days tour South: 3,195.00 NZD
Single room suppl. 19 days tour: 1,400.00 NZD
Single room suppl. 9 days tour North: 715.00 NZD
Single room suppl. 11 days tour South: 910.00 NZD
Bike hire from: 300.00 NZD
Racing Bike Hire: 450.00 NZD
For the daily breakfast and some picnics en route, the tour guide will collect a total of: 150.00 NZD
Hints
* Opposite travel route: North-South
If certain accomodations are not available, an alternative one of the same category will be booked
Above specifications in km indicate daily biking distances. Please note that your trip may differ from the above itinerary either to better suit the needs of the group, or due to circumstances beyond our control such as the weather
In New Zealand, wearing a helmet is compulsory. Please bring along your own helmet, or acquire one from the tour operator at a special prize of 35.00 NZD
No visa necessary (for EU citizens)
No special vaccinations necessary
Prices after 01.10.08 are subject to change without notice
A prepayment of 25% has to be paid directly after reconfirmation. Final payment becomes due 42 days before starting date of the tour.
RATING

minimum: 6
maximum: 13
DATES
Duration: 19 Days
ROUTEMAP
TERMS & CONDITIONS
DOWNLOADS
RECOMMENDATION