Southern Off-Road Adventure
South Island Mountain Bike Tour
This Off-Road Tour is full of adventure, challenge and excitement for the experienced mountain biker. You will bike amid the breathtaking scenery of New Zealand's South Island, with its incredible diversity of landscapes.
The route takes you along quiet roads, past beautiful lakes and across lush farmland. Highlights include high Alpine passes surrounded by dense bush and high, rugged peaks, down through beautiful river valleys and across wide, rolling plains.
See the rugged West Coast, the rainforest and the mighty glaciers.
Discover the spectacular Queen Charlotte Track on bike, and finish with a unique Whale Watch Tour.
ITINERARY:
(subject to change without prior notice)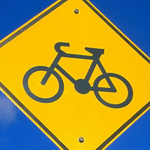 The sign of the times
Day 1: Christchurch
Whatever the time of year, Christchurch is the perfect choice for a well-deserved short break, longer stay or even for just a few hours. Christchurch's unique combination of fascinating heritage, beautiful coastline, peaceful rivers and spectacular natural harbour appeals to all ages and provides all the ingredients to make your visit extra special.
After your arrival at the airport, you will be transferred to your hotel. Join us with a scenic afternoon city tour, including a stop at the "Sign of the Takahe", where you will certainly enjoy a bird's eye view of the city, the Canterbury plains, the Southern Alps and the South Pacific Ocean. We will fit your bikes, before enjoying an evening at one of the many excellent local restaurants.
No Cycling
Day 2: Christchurch - Lake Coleridge
The adjacent Port Hills, which are a mountain biker's dream, provide us with magnificent views. After lunch in Sumner, we board our bus and transferred to Lake Lyndon. After a 90-minute drive across the Canterbury Plains, we reach the lower peaks of the impressive Southern Alps. Cycle on a gravel road to Ryton Station, where we will be based for the next two days. B/L/D
45 km single trail & gravel road biking, 3.5 h riding time
Day 3: Lake Coleridge
After breakfast, get on your bike and start out through the "high country".Along the Pinnacle Track, we get over meadows and rivers, up and down with fantastic views of the mountains and valleys. Take all day to experience the peaceful natural surroundings on private farmland. B/L/D
41 km biking, 3.5 hrs riding time
Day 4: Lake Coleridge - Omarama
Start the day with an upstream jetboat ride on the Rakaia River, an adventure in itself. Later on, bike along the expansive riverbed of the Rakaia River and around the Mount Hutt Range with its spectacular views of the wide plains. At Lake Heron, load your bike onto the trailer and get on board for a 3 hour bus ride, which will let you witness a dramatic change in landscape from barren farmland to rich fertile land, before you travel past the turquoise coloured Tekapo and Pukaki Lakes. On a clear day, you can view the snowcapped peak of "Aoraki", or Mount Cook, New Zealand's highest mountain. Continue to Omarama. B/L
45 km biking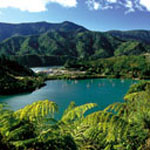 Lakes and mountains
Day 5: Omarama - Shortland Station
A local guide will accompany us for the next few days. Follow the stream with many crossings before ascending St. Bathan's Pass. This is an old goldmining track leading to the little settlement of the same name. Nowadays, the former digging hole is a beautiful lake that varies in colour daily. Take a refreshing swim in the lake or enjoy a cold beer at the historic pub, before your bus takes you back to The Station, owned by our hosts David & Glenys, a mountain biker's heaven. B/L/D
45 km biking
Day 6: Shortland Station - Danseys Pass
Today's ride offers a number of breathtaking views, crowned by a fantastic downhill ride. In the evening, Glenysa awaits us with a delicious meal in her kitchen. B/L/D
34 km biking
Day 7: Shortland Station - Alexandra
Your local mountain bike guide will show you some great tracks around Naseby Forest, the highest exotic forest in the South Island. Then, follow the famous Otago Rail Trail, an old railway line which has been officially converted into a cycling and hiking track. After lunch in Chatto Creek, cycle the final 25 km to Alexandra. B/L
85 km biking
Day 8: Alexandra - Queenstown
Follow the mighty Clutha River to Clyde. Next, make a steep ascent to the Bannockburn Range. Magnificent views across the old gold digger's country will reward you, and on a clear day Mt. Cook is to be seen in the distance. Complete the day with a downhill ride to the well known wine-growing area of Bannockburn. Our bus will be waiting for us. B/L
45 km biking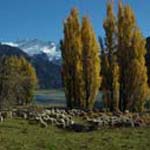 Matukituki Valley
Day 9: Queenstown
Queenstown has much to offer to outdoor enthusiasts. For example, take the gondola ride to the Skyline restaurant, with its viewpoint and the luge ride, a 2 kilometre scenic ride through Redwood Forest on a 3 wheel cart. Or make a lake cruise aboard the historic steamship "Earnslaw". Also, try jet boating on the Shotover River, bungee jumping, white water rafting, paragliding, or make a visit to the Kiwi and Birdlife Park. Also possible: day trips to Fiordland, Milford or Doubtful Sound. B
Rest day - no biking
Day 10: Queenstown - Haast
Today, you will recognize New Zealand as a land of contrast. After passing through Lake Hawea and Lake Wanaka, you enter the Makarora Valley and the Mt. Aspiring National Park. The vegetation becomes more lush and dense as you travel westwards. This indicates an increasing annual rainfall. From Makarora, cycle to the Haast Pass (563 m), and then 60 km along the Haast river. The township of the same name is situated within New Zealand's largest National Park, Fiordland. It is part of an area which the United Nations awarded "World Heritage Park" status in recognition of its international importance as a largely unmodified ecosystem. B/L
84 km road biking, 5.5 hrs riding time
Day 11: Haast - Punakaiki
The bus will take us along the coast through the enchanting rainforest of South Westland and the Pakihi Swamp Area. After arrival in Fox Glacier, walk to the glacier face, just above sea-level. Notice the change of landscape from dense rainforest to the "real" West Coast with its driftwood-littered beaches as we travel on. The bus shortly stops at a greenstone factory in Hokitika.Eventually, we reach Punakaiki with its famous Pancake Rocks and Blowholes. B/L
No biking
Day 12: Punakaiki - St. Arnaud
Take an early morning walk along the Truman track before resuming the track through the beautiful Buller Gorge. Later on, ride through old West Coast gold and coal mines. Have lunch in Murchison and cycle via the Braeburn Pass to Lake Rotoroa. Today's track is a mixture of road and gravel with some great climbs. Overnight at the small village of St. Arnaud within the Nelson National Park. B/L
62 km biking, 3.5 hrs riding time
Day 13: St. Arnaud - Portage
After an early breakfast, the bus takes you to Picton. Go out on a ferry trip of about an hour through the picturesque Queen Charlotte Sound. Get off at Resolution Bay, and start your single trail ride along the amazing Queen Charlotte Track. Bike through dense forest, escorted by numerous singing birds. Have a lunch break at Punga Cove. Now, a challenging afternoon lies ahead of you, with breathtaking views of the Marlborough Sound. B
51 km single trail riding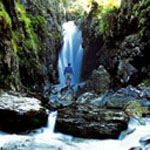 Fascinating waterfalls
Day 14: Portage - Kaikoura
Continue on the Queen Charlotte Track. It leeds you from lush green coastal forest over mountain ridges with even more magnificent views. Ride along the winding coastal road. At Picton, the bus is waiting to take you to Kaikoura, a fishing village well known for it's Whale Watch Tours. Not only can we introduce you to the magnificent Sperm Whale, but also to migratory Humpback Whales (June to July), Orca (in the summer months), dolphins, New Zealand Fur Seals and the Royal Albatross. Visit the new "Whale Watch Cafe". B/L
20 km single trail, 20 km road
Day 15: Kaikoura - Christchurch - Departure
Included as a final highlight is the Whale Watch Tour off Kaikoura. Afterwards, load your bike onto the trailer for the last time and head back to Christchurch. You will arrive there at mid-afternoon. If you have enough time before you depart, a visit to the Antarctica Centre, just a five-minute walk from the airport, is well worth a visit. B/L
Services included
Airport transfers
14 nights accommodation: 9 nights in 3-4star hotels/motels; 4 nights in farmstays, sometimes with shared facilities; 1 night on the Queen Charlotte Track with shared facilities
Meals: 14 breakfasts, 11 lunches, 4 dinners (excluding drinks)
Local fees for use of private land
All transfers in a minibus or 4WD support vehicle
Jetboat trip on Rakaia River
Transfer by boat from Picton to Endeavour Inlet
Whale Watch Tour in Kaikoura
Tour guide
Local mountain bike guide for farm tracks
Optional Services
Please note that there will be a surcharge if you want to book this tour with less than 4 participants
Single room supplement: 990.00 NZD
Single room suppl. from Nov.: 1,275.00 NZD
Optional bike hire is available
Bike hire - basic hardtail: 300.00 NZD
Bike hire - disc hardtail: 400.00 NZD
Bike hire - full suspension: 450.00 NZD
Hints
Dates and prices after 01.10.08 are subject to change without notice
If certain accomodations are not available, an alternative one of the same category will be booked
Above specifications in km indicate daily biking distances. Please note that your trip may differ from the above itinerary either to better suit the needs of the group, or due to circumstances beyond our control such as the weather
No visa necessary (for EU citizens)
No special vaccinations necessary
A prepayment of 25% has to be paid directly after reconfirmation. Final payment becomes due 42 days before starting date of the tour.
RATING

minimum: 4
maximum: 12
DATES
Duration: 15 Days
ROUTEMAP
TERMS & CONDITIONS
DOWNLOADS
RECOMMENDATION